Politics
How hip-hop took over New York politics
Rep. Jamaal Bowman and Mayor Eric Adams battled it out over who's really hip-hop – as the once-maligned genre has entered the halls of power.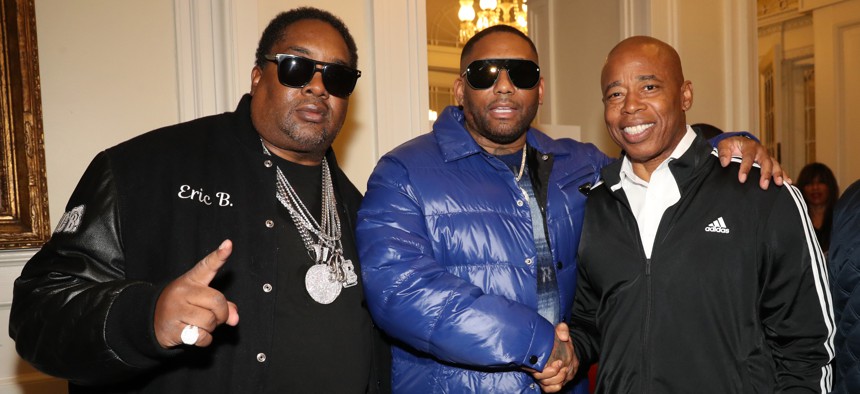 Eric Adams never showed up at the party for the Notorious B.I.G.'s 51st birthday, even though the mayor of New York City was expected. But the Brooklyn rapper Papoose was there, getting some fresh air at the Edge at Hudson Yards, 100 stories above Manhattan. 
Papoose has collaborated with Busta Rhymes and Lil Wayne, beefed with Kendrick Lamar and co-starred on "Love and Hip-Hop" with his wife Remy Ma – but had he ever worked with the mayor?
"Oh absolutely! You're talking about Mayor Adams? That's my guy, man," he told City & State. "Very great guy, I have a lot of respect and love for him." That wasn't the case with previous mayors like Michael Bloomberg, right? "Who?" Papoose responded. Bloomberg, the three-term mayor? "Never heard of him!" he said with a sly laugh.
Hip-hop is turning 50 years old this year. It's been half a century since DJ Kool Herc played a back-to-school jam on Aug. 11, 1973, in the rec room of the apartment building at 1520 Sedgwick Ave. in the Bronx. For much of that time, the art form – which encompasses rap music, graffiti, DJing and break dancing – was either demonized by the political system or ignored.
In the 1980s, Mayor Ed Koch dreamed of siccing not guard dogs but wolves on the kids who paint subway trains. David Dinkins, the city's first Black mayor, never embraced hip-hop. Rudy Giuliani hated rappers, and rappers hated him. Michael Bloomberg was a square, and Bill de Blasio was goofy.
But look around the bigger New York political world today. Hip-hop isn't just something happening in the background – the world of dark suits and marble halls has embraced hip-hop.
Nominating Nancy Pelosi for House speaker in 2019, Rep. Hakeem Jeffries said he's "down with NDP." He can make a hip-hop mixtape too. Drop in at a political event outside of Manhattan, and you're all but guaranteed to hear a shoutout straight from rap lyrics – "spread love it's the Brooklyn way," "Queens get that money," "Boogie Down Bronx," "Shaolin." The City Council is about to officially designate Nov. 15 as "Ol' Dirty Bastard Day" to honor the late Wu-Tang rapper. The Metropolitan Transportation Authority even put Biggie on a MetroCard. And a real-life retired rapper, Lt. Gov. Antonio "AD the Voice" Delgado, is now one heartbeat away from being governor of New York.
The crossover between hip-hop and local politics can be uneasy. For politicians, it can be hard to maintain the realness that's so integral to hip-hop when you're in a sector with a reputation for lying and backstabbing. Delgado's lyrics, and very image, were used against him while he was running for office. Eric Adams blames whole subgenres like drill rap for youth violence even as he proclaims himself "the hip-hop mayor."
But whatever tensions exist between hip-hop culture and politics, there's no question that hip-hop has finally made it into the halls of power.
"I'm definitely supportive of Eric Adams and everything he's doing," said C.J. Wallace, the actor, entrepreneur and son of the Notorious B.I.G.
Wallace told City & State that Adams reached out to him personally to talk about his father's legacy. "Now is the time when we're seeing the shift in culture, we're seeing the shift in the minds where it's time to have those conversations and welcome (hip-hop) into places where we didn't think it was welcome before."
All the way up 
How did hip-hop come to take over New York City politics? It's pretty simple: "We're old! Because we're old," City Council Member Althea Stevens said with a laugh. "Hip-hop is turning 50. That's crazy. … Think about this – the first time I heard Biggie, I was, I think, 12." 
Many of the people now in positions of power in the city are Black and Latino New Yorkers who came of age in the '80s and '90s. That is: hip-hop heads.
Take Stevens, who's Black, 40 years old and a daughter of Harlem who grew up on KRS-One, Nas and Tupac. She represents the South Bronx district that includes 1520 Sedgwick, the birthplace of hip-hop. The building will be redrawn into a neighboring district next year, but that's OK, she said. "The birthplace of hip-hop is in my heart. Like, I'm a hip-hop head … That is my soundtrack. That's what I grew up with, that's who I am. I don't need the building. It lives in me."
"Ask me what my birthday is? Aug. 11," the same birthday as hip-hop itself, said Council Member Marjorie Velázquez, who's Puerto Rican and represents the East Bronx. "A lot of us growing up in that generation, it really did change our lives." She remembers "Slam" by Onyx – "that was really big in our middle school dances" – Naughty By Nature's "OPP" and "Uptown Anthem" and Mobb Deep's "Quiet Storm."
State Sen. Jessica Ramos was listening to the same stuff in Queens. "I remember when Mobb Deep dropped the mixtape in 1995! I was at I.S. 10 (middle school). It changed my life." She's carried that hip-hop attitude to Albany. After state Senate rules barred Ramos from wearing sneakers in the chamber, her team got the rules changed. Now the whole Legislature does Sneaker Day. Ramos rocked Jordan 3s. When she spoke about her home borough in a floor speech last month, she closed with lyrics from Mobb Deep's "Shook Ones (Part II)." "Queens the realness and foundation/ If I die, I couldn't choose a better location."
Why? She grew up with it. "I used to cut school and go to Coconuts on Steinway Street just to be the first in line to get the new Lil' Kim tape," Ramos said. "True story. Don't tell my parents."
Political operators who grew up on hip-hop are "just bringing the trueness of our experience to the halls of power," said Tara L. Martin, a political consultant, City & State advisory board member and hip-hop head. And among them, there's a shared language, a unity, Martin explained, quoting Gang Starr's "The Militia." "One of us, equals many of us/ Disrespect one of us, you'll see plenty of us." That's something Jeffries could quote too. "The man who is going to be the next speaker of the House of Representatives has bars for days," Martin said. "This didn't happen by accident, this happened by evolution." 
It didn't used to be this way, MC Sha-Rock, the first female rapper, who emceed with the Funky 4+1, told City & State. "The politicians in the beginning, in the '70s, was never about what the young kids and the teenagers wanted." It wasn't until recent years that changed – "You have people like (former Bronx Borough President) Ruben Diaz Jr., Vanessa Gibson and (former City Council Member) Andy King who say 'listen, we hear your cry. We want to help push this culture forward and say that it's not just about violence, or situations like that, it's about peace, unity and having fun.'"
Some politicians said they got there first. "As a matter of fact, I know Biggie Smalls' mom very well. She lives in Pennsylvania," said Una Clarke, who represented parts of Central Brooklyn in the City Council from 1992 to 2001. Giuliani wasn't on board – "Rudy hated just about everything that could be hated" – but she was. "I'm always open to new possibilities … embracing whatever is emerging. That's why young people are such fans of mine," the 88-year-old Clarke said.
But it's Ruben Diaz Jr.'s role bridging hip-hop and politics that can't be overstated. He was the political catalyst who is bringing the Universal Hip Hop Museum to the Bronx, slated to open in 2024. While his dad, former state Sen. Rubén Díaz Sr., is known for cowboy hats and anti-gay rhetoric, his cousin was famous first as Ruby Dee in the rap group Grand Wizzard Theodore and the Fantastic Five. Theodore is credited with inventing scratching on records, while Ruby Dee is recognized as the first Puerto Rican emcee. He paved the way for Puerto Rican rappers like Fat Joe, who practically served as Diaz's deputy borough president, for all the events he joined Diaz at while he was in office.
It was not long after Diaz first won a seat in the Assembly in 1996 that a young Jamaal Bailey was reading a hip-hop magazine on his commute to high school and learned about Diaz, who had been dubbed the "hip-hop Assemblyman." (At least, that's how Bailey remembers it.) Bailey was a hip-hop head then, and he still is, now as a state senator representing the northeastern Bronx and Money Earnin' Mount Vernon.
"Me and (state Sen.) Zellnor (Myrie), we wouldn't be able to do it if (Assembly Speaker) Carl (Heastie) and Hakeem and Ruben didn't do it before us, you know?" Bailey told City & State. "You've got to recognize those who paved the way. Not just the pioneers of hip-hop, but those younger elected officials who dared to be different, dared to be themselves, and not bend to what people thought was, you know, negative music."
So if Elvis was a hero to most, he never meant shit to Bailey. 
"Hip-hop has always been a part of me, it's in my DNA, not just because I'm from the Bronx, but it speaks to me in a way, it's almost spiritual, right?" he said. Bailey views the art through a political lens, calling hip-hop "our rapid response team. So when things have been happening in our community, societal ills have been happening, hip-hop and rap music was utilized as a tool to yell out."
Hip-hop cadences have even affected the way Bailey speaks in the state Senate chamber. "When I'm debating someone on the floor, that's akin to my own rap battle, right? It's not just knowing the facts that I know about the bill and the law, it's about observing what's happening with my adversary at the time."
Bailey and other elected officials grew up with hip-hop and are now in power. But hip-hop itself also grew up and is now in power. "Hip-hop was supposed to be this underground, in the darkness, in the night. And look at us right now, we are on top of the world right now," New York City Department of Cultural Affairs Commissioner Laurie Cumbo said on the mic at Biggie's 51st birthday party. "Do you know what space we command and the offices that we hold and the money that we generate? We are so powerful."
That's a sentiment that's been shared for almost three decades now, since Biggie rapped in "Juicy:" "You never thought that hip-hop would take it this far." And rap has gotten a million times bigger since then. Jay-Z is a billionaire, and Bloomberg wrote his entry for Time's 100 most influential people in the world in 2013. Taylor Swift featured Bronx rapper Ice Spice on a remix last month. Hip-hop culture is now just a part of pop culture. Whatever lyrics about violence and drugs scared people before, Ice Cube was on "Sesame Street," and Snoop Dogg did a cooking show with Martha Stewart.
So when politicians embrace hip-hip, does that help them connect with constituents and get reelected? "Maybe," Bailey said, but that's because it's "authentically me." He has a saying, "You can code switch, but you can't soul switch. … I'm hip-hop to my core."
The hip-hop mayor
So, is Eric Adams hip-hop to his core? The mayor was a teenager growing up in South Jamaica, Queens, in the mid-1970s. "I can remember like it was yesterday," he told City & State in a phone call. It was the auditorium at Bayside High School. "It was near the end of the semester and two students got on a mic. And I heard, for the first time, a rap." From there, it was music in the summertime at Baisley Park at St. Albans Park. He remembered Kurtis Blow, KRS-One and the local group, Run-DMC. Adams wasn't all hip-hop – "I loved disco. I was on that old TV program, I think it was called "Soul Alive" with (Gerry) Bledsoe. You can see a film of me on there doing the hustle" – but he said rap is still in the mix of music he listens to, which also includes Beethoven, Bach, Kenny Rogers and jazz. But when he's running? Hip-hop. Like Ja Rule – "a unique voice, and a unique sound," and his own son, Jayoo – "I listen to his music as well."
Yes, the mayor's son Jordan Coleman is a rapper too, who used to shoot video for Jay-Z's Roc Nation. He was interviewed in Complex last year, got his album hyped in the New York Post and, somehow, performed on the Albanian version of "American Idol," where Adams appeared live to support him. 
But Adams' recent hip-hop credentials aren't limited to support for his son. He has honored Biggie as Brooklyn borough president and as mayor. He has partied with French Montana and A$AP Rocky and met with Jim Jones at the Dipset's rapper's mom's home. He defended his probation commissioner for inviting Cardi B to the police academy. He celebrated hip-hop's birthday last year at a KRS-One show. And when he announced that $5.5 million of city funds would go to the Universal Hip Hop Museum last year, he declared himself "a hip-hop mayor – dyslexic, arrested, rejected, now I'm elected."
Adams isn't afraid to shade his predecessors – thank God Bill de Blasio isn't opening the museum, he has said. Because de Blasio, Bloomberg, Koch and even Dinkins weren't hip-hop mayors. "I'm the first mayor of the hip-hop generation that listened to the music, and now I'm the mayor of the city," he said. "So I'm the hip-hop mayor."
But if you tell Rep. Jamaal Bowman that Adams calls himself that? "Hahaha that's a joke!" the Bronx and Westchester County Democrat told City & State in a phone call. "Make sure you write I'm laughing my ass off, because that's a joke."
Bowman credited Adams for engaging the hip-hop community, but doubted he really knew the music. Could he spit the lyrics to the last verse of Grandmaster Flash and the Furious Five's "The Message"? Bowman could, and proved it. But more than that? "The essence of hip-hop is progressive politics, in my opinion," said Bowman, a democratic socialist. "And so the mayor hasn't always come across as progressive in his politics."
A Bronx rep coming after a guy raised in Queens? Bring it back to 1987. Bowman might as well have been KRS-One rapping "The Bridge is Over" to MC Shan and the Juice Crew, one of hip-hop's greatest feuds. 
"Well, immediate response is that's silly," Adams said of Bowman's diss. "It's unfortunate that he's determined to try to find politics in everything. To do one-upmanship. You find people on all political spectrums who are hip-hop, and listen to hip-hop." And by the way, he added, "a rational thinker" could see that the mayor is progressive. "So those who are irrational in their politics, like disbanding police departments, and closing jails so that murderers are able to walk free – of course they don't think I'm progressive," he said. "And I don't think that he is the barometer to determine who's progressive and who's not."
Bowman said it was hip-hop songs that taught him about a public health approach to public safety, affordable housing, dealing with police brutality and more. "That's where my progressive politics comes from not. Not from DSA or any of these groups. It comes from hip-hop," he said. "And I don't see the mayor governing from that perspective."
Bowman's criticism highlights a stumbling block for politicians like Adams who embrace hip-hop. Even if it long ago went mainstream, driven by popularity and profit, the art form has a revolutionary, anti-establishment history. And it can be hard to square "Fuck the Police" with running the police department.
Back in 1990, A Tribe Called Quest famously rapped "Mr. Dinkins, would you please be my mayor?" Years later, the late emcee Phife Dawg reportedly said the line embarrassed him. In concerts, he changed that lyric to "Mr. Dinkins was a fucked up mayor." (Insiders say the pair later quashed the beef, and Dinkins even spoke at a Harlem memorial for Phife in 2016.)
It can be a shock to hear Adams wistfully recall when KRS-One released "Black Cop," a song that said Black police officers betray their community. But Adams is quick to remind that he was a critic of the system too, as the leader of 100 Blacks in Law Enforcement Who Care. In fact he met with KRS-One at the time.
Nothing raised doubts about Adams' commitment to hip-hop like his February 2022 comments calling on social media companies to crack down on drill rap videos, tying the subgenre to youth violence. "It's causing the loss of lives of young people," he said. "They see what this drill rapping is doing." It was a raw time. Three rappers had been shot in gang violence in the previous weeks, two of them killed. But Adams' comments reminded many of the moralizers who criticized gangsta rap in the '90s. And it was proof to some that hip-hop – or at least some forms of it – are still demonized by those in power.
"We need to be really intentional about separating hip-hop from the public safety conversation. Because hip-hop is the only genre, and culture, that we simultaneously link to public safety, specifically gun violence. Which in and of itself is a problem," said Dana Rachlin, executive director of We Build the Block, a city-based public safety nonprofit. While there are legislative efforts to crack down on it, rap lyrics are frequently used as evidence in criminal indictments, something critics argued never happens with other art forms. The police department barred certain drill rappers from performing at the Rolling Loud festival last year, The New York Times reported, over concerns the shows would incite violence. "Hip-hop as a culture is storytelling. It's trend setting. It's relevance," Rachlin said. "Even with the 17-year-olds that are making drill rap, it is still all of those things."
The conversations can get complicated. There's no question that some drill rappers have been the victims and perpetrators of violence, but, even then, "you can't ban a genre," as the mayor's son Jayoo said. Adams seemed to speak more deliberately after his initial comments, focusing on the aspect of retaliatory violence, rather than the music, after hosting a late-night summit with some rappers, brokered by Maino. Even Bowman gave him credit. "A lot of these drill rappers are irresponsible and reckless and concerning," he said. "I think that was a good meeting to have."
But the old Eric Adams, who once ran a billboard campaign telling (young, Black) New Yorkers to "stop the sag" and pull up their pants came out again during an interview about drill with New York magazine last year. "Early rappers," he said, were "rapping about the realities of their lives," whereas now it's about violence, "calling out others to retaliate." Needless to say, Adams wasn't being real about the past. Violent lyrics – and actual retaliatory killings – are sadly not a new phenomenon in hip-hop.
The world is yours
That's not to say things haven't changed. When Black Enterprise magazine recently asked KRS-One about the future of hip-hop, he got political quickly. 
"The material view of the future for hip-hop is we're winning elected offices," he said. Forty-some years after Koch's war on graffiti, Adams "is the top cop but is also siding with the power of hip-hop – you have Eric Adams, mayor, cutting a hip-hop birthday cake with KRS-One. KRS-One is 'Sound Of The Police.' KRS-One is 'Black Cop.'"
That access to power – and that embrace by power – might not be what he expected when he was rapping in the '80s, but it's happening now. "This is the future of hip-hop," he said. "This is it."
What's next? The Universal Hip Hop Museum is opening next year, and we're just months away from the 50th anniversary of hip-hop. There will be a lot of political tributes this summer, and way too many elected officials speaking before outdoor concerts. But the good news is that the whole thing won't be as corny as you might fear. There are real hip-hop heads in power in New York.
This story has been updated to reflect that Dinkins spoke at a memorial for Phife Dawg of A Tribe Called Quest, and that "Uptown Anthem" is by Naughty by Nature.
Powered By
NEXT STORY: Driscoll again faces criticism as confirmation vote approaches