Politics
Who's looking at Assembly Member Daniel Rosenthal's seat?
The Orthodox Jewish Assembly Member from Queens is resigning for a job in philanthropy.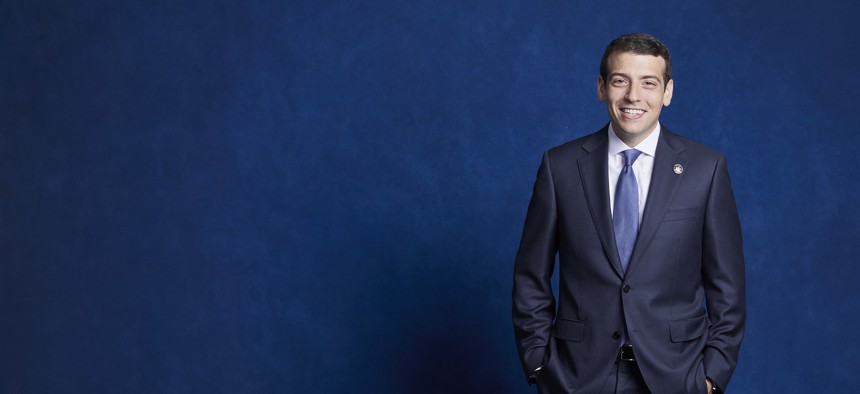 Assembly Member Daniel Rosenthal will be resigning to start work in August at UJA-Federation of New York, a philanthropic organization focused on serving the Jewish community as first reported by Forward. That means a special election will likely be conducted in November to fill Assembly District 27, stretching in eastern Queens from Kew Gardens Hills up through College Point and Whitestone. And insiders are already speculating who could be the perfect candidate to replace the Democrat in this swingy district. 
Democrats and Republicans would each get to pick their party's candidate for the ballot. On the Democratic side, one name in the mix is Sam Berger, a lawyer and son of district leader Paula Berger, who insiders say has been making phone calls about the seat. Also being floated are Jeff Kohn, an NYPD community liaison, and Simon Pelman, a nursing home executive and district leader. David Aronov, a UJA staffer himself, may also be in the mix, but his residency slightly outside the district would likely disqualify him. Still, it's very early in the process, and more potential candidates are likely to come up. 
On the Republican side, one name to arise is Stefano Forte, campaign manager to New York City Council Member Vickie Paladino who ran a far right losing campaign to unseat Democratic state Sen. Toby Ann Stavisky last year. 
"I'm honored to be considered as a possible contender for the State Assembly seat," Forte told City & State in a statement but said he hasn't made a decision. Forte moved into the district just last year from Auburndale. 
This district could flip red in the right circumstances, and insiders are already fretting about picking the right candidate, with many favoring a relatively conservative Democrat, and a Jewish candidate to represent the Orthodox community in Kew Gardens Hills. Much of the district overlaps with City Council District 19, where Democrats are also trying to unseat the Republican Paladino.
Rosenthal is Orthodox and is seen as a political rising star in the community who has championed Jewish initiatives in the Legislature. Insiders say he was eager to spend more time with his family, and the right professional opportunity opened up. 
"Daniel has a stellar record and will play a vital role helping UJA secure government support for critical communal needs - including security for Jewish institutions, funding for senior services and holocaust survivors, safety net resources for the most vulnerable, and more," said Eric Goldstein, CEO, UJA-Federation of New York, in a statement.
After running in an unopposed special election race for the Assembly seat - following the death of then-Assembly Member Michael Simanowitz - Rosenthal was elected to serve in the chamber in 2017. Since being elected to office, Rosenthal has also highlighted his role in tackling several legislative issues, including passing a bill directing the Long Island Rail Road to conduct a feasibility study on Lefferts Boulevard bridge rehabilitation, securing several investments for the Pomonok Houses NYCHA complex and a bill prohibiting employment discrimination based on religious attire including facial hair.
Rosenthal also led the charge against socialist Assembly Member Zohran Mamdani's "Not on Our Dime" bill that would penalize tax-exempt charities that provide money to Israeli settler organizations. In a letter following the bill's introduction, Rosenthal along with Assembly Member Nily Rozic, who's also Jewish, and 25 other state lawmakers condemned it. "This bill is a ploy to demonize Jewish charities with connections to Israel. It was only introduced to antagonize pro-Israel New Yorkers and further sow divisions within the Democratic party," read the letter.
Rosenthal's district has been solidly blue in presidential races. But like many neighborhoods further from Manhattan, it's seen a rightward shift. In 2022, Republican gubernatorial candidate Lee Zeldin won the district over Gov. Kathy Hochul 56%-44%. That same election, Rosenthal had a Republican challenger for the first time in Angelo King. Rosenthal won comfortably, 58% to 42%.
As outlined by the New York Public Officers law, a special election must be conducted if there is a vacancy in the Legislature before April in the last year of that person's term. Just like vacant Assembly seats in recent years, the governor will issue a proclamation to declare a special election to fill the seat.