NYPD
5 things to know about the NYPD's new police commissioner Edward Caban
He's the first Latino police commissioner in the city's history. He's always been with the NYPD, and his record isn't completely clean.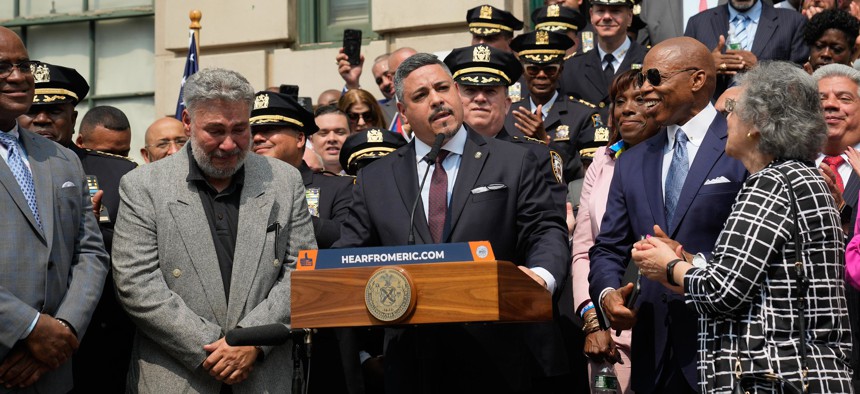 Newly appointed New York City Police Department Commissioner Edward Caban's tenure has been heralded by many as a milestone for the department. He's the first Latino to head the department, succeeding Keechant Sewell who'd also broken boundaries as the first woman to serve as NYPD commissioner. 
The Monday swearing in ceremony – held at the very South Bronx precinct where Caban started his career roughly 30 years ago – was packed, spilling out into Alexander Avenue. 
Here are five things to know about Caban, 55, as he takes over as the leader of the nation's largest police department. 
He's the first Latino police commissioner in New York
As the first Latino to serve as police commissioner in New York City, Caban's appointment has far reaching historical significance. There were only roughly 40 Hispanic officers serving in the NYPD in 1957, according to the department's Hispanic Society. Today, those demographics have shifted starkly with Latino officers now the second largest racial group in the department after white officers. New York City Mayor Eric Adams has repeatedly stressed the diversity of his administration, and Caban's appointment only strengthens Adams' arguments about how he's followed through on such promises.
"This is an amazing moment for not only the Spanish-speaking community, this is an amazing moment for our entire city and country," Adams said Monday.
Homegrown 
Unlike his predecessor who was hired from the Nassau County Police Department, Caban – a self described "young Puerto Rican kid from Parkchester" has spent his entire career with the NYPD. He kicked off his career in the South Bronx in 1991 at the 40th precinct and rose quickly through the ranks. Caban has held almost every position with the police department, including sergeant, lieutenant, captain, executive officer, commanding officer, deputy inspector and inspector, according to the city. Caban was appointed first deputy commissioner under Sewell in 2022 and acting police commissioner early this month. His father, Juan, was a New York City Transit Police Department detective and the head of the department's Hispanic Society.
An Adams ally
One of the big questions as Caban steps into the police commissioner role is what his relationship with New York City Mayor Eric Adams will look like in wake of Sewell's departure – reportedly amid an ongoing power struggle with City Hall. Caban is known to have a positive relationship with the mayor – Adams even reportedly pushed for his appointment as first deputy commissioner, according to The New York Times. The two have known each other for years. Adams himself said Monday that he saw possibilities in Caban "long ago," praising his discipline, attitude and the diversity of people that support him. 
His record isn't unblemished 
Caban has been entangled in a few incidents where discipline was proposed in response to his alleged actions. The New York Post reported last year that he'd been accused of cheating on his NYPD Sergeants' exam along with more than two dozen other aspiring sergeants in 1994, but he was ultimately found not guilty.
Later, although still early in Caban's career, the Civilian Complaint Review Board recommended in 1997 that he should be disciplined after he refused to tell a woman the names of two officers that she'd wanted to file a complaint against. He received a minor "command discipline," for the incident.
In 2006, Caban, then a police captain, was accused of threatening a man who'd refused to show his ID during a questionable stop and frisk, allegedly telling him that he was "getting ready with the broomstick," The City reported last month. The CCRB's investigation found that Caban had wrongly issued a summons against the man, but didn't substantiate the rest of the man's claims.
Host of challenges
Many challenges await Caban in the months ahead. NYPD police commissioner is a notoriously difficult job, and it's not unusual for leaders to depart after only a few years. While serious crimes like shootings and murder are trending down, many New Yorkers have strong concerns about crime. Caban is not only tasked with making sure major crime continues its downward trend, but also ensuring that the public's confidence in their safety grows. Making sure people feel safe on the city's subways following a series of high-profile violent incidents will be a big part of that task. Building trust with New Yorkers and boosting police morale will also be ongoing necessities.