Heard Around Town
Ritchie Torres once again pushing consequences for Santos
After facing an ethics complaint and calls for expulsion, the embattled lawmaker is now facing possible censorship.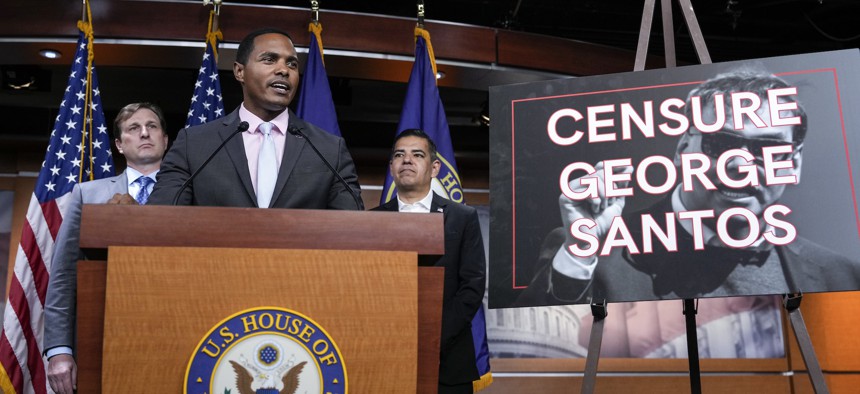 It seems like Bronx Rep. Ritchie Torres isn't through calling for repercussions for embattled  Republican Rep. George Santos just yet. 
With Torres at the helm, Congressional Democrats unveiled legislation to censure Santos for creating falsehoods about his personal and career life last week. "The breadth and depth of his deception is so staggering that it cries out for congressional punishment – a public censure is the least we can do to hold George Santos accountable," Torres said during a press conference last week.
The Bronx congressional representative has also asserted House Republicans are protecting Santos. "Stop treating Mr. Santos as untouchable. The time has come for Congress to hold him accountable," Torres tweeted shortly ahead of introducing the resolution.
While censorship is a public form of reprimand for misconduct by congressional representatives, this surely isn't the first time Torres has called for Santos to be brought to the fire – and, although he's been the most vocal, he is not alone. 
Torres along with fellow New York Rep. Dan Goldman – who helped unveil the legislation along with California Rep. Robert Garcia –  also delivered a House ethics complaint to Santos earlier this year. House Democrats then tried to expel Santos a few months ago when the representative was indicted on federal fraud charges and money laundering – an effort that was ultimately unsuccessful in a Republican-controlled House.
Now, the measure to censure Santos has wide Democratic support and several Republicans have agreed to support the measure and have continued to vocally condemn Santos – some are fellow Nassau Republicans who have also called for his resignation. Wednesday was expected to be the last day for Democrats to get a privileged motion – which is typically used for matters of grave importance – to bring measure to the House floor before lawmakers leave the U.S. Capitol for August recess.
Powered By
NEXT STORY: Lisa Zornberg named City Hall's next top lawyer