Politics
Will putting abortion on the ballot in New York really boost Democratic turnout next year?
Voters will have a chance to approve the Equal Rights Amendment next year. But the state's recent history of ballot initiatives should give Democrats pause.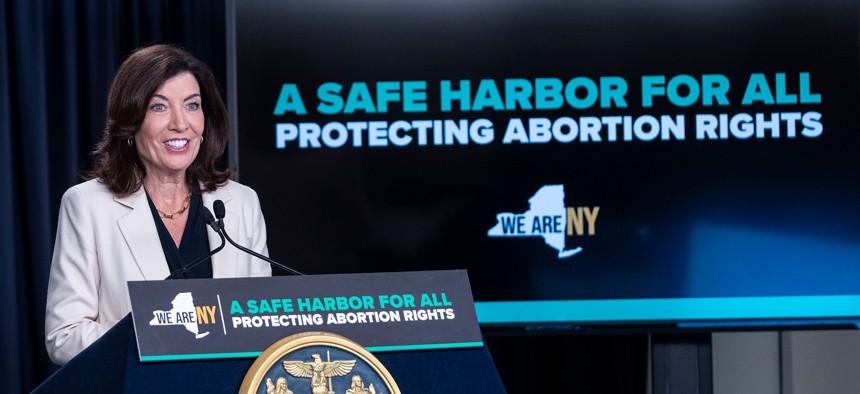 Democrats like Gov. Kathy Hochul, House Minority Leader Hakeem Jeffries and U.S. Sen. Kirsten Gillibrand lauded the launch of a $20 million effort to approve a ballot initiative that would codify abortion rights into the state constitution. In interviews with The New York Times, both Hochul and Gillibrand painted the effort as part of a broader electoral effort to win back the House in 2024. But a focus on abortion rights didn't work out for Democrats in New York last year – and they don't have a stellar track record on ballot initiatives either.
A broad coalition of groups came together last month to announce a new effort to pass a state-level Equal Rights Amendment. Among other things, it would protect New Yorkers against discrimination on the basis of pregnancy and pregnancy outcomes, including abortions. Although the state Legislature codified the right to an abortion into state law back in 2019, a constitutional amendment would add further protections after the U.S. Supreme Court overturned Roe v. Wade last year.
But New York is not a ballot referendum state. It's hard and time-consuming to get things on the ballot – they must pass two consecutive Legislatures before going before the voters – and the state doesn't use referenda for many issues. Recent history has also shown that Democrats aren't always good at getting voters to support their initiatives. In 2021, several voting reform proposals, including no-excuse absentee voting – went before New Yorkers but failed to get approval after Democrats did very little to raise awareness or promote the proposal while conservatives made a concerted effort to kill the referendum.
Leaders of the campaign to get the Equal Rights Amendment approved are cognizant of the fact that ballot referendums don't drive turnout, as well of the state's spotty history with drumming up support. "It's our job to make sure we don't make the same mistakes," campaign director Sasha Ahuja told City & State. "That's also why we're starting so early… we have a ton of time, so it's really, really important to us to put a stake in the ground demonstrating strength from the beginning." The ERA has already passed the state Legislature twice and is scheduled to appear on the ballot in November 2024, giving the campaign about 16 months to build support. Although it could have appeared on the ballot this year, Democrats decided to wait for an election year when turnout would be higher.
Ahuja said that the campaign to pass the state constitutional amendment is not part of or directly associated with the state Democratic Party apparatus even though key leaders have come out in support of it. And she clearly differentiated the effort she's leading with any individual candidate who may be running on similar issues. 
Compared to how other states have run similar campaigns, Democratic consultant Amelia Adams said that divorcing itself from candidates on the ballot is one way that it may have success in New York. "Really taking out the politics and not having someone who's on the ballot as well stumping for the issue because that's how you conflate it," Adams said. "They'll identify someone as the ballot measure, and you don't want to do that. You're really trying to build something that's bigger than one single race." She added that doesn't mean that candidates won't talk about the Equal Rights Amendment on the campaign trail, but that those leading the charge will need to do the work of getting New Yorkers to pay attention to abortion rights next year. "The ERA has a real potential to humanize and really resonate regionally because if the election (told) us anything, certain things are more lightning rods in different districts," Adams said.
The Equal Rights Amendment does more than codify abortion rights; it also protects against discrimination based on disability and age. Abortion rights remains a hot issue across the country, but not necessarily in New York. In a midterm election postmortem released by the state Democratic Party in January, state party chair Jay Jacobs wrote that the "abortion bump" didn't come to New York the way it did in other states, where Democrats generally performed well. "A few states had women's Reproductive Rights as a referenda on the ballot, serving as a turnout boost for Democrats," Jacobs wrote at the time. "Importantly, many states do not have Constitutional protections for abortion rights making the issue far more important in those states." He asserted that crime was the main driver in the 2022 midterm elections in New York. 
Although abortion rights didn't motivate New York voters in 2022, Jacobs said that having the issue directly on the ballot could make a difference next year. "There is no question… that the issue of abortion made a big difference in the last election in those states where it was on the ballot," he wrote in a text message to City & State. "Having it on the ballot here in New York in 2024 will put the issue front and center and, I believe, make a difference in turnout in the next election. That is not the reason to do it but a consequence of doing something that needs to be done." It's an opinion shared by Gillibrand, who told the Times that "having a ballot initiative in our state is going to drive voter turnout overall."
Jeffries, who is leading the $45 million campaign to flip Republican-controlled House seats in New York and win back the House, made a clear distinction between the push for the Equal Rights Amendment and electoral efforts by Democrats. He told the Times that the ERA campaign had "nothing to do with voter turnout," and a spokesperson for Jeffries confirmed to City & State that although he is supportive of the constitutional amendment, it is not a part of his efforts in New York. 
For her part, Ahuja said she doesn't feel much pressure to use the ERA ballot initiative to boost turnout and help Democratic candidates. Instead, she views it as a unique opportunity for synergy among candidates and groups fighting for similar things. "Our job is to make sure we're educating folks about the power, the potential and the path for the Equal Rights Amendment, and how we will win," Ahuja said. "And many, many other folks will engage in all sorts of projects to make sure we have a successful Election Day."
Powered By
NEXT STORY: Six supporters of Eric Adams' mayoral campaign indicted