Campaigns & Elections
2021 New York state general election results
Republicans made some significant gains across the state, and statewide ballot proposals failed.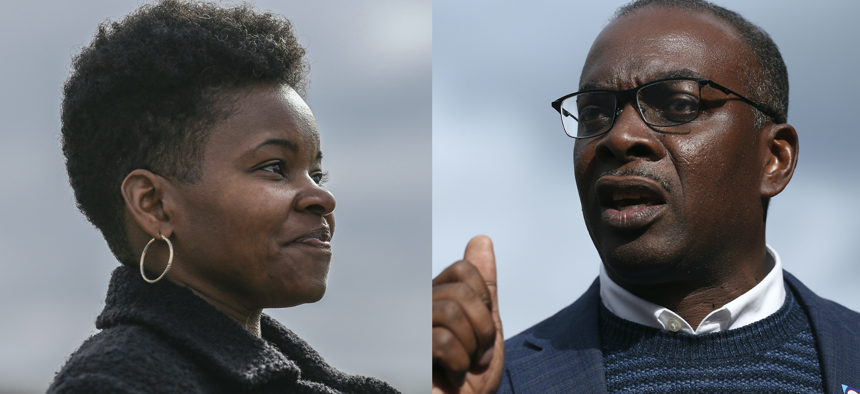 ---
State races in 2021 tested the relative power of the political left versus centrists, most prominently with incumbent Buffalo Mayor Byron Brown ultimately beating Democratic mayoral nominee and democratic socialist India Walton with a write-in campaign.
Voters were mixed on the five statewide ballot initiatives, which concern voting rights, New York City Civil Court, legislative and congressional redistricting as well as the right to clean water and air. Democrats won mayoral contests in Albany and Rochester while Syracuse Mayor Ben Walsh, a political independent, won his race for a second term.
Here are the top races to watch with the latest results from local election boards across the state.
In this election results page for third-party candidates, the Conservative Party is CON, the Working Families Party is WFP and the Independence Party is IND.
Buffalo mayor
Incumbent: Byron Brown (D)
India Walton (D): 41.02%
Vote share for write-in candidates: 58.98%
With 291 of 291 election districts reported
Mayor Byron Brown won an unlikely write-in campaign for reelection. This could be the biggest upset of the night for the progressive left. India Walton appeared likely to become the first socialist mayor of a major American city when she won the Democratic primary in June. Brown, however, was able to mobilize a coalition of Republicans and moderate Democrats to his cause despite the best efforts of big-name Democrats like U.S. Sen. Chuck Schumer and Rep. Alexandria Ocasio-Cortez on behalf of their party's official nominee.
Erie County sheriff
Incumbent: Timothy Howard
John Garcia (R, Back the Blue Party, Guardian Party): 45.77%
Kimberly Beaty (D, Justice and Peace Party): 44.64%
Karen Healy-Case (CON): 3.44%
Ted DiNoto (Public Service Party): 6.06%
With 837 of 837 election districts reported
Democrats outnumber Republicans in Erie County – but they have not elected a sheriff in decades. That didn't change this year, though Kimberly Beaty gave John Garcia a run for his money.
Syracuse mayor
Incumbent: Ben Walsh (IND)
Ben Walsh (IND): 60.80%
Khalid Bey (D): 27.09%
Janet Burman (R, CON, Syracuse United): 11.82%
With 139 of 139 election districts reported
Democratic nominee Khalid Bey, a member of the city's Common Council, was hoping to unseat first-term mayor Ben Walsh. But a successful reelection campaign by the political independent turbocharges talk of Walsh as a real up-and-comer in state politics. Republicans face a big disadvantage in terms of party registration – but their nominee, economist Janet Burman, could theoretically have won the race if Bey and Walsh had split enough of the vote.
Nassau County executive
Incumbent: Laura Curran (D)
Bruce Blakeman (R): 50.35%
Laura Curran (D): 49.59%
With 1205 of 1205 precincts reported
In purple Nassau County, Democratic County Executive Laura Curran failed to hold on to her seat this year by appealing to swing voters while not alienating her Democratic base. Republican candidate and Hempstead Town Council Member Bruce Blakeman won despite Curran's fundraising and name recognition advantage.
Nassau County district attorney
Incumbent: Joyce Smith 
Anne Donnelly (R): 58.32%
Todd Kaminsky (D): 41.64%
With 1205 of 1205 precincts reported
This race tested the suburban mood on bail reform like no other because the Republican nominee and career prosecutor Anne Donnelly successfully focused on the issue nearly at the expense of all others in the race. She decisively beat state Sen. Todd Kaminsky, who ran on his experience as a federal prosecutor and role as a relatively moderating influence on Albany Democrats' various criminal justice reform efforts. 
Ballot proposals
Proposal 1 – Redistricting 
Yes: 38.42%
No: 48.53%
With 15,464 election districts reporting out of 15,554
This proposal would have made several changes to the state's redistricting process, including freezing the number of state senators at 63, adding undocumented immigrants to the population count that redistricting is based on and counting incarcerated New Yorkers at their last place of residence, rather than the place where they're detained. While the proposal is backed by some, including the chair of the Independent Redistricting Commission, it faced some pushback in part because the changes are being proposed in the middle of the current redistricting process.
Proposal 2 – Right to clean air, clean water
Yes: 60.82%
No: 27.45%
With 15,532 election districts reporting out of 15,622
This measure will amend the state constitution to add that every person has a right to clean air, clean water and a healthful environment. It's a laudable goal endorsed by local environmental groups that few disagree with on its face, but opponents have raised concerns that the general language would lead to excessive litigation.
Proposal 3 – Same-day voter registration
Yes: 37.67%
No: 51.35%
With 15,532 election districts reporting out of 15,622
Same-day voter registration is a goal good-government groups have long fought for, and this proposal, which failed, would have enabled the state Legislature to pass a law allowing same-day registration.
Proposal 4 – No-excuse absentee voting
Yes: 38.60%
No: 50.10%
With 15,532 election districts reporting out of 15,622
While the COVID-19 pandemic effectively made no-excuse absentee voting a temporary reality, an amendment to the state constitution is required for the state to allow it permanently. New Yorkers rejected that proposal.
Proposal 5 – New York City Civil Court
Yes: 53.53%
No: 31.63%
With 15,532 election districts reporting out of 15,622
Voters had a chance to decide whether New York City Civil Court can hear claims for up to $50,000, an increase from the current limit of $25,000. The distinction may be in the weeds for some voters, but the idea is essentially to expand the Civil Court's jurisdiction and take some pressure off the state Supreme Court's caseload, and voters approved.