Politics
Brooklyn Democrats appear alongside Curtis Sliwa at rally against migrant shelter
State Sen. Roxanne Persaud warned the proposed shelter could expose asylum-seekers to unsafe conditions, while Sliwa railed against "illegal aliens."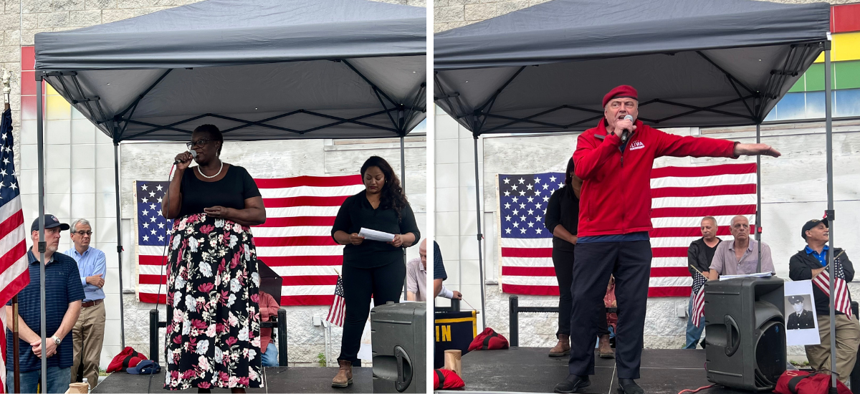 On Thursday night, a number of prominent Brooklyn Democrats participated in a rally near Floyd Bennett Field in Marine Park to denounce the state's plans to open an emergency center at the former passenger terminal. Some of the Democrats scheduled to speak – including former Brooklyn Democratic Party boss Frank Seddio, state Sen. Roxanne Persaud, and Assembly Member Jaime Williams – told City & State that the message of the rally was largely that Floyd Bennett Field presented unsafe and inhumane conditions to the migrants. But the rally also featured speeches from Republican leaders, and it soon became clear that many of the frustrated community members who showed up to the rally – some of whom held signs reading "Biden is Bad for America" and "Secure our Border" – were not there to hear about the plight of the asylum-seekers.
"I feel torn"
The Thursday night rally, which was organized by Williams, was the latest protest over the planned shelter since Gov. Kathy Hochul announced Monday that the Biden administration gave the city the green light to use Floyd Bennett Field to open another Humanitarian Emergency Relief and Response Center for over 2,000 adults. The announcement came on the heels of months of negotiations. Given that Floyd Bennett Field is part of the Gateway National Recreation Area, which is a national park, the federal government needed to approve its conversion into an emergency site for migrants. The lease has yet to be signed.
Local pushback to the state and federal government's agreement was swift. A group of local leaders and associations, including Williams, Persaud, Assembly Member Stacey Pheffer Amato, Sen. Simcha Felder, Assembly Member Monique Chandler-Waterman, City Council Members Mercedes Narcisse and Joann Ariola, and District Leader Frank Seddio all signed a letter to Hochul dated Aug. 22 expressing their concerns. Many of those individuals were also present Thursday night.
"The surrounding communities of South East Brooklyn and Rockaway, Queens are vehemently opposed to this action due to its negative impact," the letter said. "While we are a caring community, and not unsympathetic to the humanitarian crisis at hand, however, the impact to our neighborhoods would be disastrous."
Williams, the rally's organizer, said that the community's frustrations are understandable – especially given how the state's plans for Floyd Bennett Field were sprung upon them. She said that the state and city didn't communicate with local leaders about the prospect and that they found out about the agreement from the news. 
"We know (migrants) need help, but we need help as well. You cannot put us on the backburner," Williams told City & State after the rally. "I feel torn because I work with the governor. I've never (gone) against the governor. But you come right in my backyard without communicating with me? It speaks volumes." 
Persaud, who is an immigrant herself and the chair of the state Senate's Social Services Committee, said that she's not about "kicking people out" and that the city still needs to find "someplace to make sure people are housed" – but Floyd Bennett Field is just not meant to house people. 
Seddio, the former head of the Brooklyn Democratic Party, said that his biggest concern was the migrants' well-being, since there is "basically nothing" in the area for two miles. Both Seddio and Persaud said that sheltering migrants at Floyd Bennett Field – which they described as a flood zone, and isolated from both resources and transportation – would be neither safe nor humane for migrants and the surrounding community. 
In addition to echoing concerns about temporary migrant shelters' poor conditions and isolated locations, Seddio noted that bus service is limited and much of the community is worried that an influx of new arrivals would strain local access to services. But when asked where the city should shelter migrants instead of Floyd Bennett Field, Seddio sidestepped the question. "If I have to blame anybody in this whole thing, it's the federal government failing to provide anything more than the open gate they provided," he said.
There is largely broad consensus between New York leaders that the federal government bears the crux of the blame for New York's challenges, having offered little aid despite the state and city's growing pleas. But the problem of where to shelter people in New York City remains. Over 101,000 migrants have arrived in New York City since last spring, and over 58,200 of those people currently remain in the city's care. The city has already set up more than 200 sites to provide them with temporary housing. The consequences for impacted individuals of the city running out of space became clear earlier this month when hundreds of asylum-seekers were forced to sleep on the street outside the Roosevelt Hotel. 
Progressive pushback
The fact that both Republican and Democratic local leaders united so publicly in protesting against sheltering migrants at Floyd Bennett Field was somewhat unusual. News of the rally and Democrats involvement did draw some criticism from progressives. Former Assembly Member Yuh-Line Niou wrote "this is shameful behavior" on X, the platform formally known as Twitter. 
Council Member Charles Barron, who has long represented East New York, said that he supported a migrant shelter in Floyd Bennett Field, which is part of a majority-white neighborhood, because the city's Black and brown communities have long borne the brunt of the impact when it comes to the placement of shelters.
"We are oversaturated in Brownsville, in East New York, and parts of the Bronx, but when it comes to Asian and white neighborhoods like Bensonhurst and Bay Ridge and Brooklyn, Staten Island, and the area around the Floyd Bennett Field, they don't want them in their neighborhoods but yet they are forced into our neighborhood."
And if the conditions at the Floyd Bennett Field aren't safe for migrants? 
"If that's not suitable then fine, go upstate to Hochul and some of the other areas, but they have to have their fair share," Barron said. "No community should get a pass."
Brandon West, the former president of the reform club New Kings Democrats, said he wasn't surprised to hear that the former head of the Brooklyn Democratic Party was involved in a rally protesting migrants. 
"I feel there's been a synergy between the Brooklyn Democratic Party establishment, our conservative former police officer mayor, and the Republican Party and conservative talking points," he told City & State. "They've been kind of working collaboratively honestly just because they've allowed far right talking points to take the narrative."
"I wanted to have a cordial conversation"
The contrast between Democrats' speeches and Republicans' speeches at the rally was striking. While Persaud said that the conditions for a shelter at Floyd Bennett Field aren't "habitable for anyone" and urged listeners to "put the politics and rhetoric aside and talk about people," WABC's "Sid and Friends" Host Sid Rosenberg and Guardian Angels leader Curtis Sliwa – who has been arrested twice while protesting against other migrant shelters – described asylum-seekers as "illegal aliens" whose presence is destroying neighborhoods. The crowd erupted in cheers as Rosenberg and Sliwa spoke. A truck parked beside the rally displayed a message from Republican City Council Member Inna Vernikov – who also spoke at the rally – that said, "The right to shelter is for homeless New Yorkers, not influx of migrants!!!"
Both Persaud and Narcisse seemed uncomfortable with the tone of the rally when Rosenberg and Sliwa were speaking. Narcisse appeared to leave halfway through the event, seemingly missing an on-stage shout-out from Williams and only resurfacing at the very end to speak with her colleagues.
After the rally, Persaud told City & State that the divisiveness and anti-immigrant rhetoric was not what she had wanted.
"I wanted to have a cordial community conversation on a hot topic in the community and how do we get people to a comfortable space. That's not what was happening," she said. "We have to remember when we are talking about asylum-seekers, we're talking about humans. That's the bottom line."