Labor
City Council backs striking Hollywood unions
The Council passed non-binding resolutions demanding Hollywood studios negotiate with striking actors and writers.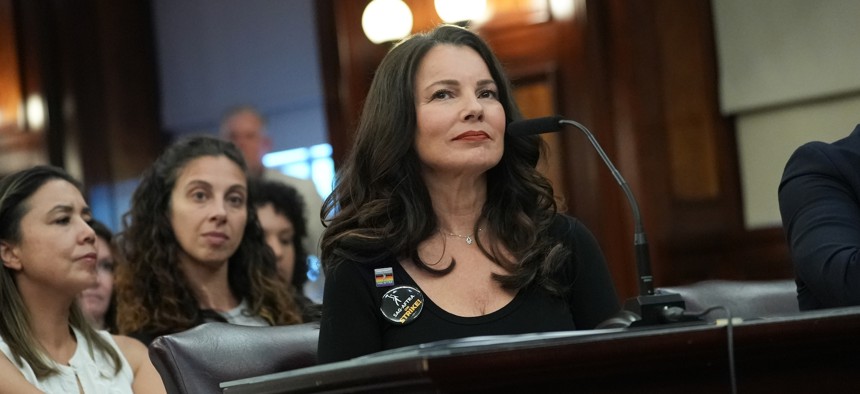 The New York City Council got a taste of Hollywood when SAG-AFTRA president Fran Drescher showed up to testify in support of the ongoing strikes by SAG-AFTRA and the Writers Guild of America. Following her testimony, a City Council committee unanimously approved two resolutions Tuesday backing workers' efforts and urging studios to return to negotiations. 
On Tuesday – day 92 of the Writers Guild strike and day 19 of the SAG-AFTRA strike – union members flowed into the council chambers to testify before the Committee on Civil Service and Labor amid the ongoing labor dispute. There, council members and union workers alike touched on the historic nature of the strike, underscoring the economic ramifications of what could be a monthslong standoff. 
"I fear many more jobs will be lost in the coming months if no agreement is reached," said Council Member Carmen De La Rosa, explaining that the indirect effects of the work stoppage would spread through the economy, impacting not only actors, productions workers, and writers, but also transportation and catering businesses. 
Drescher, known for her role in the hit '90s sitcom "The Nanny," told council members that actors and writers can no longer afford to live on the old residual model. "We cannot allow big business greed to take away our careers, to take away our livelihoods … We are at a very serious crossroads. This is a righteous fight, and they are on the wrong side of history," she said.
SAG-AFTRA and the Writers Guild, which haven't been on strike at the same time since 1960, are both fighting for better pay, higher shares of streaming revenues, and protection against the looming impact of artificial intelligence in the industry.