Albany Agenda
A growing number of current and former NY lawmakers are running for Congress
In 2022, Democrats trying to jump from the state Legislature to the House lost. Republicans had better luck.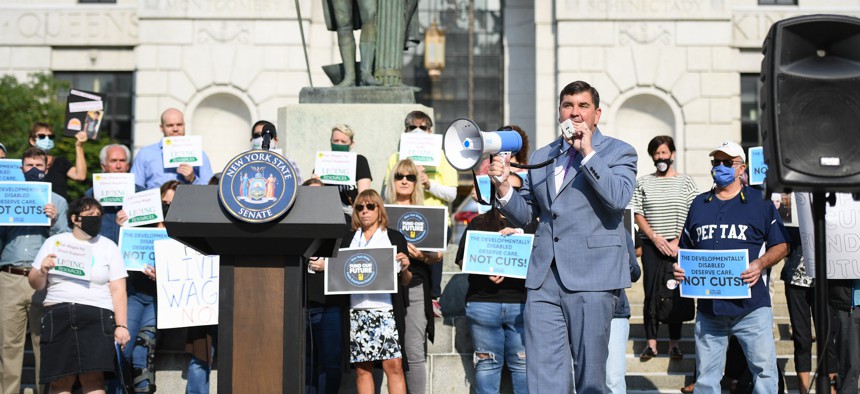 With Democrats looking to flip a number of House seats away from first-term Republicans, current and former state legislators from around the state are deciding to try their luck on the national stage with runs for Congress. So far, state Sens. John Mannion of Syracuse and Kevin Thomas of Long Island, along with fellow Long Islanders and former state Sens. Anna Kaplan and Jim Gaughran, have already announced their intentions to challenge their districts' GOP representatives. State lawmakers often seek higher office, but it doesn't come without risk. And it's worth taking a look at the electoral track records for some of the candidates and the recent success rate of state legislators' congressional runs. 
Of the four current and former state lawmakers to have announced, Thomas – who hopes to run against Rep. Anthony D'Esposito next year – has the best electoral history of the bunch. His 2018 victory against longtime GOP incumbent Kemp Hannon was also his first attempt at running for office. Thomas won by a narrow margin, but maintained his seat for the next two election cycles. Kaplan, who is challenging Rep. George Santos, similarly won against the incumbent in 2018 during her first run for office, but ultimately lost to state Sen. Jack Martins last year. Gaughran, looking to unseat Rep. Nick LaLota, chose not to seek reelection last year after initially winning office in 2018. But unlike both Kaplan and Thomas, who won their seats on their first attempt, it took Gaughran three tries to win his position in the state Senate, each time running against former state Sen. Carl Marcellino. 
To the north, Mannion – who is challenging Rep. Brandon Williams – won his seat in 2020 as well as his reelection last year. But it also took a second attempt to get to the state Senate after his first run in 2018 against former state Sen. Bob Antonacci for an open seat came up short. When Antonacci left before his first term finished, Mannion had had more success against a different GOP opponent for a seat once again open. Unlike his Long Island colleagues, he has never unseated an incumbent as he is hoping to do now.
Personal politics aside, state lawmakers who have sought higher office have had a mixed bag in the recent past. Last year, then-state Sen. Alessandra Biaggi and then-Assembly Member Yuh-Line Niou both gave up their positions in the state Legislature to launch congressional campaigns, ultimately losing in their respective primaries to non-state lawmakers. In 2020, then-state Sen. David Carlucci also lost his congressional bid to replace retiring Rep. Nita Lowey in the Hudson Valley. A few years earlier in 2016, Republican Jack Martins gave up his seat in the state Senate in an ill-fated bid for Congress. He has since returned to the state Senate after unseating Kaplan last year, but his name has also been floated as a potential Republican challenger to Santos.
Last year, Rep. Mike Lawler was the only state lawmaker to succeed in his congressional race. The former Republican Assembly member managed to unseat Democratic incumbent Sean Patrick Maloney in the Hudson Valley – a feat that Biaggi was unable to accomplish in the Democratic primary – as part of the mini red wave that hit New York last year. In 2020, Rep. Nicole Malliotakis, who at the time served in the Assembly, also unseated then-Rep. Max Rose, a Democrat, on Staten Island. The same year, Rep. Andrew Garbarino, at the time an Assembly member, bested fellow Assembly Member Mike LiPetri on Long Island in the Republican primary, before winning the open 2nd Congressional District in November in a considered by several political analysts a toss-up race.
Going back a little further, former Rep. Lee Zeldin also offers a notable success case within the past decade. After losing his initial congressional bid to unseat then-Rep. Tim Bishop, a Long Island Democrat, in 2008, Zeldin went on to win a seat in the state Senate in 2010. Four years later, he tried his hand again at unseating Bishop, accomplishing that task in 2014. And he remained in Congress until he ran for governor last year, a decision that required him to give up his seat.
Former Rep. Chris Jacobs, another Republican, succeeded in 2020. Then in the state Senate, he initially announced his intent to run against incumbent Republican Chris Collins before Collins resigned following his conviction on insider trading charges. Jacobs won a special election before winning a three-way Republican primary and the general election in 2020. But he ultimately served only one term, choosing not to seek reelection last year.
Former Democratic Rep. Anthony Brindisi also unseated Republican Rep. Claudia Tenney in 2018 coming straight from the Assembly. But like Collins, his victory was short lived. Tenney ran to win back her seat in 2020, winning in a highly contentious election by a razor-thin margin. Brindisi did not attempt to run again last year, and after losing a 2021 race for state Supreme Court, he currently holds no elected office.
Even others who have ultimately seen success did not manage it on the first try. Democratic Rep. Adriano Espaillat first ran for Congress as a member of the Assembly in 2012, tried again as a member of the state Senate in 2014 and finally succeeded in 2016. But at the times he was running, New York held its state and federal primaries at different times of the year, allowing those holding state office to try their hand at Congress without needing to give up their seats. Since 2019, state lawmakers don't have the same safety net should they lose a primary for Congress. Thomas is currently a heavy favorite for the nomination, while Mannion has a primary fight on his hands, including against Sarah Klee Hood, the candidate who placed a close second in last year's Democratic primary.