New York City
The politics of visiting Israel aren't stuck in the '90s
New York's Arab population has grown since then and has begun to assert its political influence.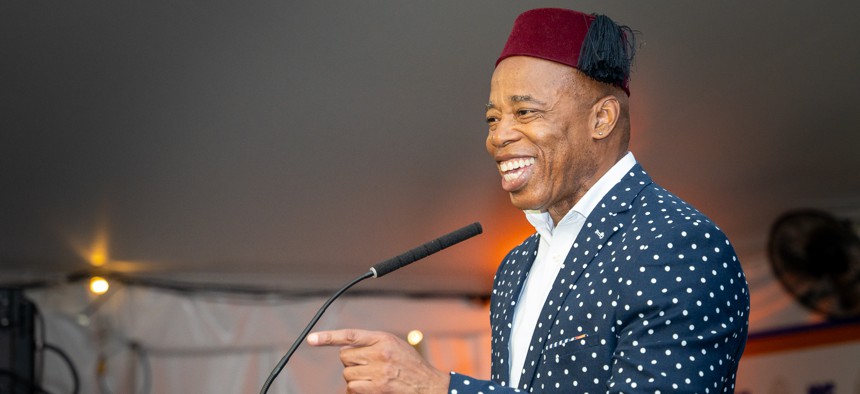 In 1998, then-New York City Council Speaker Peter Vallone Sr. arranged a trip to Israel with the help of Ronn Torossian. During the trip, Vallone reportedly had to be convinced by Torossian to visit Israeli settlements in the West Bank, which have not been recognized under international law. A 2005 New York Times profile of Torossian, the founder of 5W Public Relations, recounted how the "brash PR guy" made his pitch. "There's no Arab voting bloc in New York," he reportedly said. "What's your downside? Who are you going to alienate?"
The political situation in the city has changed substantially in the past 20 years. The Arab population of New York has increased and begun to assert its electoral power, while younger and more progressive Democrats have become more skeptical of Israel's treatment of Palestinians. Socialist Assembly Member Zohran Mamdani and state Sen. Jabari Brisport introduced a bill called the Not On Our Dime Act, which would block New York-based charities from funding organizations involved in illegal Israeli settlements.
To be sure, most New York politicians are still strong supporters of Israel. After Mamdani introduced the Not on Our Dime Act, dozens of legislators signed a letter opposing it, and legislative leaders promised it would never be brought up for a vote. But even those politicians who proudly stand with Israel have been unafraid to criticize Prime Minister Benjamin Netanyahu and his administration, whose unpopular and anti-democratic reforms have led to large-scale protests in Israel.
This is the situation that New York City Mayor Eric Adams walked into when he visited Israel last week. During the trip, Adams met with Netanyahu, which led to criticism from the liberal pro-Israel group J Street. "We hope the mayor takes the opportunity to make clear to the prime minister that Israel's friends in New York and around the world are aghast at his government's assault on Israel's democracy," the group said in a statement. (Adams also met with leaders of the protest movement against Netanyahu.)
Adams' meeting with a senior settlement leader prompted even harsher denunciations by his critics, including socialist City Council Member Tiffany Cabán. "What message does @NYCMayor's tour of Israel send tens of thousands of Palestinian NYers?" Cabán wrote on X, formerly known as Twitter. "This year alone, Israeli soldiers and settlers have killed over 170 Palestinians in the West Bank."
In the '90s, it may have been easy for Torossian to dismiss such concerns. But it seems Adams, who has been linked with Torossian, can't afford to be so dismissive of New York's Arab communities.
On the day that Adams got back from Israel, he hosted at Gracie Mansion "the first-ever mayoral reception to celebrate the culture and heritage of the Arab community."