Campaigns & Elections
Democrat Sam Berger wins Queens Assembly special election
He was able to flip key areas of Kew Gardens Hills that went big for Lee Zeldin in the race for governor last year.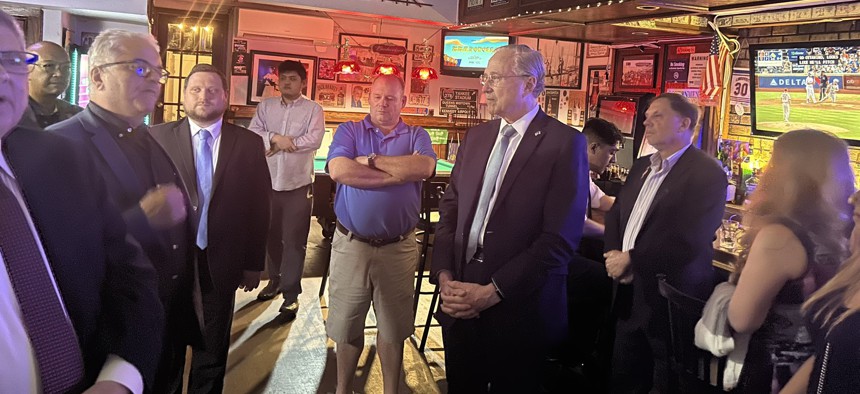 Democrat Sam Berger pulled ahead of Republican David Hirsch in an Assembly special election in eastern Queens on Tuesday night, closing out what some Democrats worried could be a too-close-for-comfort race.
With 99% of scanners reported on election night, Berger led Hirsch by roughly 11 percentage points.
"Sam was the perfect candidate for the district," said Kevin Elkins, political director at the New York City District Council of Carpenters – one of the major unions that canvassed for Berger – in a text message. "(He) didn't take anything for granted and was relentless which made it easy for labor to rally early and effectively."
A worn-out Hirsch arrived at his campaign watch party at a small bar in Whitestone, Queens, just after polls closed at 9 p.m. Hirsch said he'd been all around the district since early this morning, along with volunteers sent from across the state, including the Nassau County GOP.
Joined by Republicans including state Republican Party Chair Ed Cox, state Conservative Party Chair Gerard Kassar and New York City Council Member Vickie Paladino – whose district overlaps with part of this Assembly district – Hirsch said the campaign did the best it could, thanks in large part to help from volunteers from around the state. "We had an uphill battle the whole way," Hirsch said, referencing both Berger's much larger campaign war chest and union backing.
Former Assembly Member Daniel Rosenthal, a moderate Democrat, resigned earlier this year to take a job at the UJA-Federation, opening up the seat for a special election. While the district has been represented by moderate Democrats like Berger for a long time, some of Berger's backers in the final days of the campaign expressed concerns that the race could be close, and even an opportunity for a Republican upset.
Republican gubernatorial candidate Lee Zeldin won the district 56% to 44% over Gov. Kathy Hochul last year. The district also has a large Orthodox Jewish community as well as a large Asian American community, and voters in both groups have shifted to the right in recent elections. But Berger's message – and possibly his deeper campaign war chest and institutional support – triumphed on Tuesday.
Berger won with large margins in Kew Gardens Hills and Electchester, while Hirsch won College Point, Whitestone and Beechhurst – the northern parts of the district that overlap with Paladino's City Council district.
Some watching the race viewed it as a test case for competitive City Council elections this November and for congressional elections in 2024. And although this is just one special election, Hirsch campaigned with a playbook that Republicans are expected to use more widely in upcoming elections: running, in part, on voters' frustrations with Democrats' handling of the asylum-seeker crisis, and opposition to migrant shelters in their districts.
"We need to send the message to Albany that we've had enough of a lot of these bad policies," Hirsch said earlier in the night, noting that his campaign focused on three key issues – crime, the asylum-seeker crisis and education.
Assembly Member Ed Ra said on Tuesday night that the message that the Hirsch campaign delivered was still one that will resonate in 2024.
Despite a significant fundraising advantage and dozens of high-profile endorsements, Berger and his backers have been pounding the pavement over the past week. City & State previously reported that Assembly Speaker Carl Heastie made calls to union leaders about the race, and that some of the large unions backing Berger have been out in force campaigning for him to ward off a Republican upset.
Powered By
NEXT STORY: Queens Assembly District 27 special election results