Campaigns & Elections
'All hands on deck': Democrats, unions rally behind Berger in special election
Democrat Sam Berger has outraised and outspent Republican David Hirsch in the Queens Assembly special election, but insiders said Hirsch could succeed – in part by playing on frustrations about the migrant crisis.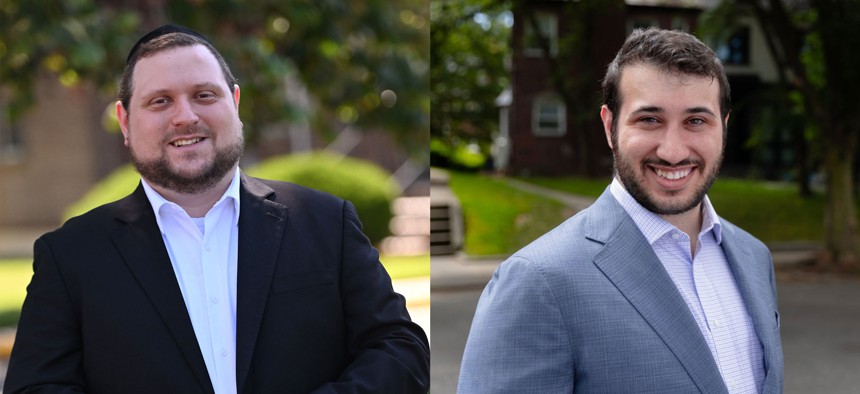 Sam Berger has everything he should need to win Tuesday's special election for an open Assembly seat in Queens. The 25-year-old Democrat and recent law school graduate is armed with a campaign war chest that far eclipses his opponent's, the support of the lawmaker who previously held the seat, and the enthusiastic endorsements of Democratic leaders and more than two dozen unions.
The 27th Assembly District seat was vacated by Daniel Rosenthal, a moderate Democrat who left for a job at the UJA-Federation, and Berger is running against Republican policy consultant and rabbi David Hirsch to fill it. 
The district, which stretches from Beechurst to College Point and down to Kew Gardens, includes a large Orthodox Jewish community. Both Berger and Hirsch are members of the Orthodox community and boast endorsements from prominent rabbis, though more rabbis have endorsed Berger. Last year, the district voted for Republican gubernatorial candidate Lee Zeldin by more than 12 percentage points. 
But the seat has been held by moderate Democrats like Berger for more than a decade, and  some Democratic leaders are publicly projecting confidence in Berger several days out from the election. 
"We're very confident that he's going to emerge victorious," said Assembly Member Jeffrey Dinowitz, who chairs the Democratic Assembly Campaign Committee, which has donated generously to Berger's campaign. "I don't think the fact that Zeldin did better than expected in the district means that the Republican is going to win in this election." Nevertheless, Dinowitz acknowledged that it's an "important race."
"I've got to think that the organization, the union support, the money he has, is going to weigh in his favor," Assembly Member David Weprin, who represents a nearby district, said of Berger.
Behind the scenes, though, some of Berger's endorsers are running an all-out effort to avoid a potential Republican upset. A government relations source told City & State that Assembly Speaker Carl Heastie has made calls to unions about the race, as well as to leaders in the Orthodox community. Two labor sources confirmed that Heastie has personally called union leaders to discuss the race. "It's all hands on deck now," one of them said. The other noted that it's normal for the Assembly speaker to rally unions in a competitive race. A spokesperson for Heastie did not respond to multiple requests for comment.
Unions pounded the pavement for Berger as early voting began this week. In a statement, state AFL-CIO President Mario Cilento said that there are 15,000 voters residing in union households in the district. Turning out as many of them as possible would be a boon for Berger. 
The New York City Central Labor Council held a get out the vote labor walk for Berger in the district on Thursday, the state AFL-CIO has facilitated a direct mail campaign and a number of individual unions – including 32BJ SEIU, District Council 37, the District Council of Carpenters and the Hotel and Gaming Trades Council – have been out in force in the district this week. 
A spokesperson for the United Federation of Teachers said that members have made two rounds of calls encouraging people to vote for Berger, and the union has also sent out campaign literature in support of Berger to all UFT members who are registered voters in the district. 
Elected officials have rallied for Berger too. Heastie attended a fundraiser for the Democrat in early August, and Rep. Grace Meng joined Berger at an AAPI community meet and greet on Tuesday.
In addition to being home to a large Orthodox Jewish population, the district also has a large Asian American population. Voters in both Orthodox and Asian American communities are among those who have shifted to the right in recent elections.
"I think we're going to win," Republican City Council Member Joe Borelli told City & State this week, referring to the Hirsch campaign. The northern part of the district overlaps with Republican City Council Member Vickie Paladino's district, and high turnout there could benefit Hirsch. "Vickie Paladino, despite what some people might think, is incredibly popular in her district," Borelli said. "The Democratic Party is very unpopular in that district." Overall, turnout in the special election is expected to be low.
Berger and Hirsch are aligned on some of the major issues that voters in the district care most about, including advocating for more resources for the New York City Police Department. 
Last year, Republicans succeeded in flipping several Assembly seats in southern Brooklyn, in large part by positioning themselves as tough on crime and targeting Democrats over bail reform laws. That line of attack seems less likely to work against Berger, who has been endorsed by the Police Benevolent Association, the Lieutenants Benevolent Association and several other law enforcement unions.
But this special election will be the first test of whether Republicans can use negative sentiments towards asylum-seekers – and anger at Democrats' handling of the migrant crisis – to pull votes. "The migrant crisis might make people look back fondly on the time bail reform nearly took down the entire (Democratic) party," a labor source said of this race. 
Earlier this summer, St. Agnes Academic High School in College Point was set up as a temporary shelter for asylum-seekers, drawing opposition from some community members.
"A lot of people are mad at the Democrats," added Howard Schoenfeld, a local activist in the district who is supporting Berger. "They're mad about crime and they're mad about the migrants." 
Though Berger is the much better-resourced candidate, Hirsch told City & State that he has a large number of volunteers working for his campaign, including "70-something or 80-something" volunteers who were canvassing multiple neighborhoods in the district on Thursday. "We have a passionate group of volunteers going door-to-door," Hirsch said. "Spending money and fundraising isn't everything in an election."
Berger has made the argument, however, that electing a Democrat will give the district a seat at the table in Albany. That's a case that could appeal to those in the district who are less affiliated with one party or another, and more concerned about having their interests represented in the state Legislature, Schoenfeld said. "They just shut the Republicans out," he said.
The special election for the 27th Assembly District is on Sep. 12.
Additional reporting by Peter Sterne and Holly Pretsky.