Energy & Environment
Eric Adams on defense again as extreme weather hits
Gov. Kathy Hochul and Mayor Adams issued states of emergency late Friday morning, following heavy flash flooding and transit disruptions in parts of the city.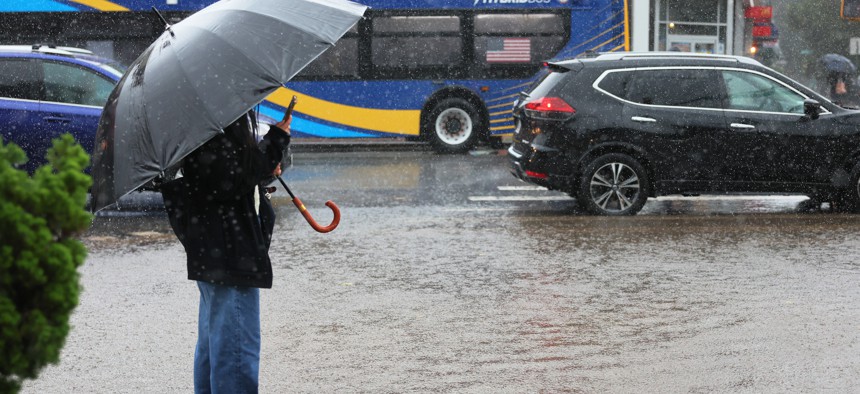 This June, Mayor Eric Adams caught flak for what critics called a flat-footed and insufficiently communicated response to a stretch of hazardous air quality in New York City. 
In addition to denying those characterizations, Adams argued at the time that the air quality emergency was an unprecedented climate event in the city. Wildfires like the ones in Canada that wafted smoke across New York early this summer have largely spared the Eastern Seaboard in the past. 
The flooding that New York City experienced on Friday, on the other hand, is nothing new. Yet the Adams administration fought back similar criticisms that the city's communications about the threat of heavy flooding that continued into Friday afternoon – and information about how the city was responding – were late and lackluster. "They had a real, severe trial run just a few months ago," said Eddie Bautista, executive director of the NYC Environmental Justice Alliance, of the city's response to the air quality emergency. "How do you not learn from that?"
Some criticisms came from other elected officials too. In a statement on Friday morning, Democratic state Sen. Jessica Ramos called for earlier warnings of extreme weather like this. "The National Weather Service warned of flash flooding on Thursday morning," Ramos wrote in the statement. "We need to get it together. When an emergency is headed our way, all other projects need to pause – and New Yorkers need to be warned. Early."
Adams held his first public address on the flooding shortly before 12pm on Friday, after heavy rainfall across the city had already caused flash flooding – particularly in parts of Brooklyn and Queens – and widespread transit disruptions and road closures. The address came as a late morning update to his public schedule, and followed a press release from the city late Thursday night informing the press of a travel advisory and flood watch going into effect, as well as several multilingual Notify NYC alerts about the weather on Thursday and Friday. As they did when addressing the city's response to the air quality crisis in June, Adams and his top officials laid out some of the behind the scenes work of the city's emergency operations center and the city's monitoring of the weather conditions, including consultations with the National Weather Service that NYC Emergency Management Commissioner Zach Iscol said went back as early as Wednesday.
But the press conference on Friday was the first time that New Yorkers would hear directly from the mayor – more than an hour after Gov. Kathy Hochul declared a state of emergency for New York City, Long Island and the Hudson Valley. Prior to declaring a state of emergency on Friday morning, Hochul made several radio and TV appearances to talk about the weather, including one on Thursday evening and several on Friday morning. 
Joined at the press conference by a deep bench of city and state officials including Hochul, Iscol, Metropolitan Transportation Authority CEO Janno Lieber and more, Adams was promptly met with questions about why he hadn't addressed New Yorkers sooner.  He answered that all necessary precautions were being taken, describing a multiagency collaboration on both the city and state levels. 
"As I've stated over and over again, this administration operates as a team. And I want my commissioners, my deputy commissioners, the leaders of this team, who are closest to the ground of a situation, to communicate," Adams said. "That's what Commissioner Iscol did. There was not an absence of a voice of this administration."
Adams opened that press conference with the announcement that he was issuing a state of emergency for the city too, and was asked why that wasn't issued earlier. "Issuing a state of emergency at 8 a.m., 7 a.m., 9 a.m. or 10 a.m. – it's not going to impact our response or the work that we're currently doing," Iscol said, noting that a state of emergency is important for contracting purposes, and for getting support in the recovery phase. Deputy Mayor for Communications Fabien Levy also noted that Adams made the decision to issue a state of emergency around the same time that Hochul issued her declaration, but it was just announced a little later.
But the declaration of a state of emergency is also something that can put New Yorkers on higher alert – especially if they're not closely following every Notify NYC alert. 
In a tweet on Friday morning referencing the city's response to the heavy rainfall, Ramos wrote, "Where is the mayor?" Adams said at the press conference that earlier in the morning, he visited East New York, Flatbush, Canarsie and Sheepshead Bay to get a "firsthand look" at the rainfall and its impact. He later said that he was in East New York for the wake of a retired police officer, and took the opportunity while there to see what conditions were like on the ground in surrounding neighborhoods.
While several questions at the press briefing specifically questioned the city's response, some drew attention to the state's response too. Speaking to City & State later in the afternoon, Ramos said that every level of government has to do its due diligence. 
Brooklyn Borough President Antonio Reynoso also sent out a statement on Friday afternoon, calling on both the city and state to revamp their notification processes for weather emergencies. "This morning's events have made it glaringly apparent that New York City and State must improve their processes for communicating with New Yorkers about sudden and extreme weather before it happens," Reynoso said. "We need faster notification, clearer information about the severity of storms, and to act with greater urgency when there is a threat of inclement weather. The climate catastrophe is here, and we must act accordingly."
Both Ramos and Reynoso have been floated as potential progressive challengers to Adams in 2025.
Ramos' Queens district was among the areas that saw flooding by Friday morning, including in East Elmhurst and LeFrak City. "I'm seeing a smaller-scale replay of Ida, where there are catch basins that are full, people's basements are flooded. I think we're going to see that some have lost their boilers," Ramos told City & State on Friday afternoon. 
Asked what a better warning system for severe weather would look like, Ramos described casting a much wider net. "There are so many New Yorkers, we speak so many languages, we get our news in so many different ways, from so many different sources," Ramos said. "When the mission is to keep New York safe, we talk to everyone."
Bautista suggested that Adams could have made even a brief media appearance on Thursday night to warn New Yorkers of the looming weather conditions. "I don't know what he was doing last night that was so important he couldn't spare five minutes to give just an announcement to folks," Bautista said. 
On Thursday evening, Adams hosted a reception celebrating Mid-Autumn Moon Festival at Gracie Mansion, and, as Politico's Jeff Coltin reported, attended a campaign fundraiser.