Heard Around Town
GOP candidate claims Democrats 'playing dirty' after rabbi pulls endorsement
Republican candidate for the 27th Assembly District David Hirsch claimed a rabbi was intimidated into rescinding his support.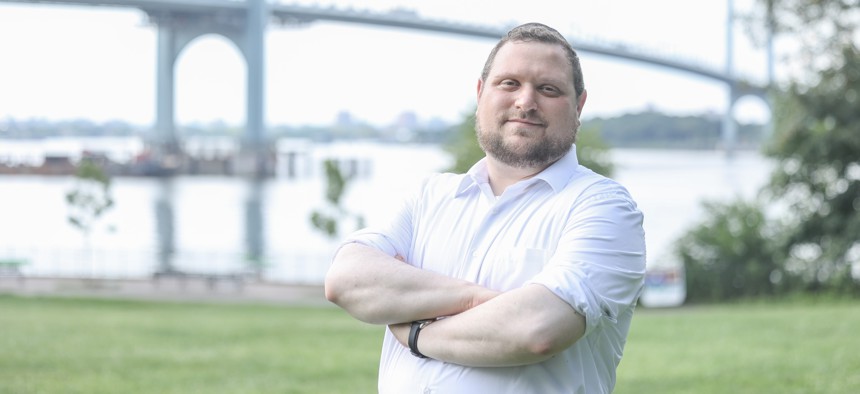 With just days to go before the special election for the 27th Assembly District in Queens, Republican David Hirsch and his allies are going full steam ahead in the campaign against Democrat Sam Berger – just not always with 100% accuracy. In campaign material touting Hirsch's endorsements among leaders in the Orthodox Jewish community, the Republican Assembly Campaign Committee misspelled Hirsch's name as "Davis." 
The flier also included at least one rabbi who has since rescinded his endorsement of Hirsch. "I understand my name and my congregation are on an endorsement letter for David Hirsch," Rabbi Shaul Arieli wrote in a WhatsApp message, a screenshot of which was shared on X, formerly known as Twitter. "I hereby retract my endorsement."
Hirsch characterized Arieli's retraction as Democrats "playing dirty" in a post made to X on Wednesday in which he misspelled Arieli's name. Hirsch claimed that Democrats ran an "intimidation campaign" against the rabbi to get him to rescind the endorsement and claimed that members of the party began sharing "fake statements in his name." Hirsch did not offer any proof.
The state Republican Party also paid for a digital ad attacking Berger ahead of the Sept. 12 special election, seeking to tie him to Rep. Alexandria Ocasio-Cortez and taking an anti-migrant stance. "Only you can stop more unvetted, homeless migrants from being housed in our neighborhood," the ad reads, with images of Berger and Ocasio-Cortez photoshopped onto an image of migrants boarding a bus.
Berger so far has far out-raised Hirsch and boasts numerous endorsements from elected officials, community leaders, rabbis and labor unions, as well as the support of the conservative Orthodox newspaper The Jewish Press, which holds influence in the Orthodox community that makes up a large portion of the district. However, Republican gubernatorial candidate Lee Zeldin won the district last year despite the Democratic incumbent holding onto the seat, which has led some to view the moderate district as a potential pickup in an open election.