News & Politics
Hirsch and Berger compete in a bellwether special election for the 27th Assembly District in Queens
The two Orthodox Jewish candidates in opposite parties are running on Sept. 12 to replace Assembly Member Daniel Rosenthal, who resigned earlier this year.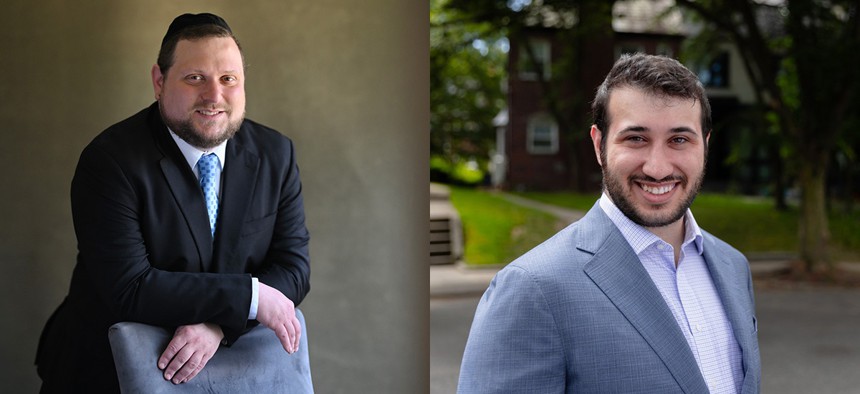 The resignation of former Assembly Member Daniel Rosenthal earlier this year triggered a special election for his Queens seat set for Sept. 12. Although the 27th District has historically been held by Democrats, Republicans have recently made significant inroads there.
Democrats tapped 25-year-old recent law school grad Sam Berger to run in the partisan special election. Like Rosenthal, who has already offered his support, Berger is a member of the Orthodox Jewish community, which has a large presence in the district. Before Rosenthal, the seat was represented by Democrat Michael Simanowitz, who was also Orthodox. "The key to success is ensuring a candidate runs strongly with the Orthodox Jewish population in Kew Gardens Hills, where Berger is from," said Evan Stavisky, a Democratic strategist familiar with the district. "So he's well positioned to be able to hold onto (the seat)." Berger is also the son of local district Democratic leader Paula Berger.
But Berger is not the only Orthodox candidate running. The Republican and Conservative Party candidate, education policy consultant and rabbi David Hirsch, also hails from the community and sees an opportunity to flip the long-held Democratic seat. He noted that Republican gubernatorial candidate Lee Zeldin won the district last year and that the Orthodox community has been trending more conservative in recent years as well. "When it comes to certain candidates, many times people in the community will support an Orthodox Jew who is a Democrat over someone who isn't from our community who is a Republican," Hirsch told City & State. "So I feel the fact that it's two Orthodox Jews, one a Republican, that many people will vote Republican, because many people are concerned about certain niche community interests."
The special election is set to take place on Sept. 12, roughly a month before the regularly scheduled general elections for a number of New York City Council seats, including the overlapping 19th District where Democrat Tony Avella will face off against incumbent Republican Council Member Vickie Paladino. The timing of Rosenthal's decision to step down from his seat meant that the special election needed to take place before November. Had he waited slightly longer, it could have taken place on the regular November Election Day. 
Although Rosenthal won his reelection last year – the first year since taking office that he faced a general election challenger at all – Zeldin won the 27th District by over 12 percentage points. Although it's not the largest margin he won by in an Assembly district held by a Democrat according to an analysis by the Times Union, it's still among the higher margins and represents a large swing compared to 2018 results. "It shows that while the district has traditionally been held by Democrats, many people are upset with the current policies of the Democrat(ic) Party and are looking for alternatives," Hirsch said. Berger did not respond to a request for an interview.
Berger has significantly outraised Hirsch, reporting having raised just under $65,000 in his first and only financial disclosure. According to Hirsch's filing for the same period, he has raised only $29. After publication, a spokesperson for Hirsch noted that the campaign launched shortly before the filing deadline, and that new filings set to come out on Friday will show that he has raised several thousand dollars.
Despite the hopes of Republicans, Stavisky said the race likely still favors Democrats, especially since both candidates are members of the Orthodox community, which makes it unlikely that one or the other will necessarily outright win that bloc of votes. "The fundamentals of the district are still mostly Democratic, and you have a candidate who is coming from the most critical geographic and demographic community in the district," Stavisky said. Democrats still have a large voter enrollment advantage, and other communities outside the Orthodox enclaves will influence the outcome as well. "It's incumbent on Berger to consolidate support in the Orthodox community in Kew Garden Hills and Forest Hills, and to maximize Democratic turnout in communities like Electchester and Pomonok," Stavisky said. 
The winner of the special election will serve out the rest of Rosenthal's term, until the end of 2024. Early voting in the special election begins Sept. 2.
Update: This story has been updated to reflect additional comments from the Hirsch campaign regarding his fundraising.
Powered By
NEXT STORY: MENA candidates have had several wins in New York – and more close calls