News & Politics
Menendez indictment finds Schumer and Santos aligned
Both the Senate Majority Leader and the indicted Long Island Republican want to avoid a rush to judgment.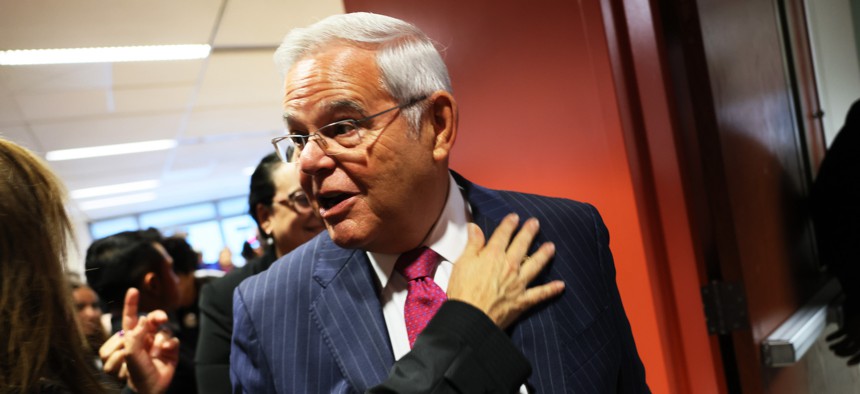 East of the Hudson River, the immediate aftermath of U.S. Sen. Bob Menendez's second criminal indictment has produced some very unusual bipartisan alignments.
Democratic Senate Majority Leader Charles Schumer and Republican Rep. George Santos were quick to offer support for the embattled senator to stay in office even as fellow Democrats, led by Democratic New Jersey Gov. Phil Murphy, called for his resignation.
"I firmly believe when all the facts are presented not only will I be exonerated but I will still be New Jersey's senior senator," Menendez told reporters at a Sept. 25 press gathering. "A cornerstone of the foundation of America's democracy and our justice system is the principle that all people are presumed innocent until proven guilty, all people. I ask for nothing more and expect nothing less."
Menendez attempted to explain the DOJ's photographs of vast quantities of cash discovered by FBI agents in his home as merely proof of his own habit of withdrawing his money from the bank and keeping close at home. "This may seem old fashioned, but these were monies drawn from my personal savings account based on the income that I have lawfully derived over those 30 years," he said.
During his Sept. 22 press conference, U.S. Attorney for the Southern District of New York Damian Williams made a point of saying prosecutors had DNA and fingerprint evidence linking the close to half-million dollars in cash to indicted co-conspirators.
Menendez did not even mention the gold bullion bars that were seized.
The Senate Democratic Conference's rules require committee chairs to vacate their positions if criminally indicted, and  Menendez turned the gavel of the powerful Foreign Relations Committee to Democratic Sen. Ben Cardin. 
In his statement, Schumer appeared to try and put the best face on the roiling scandal that's unfolding as the closely divided Congress finds itself perilously close to a government shutdown.
"Bob Menendez has been a dedicated public servant and is always fighting hard for the people of New Jersey," Schumer said in the statement. "He has a right to due process and a fair trial. Senator Menendez has rightly decided to step down temporarily from his position as Chairman of the Foreign Relations Committee until the matter has been resolved." 
When initially stopped in the halls of Congress, Rep. Santos – himself under federal criminal indictment – told MSNBC he didn't "have an opinion" but changed his mind in a nanosecond as he walked closer to the camera and extended microphone.
"I think due process is important and I think he has the right to defend himself," Santos said. "He's innocent till proven guilty. The media has to stop acting like everybody is guilty before they are judged by juries…When did we walk away from the fabric of our Constitution that everybody has a presumption of innocence before anything else? I don't think he should resign."
Rep. Alexandria Ocasio Cortez was more direct on CBS's Face the Nation over the weekend. "I do believe it is in the best interest for Senator Menendez to resign in this moment," she said. "Consistency matters. It shouldn't matter if it's a Republican or Democrat. The details in this indictment are extremely serious."
In 2015, Menendez was indicted on (unrelated) federal corruption charges, stemming from his relationship with Salomon Melgen, a Florida doctor. The DOJ alleged that between 2006 and 2013, Menendez had taken close to $1 million worth of "lavish gifts and campaign contributions from Melgen in exchange for using the power of his Senate office to influence the outcome of ongoing contractual and Medicare billing disputes worth tens of millions of dollars to Melgen and to support the visa applications of several of Melgen's girlfriends."
Melgen was convicted for his role in a $75 million Medicare fraud case but had his 17-year sentence commuted by outgoing President Donald Trump. As for Menendez, federal prosecutors dropped the charges against the New Jersey legislator after a hung jury resulted in a mistrial.
In April 2018, Menendez was "severely admonished" by the bipartisan U.S. Senate Select Committee on Ethics for taking and not disclosing "gifts of significant value from Dr. Melgen" while at the same time using his position "as a member of the Senate to advance Dr. Melgen's personal and business interests."
Throughout that ordeal, the New Jersey Democratic political establishment had Senator Menendez's back. In fact, as the FBI was working on its second run at the veteran Senator, his son Rob Menendez was able to trade in his seat on the Port Authority of New York and New Jersey for his father's old Congressional seat, after Rep. Albio Sires decided to step down after several terms.
But 2015 is not 2023. West of the Hudson, Democrats face an upcoming election in November where every Assembly and state Senate seat is up. While Democrats remain dominant in New Jersey and President Biden carried the state by 16 points in 2020, Murphy had a very narrow victory in the governor's race in 2021. In a real shocker, state Senate President Stephen Sweeney, a New Jersey Democratic Party titan, was defeated by Edward Durr, a Republican truck driver for Raymour & Flanigan.