Campaigns & Elections
Taylor Darling announces state Senate bid
The Long Island Assembly Member is looking to replace state Sen. Kevin Thomas, who is running for Congress.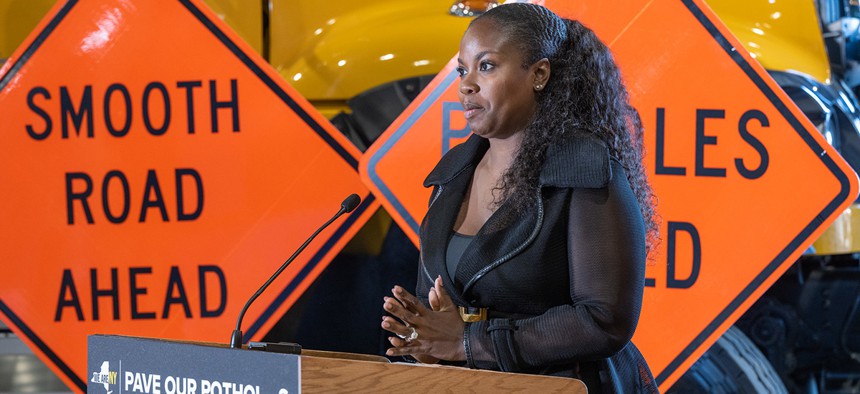 Democratic Assembly Member Taylor Darling has officially announced that she's running to replace state Sen. Kevin Thomas on Long Island. She had been considered a potential front-runner for the state Senate seat after Thomas declared his candidacy for Congress. 
In an interview with City & State's Political Personalities with Skye, Darling said she "intimately understand(s) the pressing issues and concerns" facing Long Island, and plans to continue championing those issues in the state Senate. "Our community does not need any more political figures, we need action figures," Darling said. "And I am rising up to answer the call to fight for your Long Island." She said that she would focus on education, improving wages, expanding childcare, protecting the environment and public safety. 
Darling was first elected to the Assembly in 2018, when she defeated former longtime Assembly Member Darlene Hooper in the Democratic primary. The entirety of her current district exists within the state Senate district she's running for. Three other Assembly districts also overlap with Thomas' seat, but Darling's has the most overlap out of the four.
With Darling running for the 6th District in the state Senate, a new question about who will replace her in the 18th Assembly District will emerge. She did not say whom she may support in that race, but several potential candidates had already been discussed before Darling officially announced her state Senate run. Those include Nassau County Legislators Siela Bynoe and Carrié Solages, whose names were floated for the state Senate seat, but may be contenders for the newly open Assembly seat.