News & Politics
The UAW strike has spread to New York
Workers at a parts distribution center in Rockland County have walked off the job, and assembly plants near Rochester and Buffalo could soon join the strike.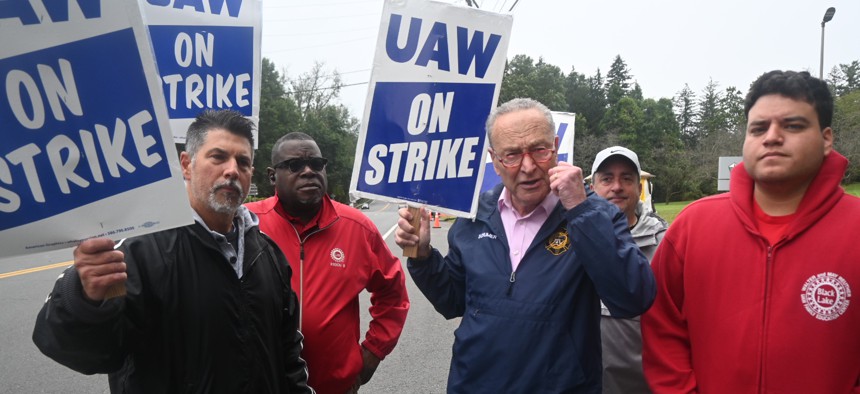 The United Auto Workers strike against Ford, General Motors and Stellantis is now entering its third week. While the companies' plants are concentrated in Michigan, Indiana and Ohio, the strike has also expanded to many other states, including New York. New York state's auto parts manufacturing industry is the sixth-largest in the country, employing 9,200 employees in 2022. 
The UAW is taking a novel approach to their nationwide strike – a stand up strike. Rather than asking workers at every unionized shop to go on strike all at once, the union is calling on workers at select shops to walk off the job, while others continue to work. This allows the union to gradually intensify the pressure on the bosses as contract negotiations continue and their demands remain unmet. 
The UAW is demanding a 36% pay increase across a four-year contract, cost of living adjustments, employee pension benefits, job security, the right to strike over plant closures, a four day work week and restrictions on the use of temporary workers. 
After their contract expired on Sept. 14, three Midwest auto plants went on strike first: a GM assembly plant in Wentzville, Missouri; a Stellantis assembly plant in Toledo, Ohio; and part of a Ford plant in Wayne, Michigan. A week later, union President Shawn Fain called on an additional 38 GM and Stellantis facilities across 20 states to join. One of those facilities was a parts distribution center in Rockland County.
On Friday, Ford's Chicago assembly plant and a GM assembly plant in Michigan joined the strike. There are now 25,000 auto workers on strike across the country.
On Wednesday, President Joe Biden surprised the nation when he joined a UAW picket line in Michigan, becoming the first sitting president to walk a picket line. New York's own U.S. Sen. Chuck Schumer also joined the picket line outside the Rockland County plant and vocalized his support for the strike on the Senate floor.
This strike is expected to greatly impact the U.S. economy, but where does New York fall in this strike?
Rockland County
With the second wave of strikes, 80 members of UAW Local 3039 walked off the job. They are employed by a parts distribution center in Tappan, which provides spare parts to Stellantis dealerships. This is the first location to join the strike in New York, and it's currently the only one on strike in the state.
"We made sacrifices, they made sacrifices for the betterment of their company, and now it's time we get our fair share of the profits being made by the company," Local 3039 President Jeffrey Purcell told Spectrum News One, saying they would be on strike for as long as they are needed.
Schumer visited the strike on Tuesday and later addressed the Senate regarding his time there.
"We must not forget, during the auto crisis of 2008, unions and workers gave back plenty," Schumer said. "And the workers are entitled to have a fair share of those profits. So, we need to make sure that this settlement, that [what] the strike will produce is fair to working people."
Western New York
Western New York is home to 3,000 UAW members. Ford has a stamping plant in Hamburg, while GM has an engine plant in Tonawanda and a components plant in Lockport. 
The plants have not gone on strike yet, but their workers could walk off the job if called upon by the union in any of the next few waves.
The GM plant in Tonawanda, which employs 750 UAW members, held a solidarity rally to support the national strike on Wednesday. State Sen. Tim Kennedy and other elected officials attended the rally. 
"My friends and colleagues in government, from the county executive to my colleagues in the state legislature, to the City of Buffalo and representatives of towns and villages, all across Erie County are here today. We're going to stand with you, UAW, until we win this fight, and it's a fight that matters," Kennedy said at the rally. "If we left those corporate mongers, those greedy monsters at the top, win this fight, guess what? They're coming for the next working families and the next union and we're not gonna let that happen, are we?"
On the national level, prior to the start of the strike, New York Rep. Brian Higgins said on the house floor, "during a time when companies are experiencing record profits, the people delivering the goods deserve a contract that recognizes the critical role they play in that success. I ask my colleagues to join me in solidarity with UAW as they negotiate a secure future for the workers driving success in the automotive industry today."
Southern Tier
Rep. Marc Molinaro, a Republican representing parts of the Hudson Valley and Catskills, voiced his support for the strike shortly before it began. While there are UAW members in Molinaro's district, there are no automotive industry facilities that could join the strike. 
"UAW workers deserve a strong contract that fairly accounts for their contributions to the American economy," Molinaro wrote on Facebook. "There's still time for both sides to negotiate in good-faith, avert a costly strike, and continue building on the progress we have made to protect good paying union jobs and drive the U.S. auto industry forward."
New York City 
The strike could impact car dealerships in New York City that sell Ford, GM and Stellantis cars.  
The UAW has called on community supporters to canvass dealerships that sell Ford, GM or Stellantis cars to educate the public about the strike. Some members of the New York City chapter of the Democratic Socialists of America are planning to organize a canvass outside of local car dealerships.
New York City also plays a critical part in building solidarity within the labor movement. On Saturday, a coalition of labor organizations are planning to hold a rally to support the UAW strike, which is likely to garner a large number of participants.
Rep. Alexandria Ocasio-Cortez supported the UAW at a rally in Wentzville, Missouri, where she addressed the crowd alongside Rep. Cori Bush. 
"When they say that prices have to go up to accommodate treating workers right, we say that it's their greed and excess that has to end," Ocasio-Cortez said at the rally. "When the Big 3 don't want to take the value of their workers seriously then they have given workers no other option but to force them to value their labor with a stand up strike."
Rep. Jamaal Bowman also shared his support on X (formerly known as Twitter), writing, "The Big Three auto companies have already raked in $20 billion in profits this year. Their CEOs make millions. They can afford to pay their employees a living wage. I'm standing with @UAW as they start their strike."
Rep. Daniel Goldman, who represents lower Manhattan and parts of Brooklyn, has spoken out supporting the strike.
"As the U.S. makes the transition to a green economy, American labor MUST get their fair share of that movement, including electric vehicles," Goldman wrote on X. "That is why I stand with UAW in the fight for a fair contract that protects workers' wages, benefits, and jobs today and in the future."
Rep. Nydia Velázquez, who represents parts of Brooklyn and Queens, has also voiced support for the strike.
"I am proud to stand with the United Auto Workers as they fight for fair compensation and job security during the ongoing contract negotiations," Velázquez said. "I hope that both sides continue to negotiate in good faith, but the greed from these corporations must end and worker rights need to be fully recognized."