2023 elections
Ahead of close election, Brooklyn Dems chair turns on Democratic City Council member
The cold war between Rodneyse Bichotte Hermelyn and Justin Brannan has turned hot, and Brannan is now threatening to sue the party chair for defamation.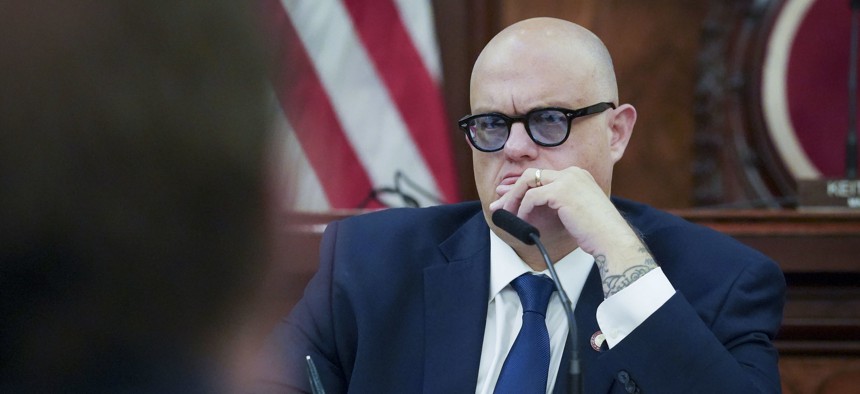 Democratic Council Member Justin Brannan is now waging a war on two fronts – against Republican colleague Ari Kagan, who's hoping to unseat him in next week's general election, and against Assembly Member Rodneyse Bichotte Hermelyn, the head of the Brooklyn Democratic Party.
On Tuesday, Bichotte released a blistering statement in response to a New York Post story rehashing years-old harassment allegations against Brannan. "We have received a barrage of concerns and disturbing allegations against Councilman Justin Brannan for harassing and tormenting an ex-staff member with autism, who was under Brannan's supervision at the time. The chilling accusations, which include locking this staffer in a basement and leaving decapitated teddy bears on his desk, were settled out of court for $850,000. Some have asked for Justin Brannan's resignation, which I have not taken a position on, as we wait for all the facts to come to light about these disturbing incidents."
Brannan campaign spokesperson Ian Brown fired back with a statement accusing Bichotte Hermelyn of slander. 
"Justin's desperate political opponents – that now include Rodneyse – have been lodging these false accusations in every campaign for the past 6 years. Justin was not named in this lawsuit and was never subpoenaed. Rodneyse should be careful she doesn't end up getting sued for libel and slander," Brown wrote in an email to City & State.
In response, Bichotte Hermelyn accused the Brannan campaign of attempting to silence a whistleblower.
"It is troubling to hear of these threats in response to a call to protect those bravely speaking out against workplace abuse," she said in a statement to City & State. "Does the Councilman think it's appropriate to try to silence allegations from victims with lawsuits while impeding free speech?"
Brannan and the ex-staff member in question, Michael Bistreich, worked together as staffers for former City Council Member Vincent Gentile. In 2016, Bistreich sued Gentile and the city for $10 million, alleging that his co-workers had harassed and mocked him due to his autism. The lawsuit did not specifically name Brannan. In 2017, as Brannan ran to replace the term-limited Gentile, Biestrich alleged to the Daily News that Brannan was one of the unnamed coworkers who had mocked him, which Brannan denied. In 2021, a judge dismissed Gentile from the suit and the city settled for $850,000. Last week, Bistreich released a new video criticizing Brannan and endorsing Kagan, his Republican opponent.
In recent months, Democrats in Brooklyn have become increasingly concerned that Bichotte Hermelyn's ongoing feud with Brannan could cost them Brannan's Council seat. In September, Bichotte Hermelyn and Brannan got into a war of words after Bichotte Hermelyn called for locating a migrant shelter in Brannan's Bay Ridge district. And as City & State previously reported, Brannan does not believe that the Brooklyn Democratic Party has put boots on the ground to support his reelection. Over the weekend, the Brooklyn Democratic Party called on volunteers to campaign for incumbent Democratic Council Member Marjorie Velázquez in the Bronx, rather than incumbents in Brooklyn like Brannan.
When asked whether Bichotte Hermelyn was concerned that her statement criticizing Brannan would hurt his campaign, the Brooklyn Democratic Party said it had no comment. But the party leader's war with a vulnerable incumbent could further inflame the civil war roiling the Brooklyn Democratic Party. In response to her statement on Brannan, Lenny Markh – a Democratic district leader who previously supported Bichotte Hermelyn – publicly called for her resignation.
- with reporting from Annie McDonough

This story has been updated with additional comment from Bichotte Hermelyn.
Powered By
NEXT STORY: Republican NYC Council candidate returns George Santos donation