Heard Around Town
Ahead of Latin America trip, Eric Adams drives home calls for help in migrant crisis
The New York City mayor is heading to Latin America to meet with local leaders about the asylum-seeker crisis and observe what's happening on the ground.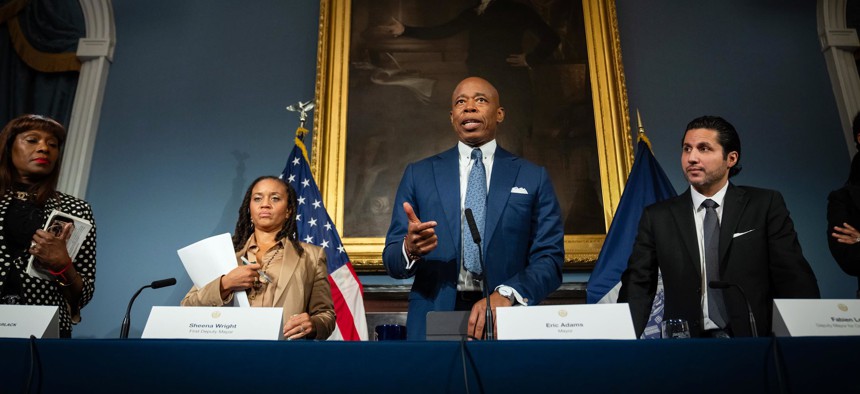 Before taking off for a four-day trip to Latin America, Mayor Eric Adams and his administration warned that the influx of asylum-seekers to New York City is continuing at an unpredictable rate and that New Yorkers will start to see what being "out of capacity" looks like.
"You are going to continue to see lines outside of the Roosevelt," said Adams' chief of staff, Camille Joseph Varlack, referring to the asylum-seeker intake center at the Roosevelt Hotel. "New Yorkers should prepare that they are going to see lines over the next coming weeks and months because, again, there is a surge at the border, New York is out of capacity, and we now don't have as much knowledge or insight into the number of buses that are going to be showing up."
Those comments were made at a press briefing held by Adams on Tuesday with a dozen of his deputy mayors and other top administration officials. (The press conference was the first dedicated weekly "off-topic" availability the mayor has held since announcing that he would no longer take off-topic questions at other press conferences.)
Adams will leave for Latin America on Wednesday, for a four-day trip that includes visits to Mexico, Ecuador and Colombia to meet with local leaders about the crisis and observe what's happening on the ground. Part of his goal while there, Adams said on Tuesday, is to combat what he called a PR campaign that paints New York City as a place where asylum-seekers will be put up in five-star hotels. "I want to give the people of those areas a real story of what is happening in New York City," Adams said.
Citing the city's budget troubles, Adams said that taxpayers will not be footing the bill for the trip. The Daily News reported earlier that the Mexico portion of the trip will be paid for by the U.S.-Mexico Foundation, while Adams will cover his own expenses for the other legs of the trip.
For more than a year, the Adams administration has raised alarms that the city does not have the space or funds to shelter and provide other resources for the more than 118,000 asylum-seekers who have come through the city since last spring. The administration is currently in court trying to amend the right to shelter law that has long required the city to provide shelter to anyone who needs it. 
While the federal government has not come through with any major funding to help pay for those costs, both Adams and Gov. Kathy Hochul celebrated the Biden administration's extension of Temporary Protected Status to more Venezuelans last month, which can allow migrants to more quickly apply for work permits.
Asked about the city's next priority needs from the federal government on Tuesday, Adams said that the list hasn't changed. The city is calling to have TPS extended to migrants from more countries, and to have the fees for TPS applications waived. Adams said they're continuing to ask for funding and a decompression strategy at the southern border that would send more people coming into the country to other states.
"We don't want folks spiking the ball," Adams said. "We have a long way to go."
Powered By
NEXT STORY: Republican council candidate harasses Queens elected officials