News & Politics
Despite New York City's 'sanctuary city" status, Eric Adams hints at cooperation with immigration officials
The mayor said he would honor the laws on the books, but there remain other legal ways to collaborate with ICE agents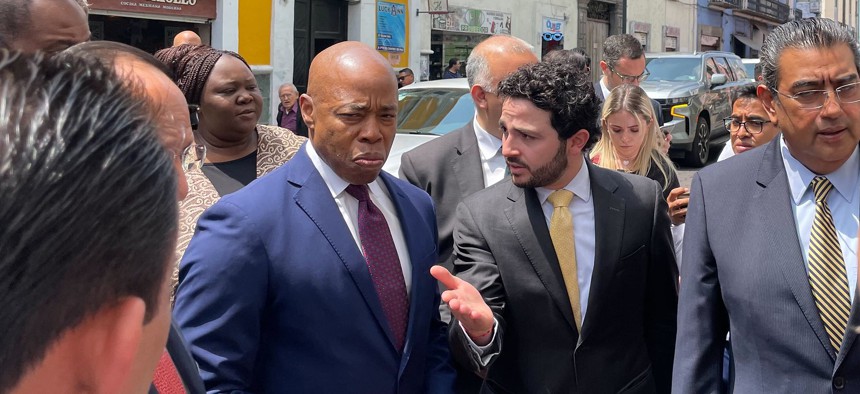 New York City is a sanctuary city, but Mayor Eric Adams indicated on Friday that won't stop him from cooperating with federal immigration officials in any legal way he can as the city still struggles to accommodate over 110,000 migrants seeking asylum that have arrived over the past year. And while city and state law prevent some level of cooperation between local law enforcement and immigration officials, there are still avenues that immigrant advocates have been trying to close for years.
Speaking to the press during his trip to Central and South America, Adams said that he would "follow the law and whatever the law requires us," when asked about President Joe Biden's recent announcement that his administration would resume deportation flights for Venezuelans. That announcement came just days after Venezuelan migrants who have been in the country since before August became eligible to apply for temporary protected status and garnered criticism from leftwing lawmakers and immigrant advocates. 
New York City is one of several throughout the state and country classified as a "sanctuary city," meaning that local law enforcement generally won't cooperate with Immigration and Customs Enforcement agents. But it's not a legal term, and definitions vary by jurisdiction. Since 2014, the city has had laws on the books that prohibit police from honoring detainer requests from ICE, meaning they would not hold undocumented immigrants in custody for up to 48 extra hours after their release date on the behalf of ICE. A 2018 state appellate court ruling found that any local law enforcement in New York that honored a detainer request violated state law, effectively expanding that policy statewide. State law and a federal court order also prohibits ICE from making arrests in a state courthouse, or on the property on which the courthouse is located.
Adams said on Friday that he "won't do anything" that violates the rules and laws in place that govern how local law enforcement interacts with ICE. "Our city is very clear on what the law is around coordinating with ICE and those are the laws that this administration is going to comply with," Adams said. But while detainers are one of the most significant ways that local law enforcement cooperates with, there are still other ways that remain legal in both New York City and the state for the Adams administration to work with federal immigration officials. In fact, a 2020 press release from ICE asserted that the city's sanctuary status actually led to an increase in immigration arrests in the metropolitan area.
It's why immigrant advocates for years have pushed for the New York for All Act, which would further curtail local authority's ability to work with ICE. The legislation, which has languished in Albany since its introduction, would prohibit any local law enforcement from sharing a person's immigration status with federal authorities and jails from informing ICE when an undocumented immigrant is being released. That has been a problem even in New York City, where emails made public in a City Council hearing earlier this year revealed collaboration between some Department of Corrections officials and ICE agents. 
The New York for All Act would also prohibit what are known as 287(g) agreements between local law enforcement and federal immigration officials, ban the use of any state or local funds for immigration enforcement purposes and end the practice of automatically transferring undocumented immigrants in local custody into ICE custody. It would also prevent federal immigration officials from entering any non-public area on state or local property without a warrant.
The Adams administration was not immediately available for comment.
With reporting from Sahalie Donaldson.
Powered By
NEXT STORY: McCarthy's exit may have limited impact on New York's congressional races