News & Politics
Suozzi enters congressional race as candidate to beat
The field isn't clearing for the former Congress member, but Tom Suozzi's campaign comes in with some tough-to-beat advantages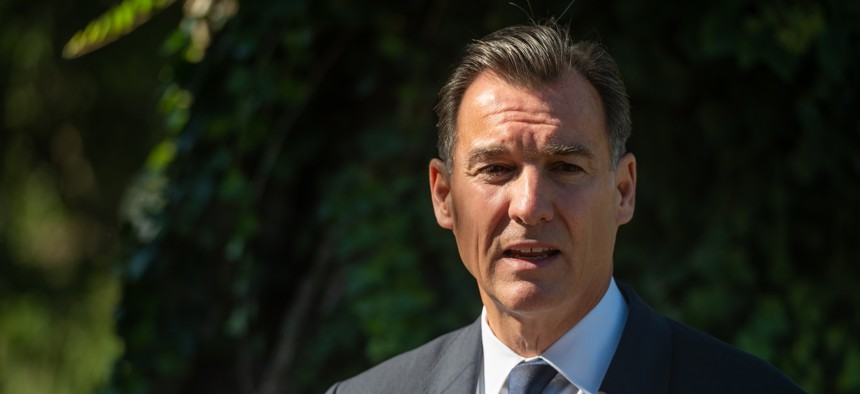 On Tuesday, former Rep. Tom Suozzi officially announced his campaign for his old congressional seat, which he gave up last year to run for governor against Gov. Kathy Hochul. Coming in as the former incumbent with a long electoral history in Nassau County will certainly make him one of the main contenders, but that is hardly a guarantee that he will emerge as a frontrunner in the race. 
Suozzi enters the race to take on lying and indicted GOP Rep. George Santos with easily the most name recognition in the district. Not only did he represent the area in Congress for six years, he served as the Nassau County executive between 2002 and 2009, and as the mayor of the city Glen Cove before that. He also has relationships with members of the House – and their donors. Sources previously told City & State that Suozzi has been making calls to his former colleagues in Congress to muster up robust support for his campaign, and Politico New York reported that he had gained two dozen endorsements from members ahead of his planned launch. Suozzi has not made public any endorsements yet, but his statement announcing his campaign said a formal launch won't happen until next month.
Although the district has changed thanks to redistricting, it has largely remained the same compared to when Suozzi held the seat. The portion of Suffolk county previously in the district was removed, and the district lines extended slightly further south in Nassau. But Suozzi's North Shore base remains the heart of the district.
Last year, Suozzi finished a distant third place in the Democratic primary when he challenged Hochul. And the messy race garnered some negative statewide attention, not least of which came from frustrated Democrats urging him to run for reelection to maintain Democratic control of his seat. But that hasn't necessarily diminished his strength back home. "Suozzi is one of the strongest Democratic brands on Long Island," Larry Levy, executive dean of the National Center on Suburban Studies at Hofstra University, told City & State. He said that Suozzi still has a strong base of support on the island and would pose a threat to any Democrat who remains in the race. "With his name recognition and track record, he is the closest thing to an incumbent that a non-incumbent can be," Levy said.
Several Democrats had already announced their campaigns before Suozzi made his decision – and some are touting new fundraising numbers to show how serious they are. Former state Sen. Anna Kaplan's campaign announced on Tuesday that she raised $330,000 in the third quarter. After Suozzi's public campaign announcement, Kapan released a statement criticizing him and indicating she does not intend to bow out of the race. "After almost a year of this district having embarrassing representation, Tom Suozzi thinks voters on Long Island have forgotten that he abandoned us to (George) Santos," Kaplan said. "The Democratic Party is a pro-choice party, and unlike Tom Suozzi, I will always stand up for a woman's right to choose - period."
Democrat Zak Malamed's campaign also announced that he had raised over $300,000 in the last quarter and tied the strength of his numbers to a statement about Suozzi. Like Kaplan, he criticized the former member of Congress for his decision to give up his seat. "The last time Tom Suozzi represented this district, he decided to leave and launch a longshot gubernatorial campaign – paving the way for George Santos," Malamed said.
In addition to the declared candidates, businessman and Democratic National Committee member Robert Zimmerman has been floated as another potential contender. He won the Democratic primary last year but ultimately lost to Santos in the general election. Although he lost as part of the red wave that hit New York last year, Zimmerman remains a strong fundraiser who could once again emerge as a frontrunner. 
Kaplan and Suozzi's electoral track records are also far from perfect. Kaplan lost her state senate reelection race last year to Republican state Sen. Jack Martins. As for Suozzi, he first ran for governor in 2006, losing to former Gov. Eliot Spitzer in the primary. Three years later, Suozzi lost his county executive reelection to Republican Ed Mangano. He attempted a rematch against Mangano in 2013 but came up short again.
Suozzi and other Democrats are all vying to replace Santos in Congress, either next year in the general election or sooner in a special election if he resigns or gets expelled from the House. But winning the Democratic primary won't guarantee them the seat. A crowded field of Republicans has also emerged to primary Santos.
Correction: This article has been updated to note that Suozzi served in Congress for six years.
Powered By
NEXT STORY: GOP City Council candidate Ying Tan gets support from an unlikely donor