2024 New York congressional battleground
Who's running to unseat Nick LaLota in NY-1?
The Long Island seat remains competitive.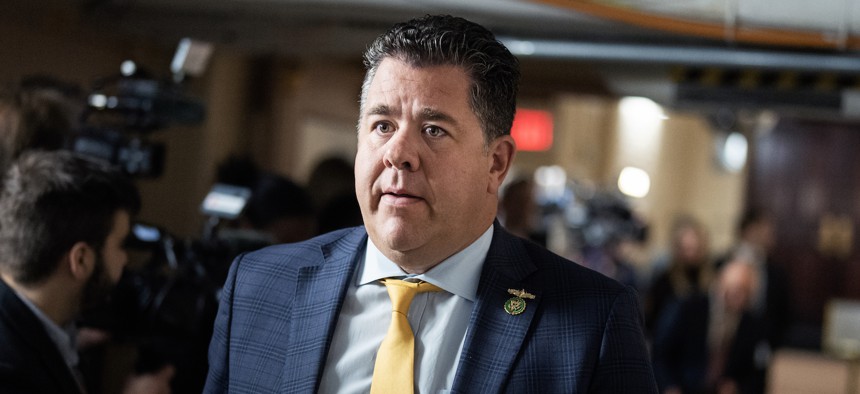 The 1st Congressional District of New York, covering much of Suffolk County and Long Island's eastern portion, has flipped between Democrats and Republicans for decades. Although it's remained in the Republican hands recently, the district has long been considered a truly purple swing seat that could be up for grabs at any time. Even when former Rep. Lee Zeldin held the seat, Democrat Perry Gershon came within five percentage points of unseating the incumbent in 2018. Zeldin himself took the seat from former Democratic Rep. Tim Bishop in 2014. It's one of six New York House seats Democrats are hoping to flip in 2024. 
The seat is currently held by Republican Rep. Nick LaLota, who succeeded Zeldin when he decided to run for governor. LaLota was one of several freshman Republicans in New York who helped flip the House after riding a mini red wave in the state. Even though the seat has remained far more competitive than they had originally wanted after redistricting, Democrats have not lost hope in regaining the swing district and flipping it back once again. Here are the candidates who have filed to run so far. This post was last updated on Oct. 7.
REPUBLICANS
Rep. Nick LaLota
LaLota won his seat when Zeldin decided to run for governor in 2022, leaving the historically purple district up for grabs. He faced off against Democrat Bridget Fleming, a Democratic member of the Suffolk County Legislature, and won handily. After his victory but before taking office, LaLota became one of the first Republicans in the House to call for an Ethics Committee investigation into his Long Island colleague Rep. George Santos, who had also not taken office yet. And LaLota called on Santos to resign soon after taking office in January. In office, LaLota has also been a champion of eliminating the cap on the state and local tax deductions, helping to lead a group of moderate Republicans that has blocked the party's tax plan in the House to push for greater tax relief for residents of high-tax states like New York and California.
DEMOCRATS
James Gaughran
After announcing he would not seek another term in the state Senate due to changes to his district as a result of redistricting, Democrat Gaughran decided he would instead try his hand at running for Congress. Gaughran ran two campaigns against former GOP longtime state Sen. Carl Marcellino for his seat in the state Legislature, succeeding in his attempt in 2018 when Democrats won control of the state Senate. He won reelection by a narrow margin in 2020, but when new district lines made his seat friendlier to Republicans and would have forced him to compete against a GOP incumbent, he decided not to run again. Now, the longtime Suffolk County lawmaker and official is trying to bring his brand of moderate Democratic politics to the congressional campaign trail to unseat LaLota. Gaughran has support from Suffolk County Democratic Party Chair Rich Schaffer, as well as endorsements from several local elected officials.
Craig Herskowitz
Another Democrat, Herskowitz most recently served as an administrative law judge in New York City, but announced in September on LinkedIn that he resigned to run for Congress. Herskowitz also worked for the administration of former Gov. Andrew Cuomo and claimed that he was fired for cooperating in the attorney general's investigation into sexual harassment claims made against the former governor. However, a lawsuit over the termination claim was tossed by a state judge earlier this year.
Nancy Goroff
The former candidate who ran against Zeldin in 2020 announced in October that she would seek the seat once again. Goroff is an organic chemist and professor emeritus at Stony Brook University who ran for the first time when she challenged Zeldin three years ago. At the time, she won a primary against three other Democrats, but lost to Zeldin by about 11 percentage points. Goroff launched her new campaign with support from Schaffer as well as Brookhaven Town Democratic Committee Chair Anthony Portesy, who leads the Democratic Party of the county's most populous town.