Politics
Annual Somos Shabbat event disrupted by pro-Palestine protesters
The event was held to celebrate Jewish and Hispanic unity - not billed as pro-Israel.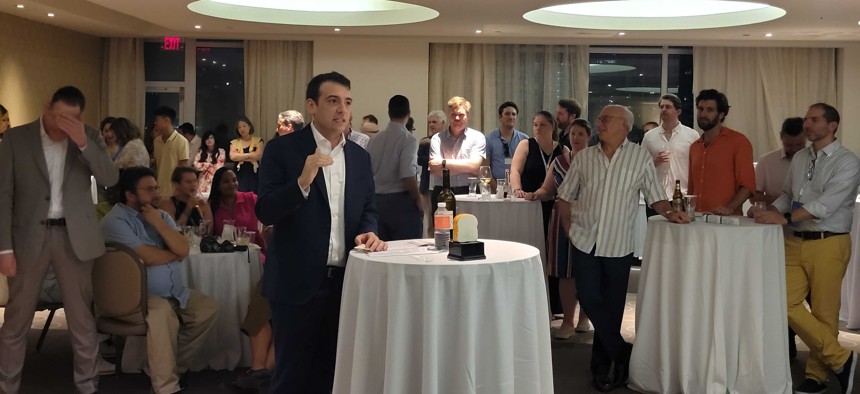 An annual Somos Shabbat event hosted by UJA Federation New York and the Met Council was disrupted by protestors rallying in support of Palestine. The event is extremely popular at Somos, considered a can't-miss. It was billed as a celebration of Jewish and Hispanic unity, and it was once again packed with elected officials from New York City Council up to Congress. 
As the protest continued outside the event held at The Condado Plaza Hotel, police temporarily closed at least one side of Puente Dos Hermanos bridge to traffic. A handful of protesters broke into the event in the hotel. One yelled "genocide! Never again for anyone!" before being escorted from the room amid loud boos, Bloomberg's Zach Williams reported.
The protest was the latest in a series of demonstrations planned by Jornada: Se Acabaron Las Promesas, which describes itself as an anticapitalist organization fighting for Puerto Rican independence.
The demonstration drew sharp condemnation from former Assembly Member Daniel Rosenthal, who currently serves as vice president for government affairs at UJA. "If you look at the headline of this event… it says nothing about Israel – it talks about unity," Rosenthal said. He said that the social services funded by his organization and the Met Council are not predicated on background or community. "Unfortunately, that message is not good enough for the haters outside who, quite frankly, as you now know, it is not about Israel, it is about the Jewish community," Rosenthal said to applause. "Let's call them what they are: antisemites… We're celebrating our Shabbat proudly, and that is offensive to them."
Since the Oct. 7 attack by Hamas that left 1,400 mostly civilian Israelis dead and with over 200 others kidnapped, experts have reported a dramatic increase in antisemitism and antisemitic hate crimes in the United States. New York, home to the largest population of Jewish people outside of Israel, is no exception. Hochul, who visited Israel last month to show solidarity with the Jewish community, also announced last month additional funding and resources to combat antisemitism and Islamophobia in the state. A review of CUNY policies regarding antisemitism and discrimination was part of that as well.
A diverse group of non-Jewish officials expressed solidarity in a series of speeches. "As an Asian American, when we were going through an unprecedented rise of hate and discrimination against Asians, it was the Jewish community that was amongst the first locally and nationally to reach out and say, 'We are with you'... and they stood by us every step of the way," Rep. Grace Meng said. "But there is a lot of miscommunication and a lot of falsities and bad narratives out there that are inaccurate, so we need to do more work."
Met Council CEO David Greenfield shouted out the long list of officials at the event, including (but not limited to): New York City DAs Eric Gonzalez and Darcel Clark, New York City Council Members Shekar Krishnan, Inna Vernikov, Linda Lee, Julie Menin, Lynn Schulman, Gale Brewer, Kamillah Hanks, Farah Louis, Shaun Abreu, Eric Dinowitz, Joe Borelli, Keith Powers, Gale Brewer, Justin Brannan, Selvena Brooks-Powers, and Lincoln Restler, Assembly Members Amy Paulin, Catalina Cruz, Tony Simone, David Weprin, Harvey Epstein, state Sens. Zellnor Myrie (introduced by Greenfield as the senator who represents the largest Chabad community in the world), Gustavo Rivera, Jeremy Cooney, Andrew Gounardes and Jamaal Bailey, Manhattan Borough President Mark Levine, Bronx Borough President Vanessa Gibson, Rep. Grace Meng, NYC Police Commissioner Eddie Caban, NYC Comptroller Brad Lander and state Comptroller Tom DiNapoli. 
Some officials made it to both the Met Council event and a first-ever Jews For Racial and Economic Justice Shabbat candle-lighting, where attendees said a prayer for "the end of the brutal siege on Gaza and the return of all hostages."