Heard Around Town
Brooklyn Dems chair doubles down on criticism of Democratic City Council member
After fellow Democrats accused her of undermining the party, Rodneyse Bichotte Hermelyn accused them of hypocrisy.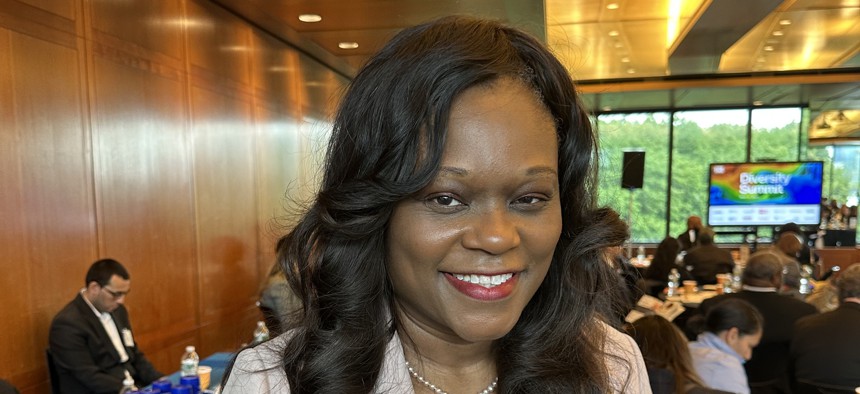 Earlier this week, Assembly Member Rodneyse Bichotte Hermelyn – the head of the Brooklyn Democratic Party – nearly touched off an intra-party civil war when she released a scathing statement against Justin Brannan, the Democratic City Council member fighting a tough reelection battle against Republican Ari Kagan in southern Brooklyn. The statement highlighted old allegations of bullying and harassment against Brannan made by  former co-worker Michael Bistreich, which Brannan has dismissed as cynical and politically-motivated. It received immediate pushback from Brannan's supporters within the Brooklyn Democratic Party.
"Over the past several weeks, it has become increasingly clear that the County Chair has been acting against the best interests of our party," a group of 16 Democratic district leaders wrote in a statement of their own. "Rodneyse Bichotte-Hermelyn, the Chair of the Brooklyn Democratic Party, has repeatedly used Party resources to attack Councilmember Justin Brannan in order to undermine his campaign for re-election."
But Bichotte Hermelyn doubled down in a statement released exclusively to City & State on Friday. "I will not back down from urging Democrats to push for accountability, even amongst our own Party, and especially during elections," she said in the statement.
The party leader also singled out Tori Kelly, one of the Democratic district leaders who signed the statement criticizing her.
"Me and many survivors are especially disappointed to see Tori Kelly, a female District Leader who proclaims justice for 'victims suffering in silence…and choose to stay quiet out of fear,' sign onto a statement aiming to minimize Michael's story – and Tori has publicly spoken up about the challenges victims experience when coming forward especially at the workplace," Bichotte Hermelyn said. "It's hypocritical of Tori to pick and choose which victims of workplace abuse matter more or less based upon our political alliances. She is to be reminded that victims of unsafe and toxic workplace environments have a right to come forward and share their story while seeking justice."
Following the initial publication of this article, Kelly released a statement of her own criticizing Bichotte Hermelyn. (For those keeping track, that's a statement responding to Bichotte Hermelyn's statement responding to the district leaders' statement responding to Bichotte Hermelyn's statement responding to the allegation against Brannan.)
"The Kings County Democratic Chair's statement is a total deflection of the issue raised by the statement I co-signed alongside 15 other Brooklyn Dem executive committee members," Kelly said. "Instead of addressing the fact that she is openly trying to hurt a democratic incumbent's election to bolster a former ally, the 'Chair' continues to lob personal and politically motivated attacks. No surprise there."
In addition to serving as a district leader and member of the Brooklyn Democratic Party's executive committee, Kelly serves as chief of staff to Assembly Member Andrew Gounardes. She is also a co-founder of the Sexual Harassment Working Group and was one of a number of women who accused former Assembly Member Vito Lopez – who ran the Brooklyn Democratic Party from 2006 to 2012 – of sexual harassment.
"I'm a survivor of sexual assault and harassment who has dedicated my life to making sure not one other person ever has to endure what I endured," Kelly said. "Many people at and affiliated with the Kings County Democratic Organization were silent witnesses, enablers, and frankly, culpable for what happened to me. I will continue my life's work undeterred by this pettiness and cowardice."
Erica Vladimer, another co-founder of the Sexual Harassment Working Group, also criticized Bichotte Hermelyn. "I'm deeply dismayed by the Chair's weaponization of someone's traumatic experience to defend her failure to represent the BK Dem party," she said in a statement.
The controversy over Brannan centers on claims made by Bistreich, an autistic former City Council staffer who worked alongside Brannan on the staff of then-Council member Vincent Gentile before Brannan ran for office. In 2016, Bistreich filed a $10 million harassment lawsuit against Gentile and the city, alleging that he had been subject to ableist bullying and abuse. The harassment lawsuit did not explicitly name Brannan. But in 2017, as Brannan ran for Gentile's old seat, Bistreich publicly accused Brannan of making off-color jokes about his autism. Bistreich has since backed many of Brannan's opponents – including, most recently, Kagan. The city ultimately settled Bistreich's lawsuit for $850,000.
Brannan has dismissed Bistreich's allegations against him as cynical and politically-motivated, pointing to the fact that he was never named in the lawsuit and had already left Gentile's office by the time that the worst of the alleged harassment occurred. "I was not named in the lawsuit," he told City & State at an unrelated event on Wednesday. "Wasn't subpoenaed. I had nothing to do with it. I didn't even work there. When all these alleged incidents happened…I was working for the Department of Education. I wasn't even there in the office."
But that hasn't stopped Kagan from trying to spin a narrative of Brannan as a "bully" – or Bichotte Hermelyn from boosting that narrative.
On Tuesday, Bichotte Hermelyn released a statement blasting Brannan over the allegations: "We have received a barrage of concerns and disturbing allegations against Councilman Justin Brannan for harassing and tormenting an ex-staff member with autism, who was under Brannan's supervision at the time. … Some have asked for Justin Brannan's resignation, which I have not taken a position on, as we wait for all the facts to come to light about these disturbing incidents."
In response, Brannan's campaign threatened to sue both Bistreich and Bichotte Hermelyn for libel, and some within the Brooklyn Democratic Party accused her of deliberately aiding Kagan's campaign.
"Justin's desperate political opponents – that now include Rodneyse – have been lodging these false accusations in every campaign for the past 6 years," a campaign spokesperson wrote in an email to City & State. "Justin was not named in this lawsuit and was never subpoenaed. Rodneyse should be careful she doesn't end up getting sued for libel and slander."
In her statement on Friday, Bichotte Hermelyn accused Brannan of attempting to silence her.
"When I released a statement calling to defend Bistreich from threats as he bravely shares his story, I was met with threats of a lawsuit and additional hate by intimidation for being a survivor and advocate for Michael as a victim," she said. "This triggered traumatic emotions that only fellow victims of this kind of violation would understand."