Politics
Claire Cousin wants to be part of the NY Legislature's progressive bloc
The lefty challenger to Assembly Member Didi Barrett got the Working Families Party's early backing – and she's demanding to be taken seriously.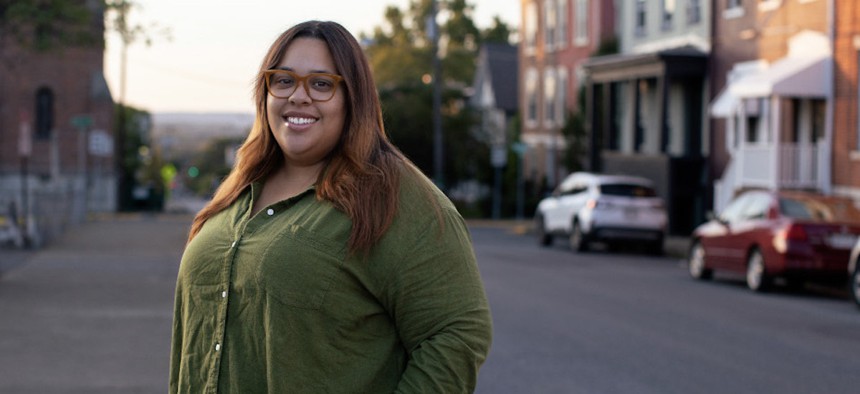 Taking on an incumbent who has been in office for a decade is no easy feat, but Claire Cousin is not one to shy away from a challenge. The 30-year-old nonprofit executive director and Columbia County supervisor announced her run against Democratic Assembly Member Didi Barrett in May in a hallway right outside of Barrett's Poughkeepsie office. Politicians are used to protests, but this is a challenge Barrett will be taking seriously. Cousin was endorsed by the progressive Working Families Party as their first endorsement for the 2024 state legislative races and by the New York Progressive Action Network. And Cousin's campaign comes two years after WFP-backed activist Sarahana Shrestha unseated 20-year incumbent Kevin Cahill in the district next door.
Cousin said she was approached by the Working Families Party in 2021 to run for the Assembly, but did not feel ready at that point to launch a campaign. She said she decided to run for office while advocating for the Clean Slate Act, a recently signed bill that seals criminal records for people who have not faced another conviction for a certain period of time. While trying to get politicians to sign onto the bill, she was met with more pushback than she had anticipated.
"Those were really frustrating conversations, for something that seems so common sense," Cousin said. "When it comes to economic justice, when it comes to making sure people have access to housing, education and employment opportunities, you'd think that it's a bill that another progressive or Democrat would sign onto, but we had a lot of struggles there."
The state Legislature passed the bill in 2023, and Barrett voted yes, but Cousin said that legislative battle flipped a switch in her head. 
"It got me paying attention to state politics more and I'm seeing this block of progressives that's getting things moving at the state level, and I'm also noticing that there are these Democrats who are standing in direct way of getting important pieces of legislation passed," Cousin said.
Martin Shaffer, dean of the Marist College School of Liberal Arts and an expert on New York state politics, said this election could be a challenging one for Barrett. 
"(Cousin has) had a position up in Columbia County. She seems to have worked with a couple of different advocacy groups previously, and so she's not a typical kind of amateur challenger who's just kind of winging it, so to speak," Shaffer said. "She is more prepared than many primary challengers would be. I think it means that she's got the ability to make a really good election, a challenging election."
Born and raised in Hudson, New York, Cousin dropped out of high school and became a teen mom. Two months after dropping out, Cousin got her GED. She got more involved in youth advocacy work as she fought to get more funding for youth programming in Hudson County schools, eventually joining the Staley B. Keith Social Justice Center, a nonprofit organization which supports Black families in the Hudson area, as the youth and young adult chair. There she primarily focused on juvenile justice reform. 
In 2020, Cousin led SBK Social Justice Center into a transition to the Hudson/Catskill Housing Coalition, becoming the executive director, advocating for affordable housing. Cousin now serves as the organization's program manager.
In 2021, Cousin ran for a seat on the Columbia County Board of Supervisors, and is now in her second term representing the first ward. Cousin was also the director of the Albany Free School, an inner-city independent alternative school before stepping down to run her campaign, vice chair of the Hudson Housing Authority's Board of Commissioners and is on the board of Re-Entry Columbia, a nonprofit that helps formerly incarcerated individuals.
Cousin said that after spending nine years engaging in organizing work, stepping into politics was a natural progression to work on legislation and policy.
"One of the things that were most prevalent and important along the road for me was seeing who holds power and how power affects people on the grassroots level," Cousin said. "And that was one of the reasons that I decided to run for Assembly."
A spokesperson for the Working Families Party said that there was a lot of organic early excitement from the New York WFP Chapter, and that many have a strong belief in Cousin as she is a well-known advocate in the community.
While Barrett has had a stronghold on the district for many years, she has faced controversy for certain bills she has sponsored, namely a methane bill which environmentalists said would allow more methane emissions to be released than the state climate plan aimed for, setting the state back on its climate goals.
Cousin describes Barrett as "one of the most conservative Democrats in Albany," and points to the Assembly member's record of voting against eviction moratoriums, labor protections for farmworkers, gun safety measures and protections for undocumented immigrants. 
"A lot of people who support her because she's a Democrat solely don't know that her voting record is actually detrimental to our everyday well-being," Cousin said. 
Barrett responded to these claims, saying, "I encourage anybody to look at my voting record to see that is simply not true," and pointed to an array of legislation that she has voted for, including the DREAM Act, the Adult Survivors Act, marijuana legalization, banning the sale of ghost guns, paid family leave and minimum wage increases.
"I consider myself a public servant and I see my job as listening to my constituents, hearing their priorities and bringing the resources from Albany back to our district," Barrett wrote in an email to City & State. "We vote on more than 1000 bills every year, and I have always fought for the hardworking men and women of the 106th Assembly District, consistently voting for strong labor protections, common-sense gun legislation and increases to the minimum wage."
Gerald Benjamin, a SUNY New Paltz dean and state government expert, noted that the early endorsement and announcement does allow Barrett time to prepare for the challenge. Benjamin said that in the Shrestha-Cahill race, the incumbent was comfortable and did not build up his voter base leading to his loss. Barrett also has a fundraising lead.
According to the most recent filings from the Cousin campaign, her fundraising total is at $0, however the campaign said that they have raised $47,377, which will be reflected in the January 2024 filing. Barrett has $89,530 on hand, according to her most recent disclosures.
"The Hudson Valley has become a very competitive part of New York state, and this is a classic  contest between a progressive challenger and incumbent," Benjamin said. "The challenge is less of a surprise so the incumbent will be prepared."
When asked how she feels about facing Cousin in 2024, Barrett simply said, "This is a free country and anybody can step up and run for office."
Schaffer and Benjamin both explained that Cousin's advantage is in the voter base within the Columbia County area of the district, while Barrett's advantage is in the Dutchess County area. According to the Board of Elections numbers from the last primary, two-thirds of voters live in Dutchess County. Both the Dutchess County and Columbia County Democratic Committees have previously endorsed Barrett. However, Schaffer said that with the help from the Working Families Party and other grassroots organizations, Cousin could turnout people to vote.
Aside from a win, Cousin said that all she can hope for is for her run to inspire people to see what is possible. Cousin said that her experience on the ground makes her the best candidate.
"I want to be a part of that progressive bloc that is getting stuff done for the people that are directly impacted by our decisions."
Correction: This story has been corrected to reflect that Claire Cousin is not currently executive director of the Albany Free School.
Powered By
NEXT STORY: AOC, other progressives call on Columbia University to reinstate pro-Palestine groups