Politics
Despite losses on Long Island, Hochul is optimistic Dems will 'get it right' in 2024
At Somos, Brooklyn Dems Chair Rodneyse Bichotte Hermelyn thanked the governor for keeping New York blue.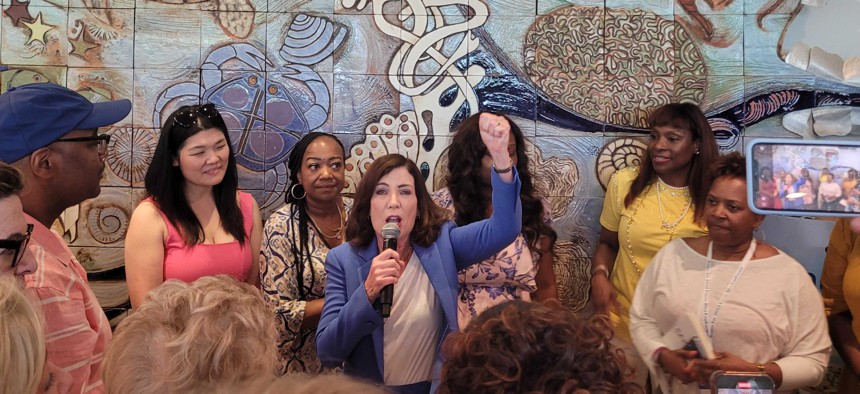 Gov. Kathy Hochul was in a celebratory mood her first day at Somos as she touted various Democratic successes around the state and vowed to flip five congressional seats to help win back control of the House. But amid the celebration, she didn't talk about where Democrats fell short in Nassau County, home to two of those five congressional seats, why the party suffered significant losses or suggest new party leadership after repeated failures from the head of both the state and Nassau Democratic Parties.
Speaking at the Brooklyn Democrats reception Friday afternoon, Party Chair Rodneyse Bichotte Hermelyn credited Hochul with electoral victories. "I want to thank you for helping to keep the state of New York blue," she said, addressing Hochul in front of the crowd. Following the Tuesday elections, Hochul touted victories throughout the state, including in Erie County, Dutchess County and Monroe County. "The rest of America is looking to us and Brooklyn because if we get it right next year, my friends, we'll not only have the U.S. Senate Majority Leader Chuck Schumer from Brooklyn, but how does it sound to have the speaker of the House of Representatives from Brooklyn?" Hochul asked to cheers at the Brooklyn Democrats reception. She pledged that Democrats would pick up five seats in the House, which represents five freshman Democrats in swing or nominally blue districts. 
Although she was met with applause, two of the five seats Democrats need to "get right" are in Nassau County, where Democrats had an extremely poor showing on election night that may reflect on potential successes next year. One of the most notable losses came when Republican-backed Jen Desena won reelection as the supervisor of North Hempstead, a town that was once a Democratic stronghold in the heart of the 3rd Congressional District. Currently held by the indicted serial liar Rep. George Santos, Democrats have viewed the seat as one of their strongest pickup opportunities. 
Asked about those losses and whether she thinks Democrats can truly win back those seats, Hochul offered optimism. "We're giving up on no area," Hochul said, talking about recent victories in part of the state that years ago Democrats might have written off. She added that she's headed to Long Island on Wednesday. Hochul also curiously said she spoke with Ed Romaine – the Republican candidate who won the Suffolk County executive seat on Tuesday – the day after the election "to talk about how there's a lot of alignment and agreement" in the same sentence she talked about Democratic leadership on Long Island. It was not immediately clear how talking to Romaine would assist Democrats in next year's elections, but she said that when one removes the politics from the discussion, Long Islanders will back Democrats. "We'll take a year to talk about the policies that are making the lives of people on Long Island better, and those are Long Island policies," Hochul said.
Of course, 2023 represents the third year of a red wave on Long Island that show no sign of abating. Taking a year after the initial 2021 losses did not lead to better results in 2022, nor did it lead to better results this year. Asked about whether she was concerned by the continuing trend, Hochul said "of course we're concerned, but next sentence is 'We're coming back after that.'" She said that she doesn't give up, and that "it's a 62-county strategy going into next year."
This is also the third year in a row that Jay Jacobs, chair of both the state and Nassau Democratic Parties, has overseen major losses in his own backyard. Last year, when Republican victories helped the GOP gain control of the House, many laid the blame on Jacobs and called for Hochul to replace him. Jacobs rejected characterizations that he was responsible for Democratic congressional losses, including in Nassau, and Hochul stood by him. 
Hochul said on Friday that hasn't changed. When asked if Jacobs is still the person to lead the start party for the pivotal 2024 elections, Hochul responded with a simple, "You bet."
Powered By
NEXT STORY: Annual Somos Shabbat event disrupted by pro-Palestine protesters