News & Politics
How not to defeat Republicans on Long Island
This week's dismal election results show that Democrats won't win in Nassau County if their only strategy is to remind voters how bad George Santos is.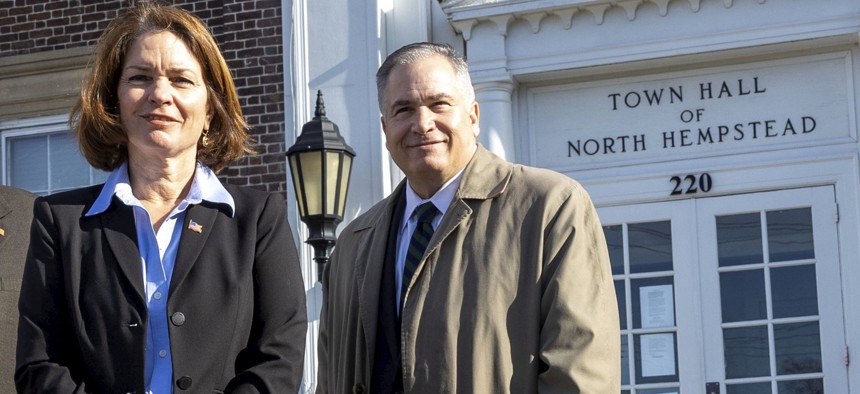 Democrats didn't have a great election night on Long Island, once again bucking the national trend of the party performing well in the suburbs. Republicans did particularly well in the heart of the 3rd Congressional District in Nassau County, the district represented by the serial liar and indicted Rep. George Santos that is considered one of Democrats' best pickup opportunities next year. The election showed that the red wave that has washed over Long Island the past two years does not seem to have abated yet, indicating that despite the presidential bump next year, Democrats still have their work cut out for them – and they shouldn't take anything for granted.
The red wave continues 
In the Town of North Hempstead, which includes a chunk of Santos' congressional district, the Republican-backed Jen DeSena won reelection as town supervisor, cementing GOP control of a town that flipped red two years ago for the first time in decades. In 2021, Democrats suffered a bloodbath on Long Island, losing the Nassau County executive seat, the district attorney posts in both Nassau and Suffolk County and control of the Suffolk County Legislature. The red wave continued into 2022, when Republicans swept the island's four congressional seats.
Although some hoped that 2023 would signal the beginning of the end of Republicans' dominance on Long Island, that didn't come to pass. "I think (Nassau County Democratic Chair) Jay Jacobs… (was) caught in this, again, trying to distinguish suburban Democrats from the Democrats that people hate," said one Long Island Democratic insider who asked to remain anonymous to speak candidly. "And so they were never able to overcome that. I predicted it was going to be the third year of a red wave." Jacobs did not return a request for comment about the election night losses in Nassau.
The North Hempstead results offer one of the first major looks at what to expect in next year's race to replace Santos, and they don't paint a particularly favorable picture for Democrats. "Ahead of next year, this signals that the blue North Hempstead of old is no more," Long Island Democratic consultant Matthew Albert told City & State. DeSena's landslide victory showed not only that the Democratic brand remains weak, but that attacks tying Republicans to Santos don't resonate with voters. "(Democrats') message was not very good," said a Long Island politico who spoke on background to offer his candid thoughts. "They spent an enormous amount of money trying to tie Jen DeSena to George Santos… Once, fine… but when you're doing like six, eight, 10 times and not defining 'Why am I voting for you?'"
Narrowing the field
Since formally announcing his run for NY-3, former Rep. Tom Suozzi has emerged as the favorite in the race. Suozzi, who previously represented the district in Congress until giving up his seat for an unsuccessful gubernatorial run, still faces a crowded Democratic primary – though it got a bit less crowded this week. On Wednesday, the field of Democrats running in NY-3 underwent a major shift when Zak Malamed, one of the top fundraisers among announced candidates, dropped out to endorse Suozzi. "Nominating Tom Suozzi is our best chance to flip this district blue and end the toxic hold that MAGA Republicans have on Long Island and Congress at large," Malamed said in a statement that didn't mention the previous night's major electoral losses in Nassau County and within NY-3. A spokesperson for Malamed also declined to offer additional comment about the election results. Suozzi accepted Malamed's endorsement, but a spokesperson for his campaign did not offer a statement on the Democratic losses in Nassau County. 
Nassau County Legislator Josh Lafazan, another candidate once considered viable in the crowded Democratic primary, lost his own reelection bid Tuesday night, the only incumbent in the Nassau County Legislature to do so. He did not return a request for comment about what that loss means for his congressional campaign, but political observers expect that he will either drop out of the race or fade into irrelevance.
Suozzi's strongest remaining opponent may be former state Sen. Anna Kaplan, who has raised the most money so far and who shows no signs of dropping out of the primary. "In just the past days, Anna Kaplan has rolled out several endorsements, published an op-ed defending Israel, and campaigned for local elected officials," Kaplan campaign manager Chase Goodwin said in a statement after Malamed dropped out. "She's in this race because New Yorkers deserve an honest, hard-working member of Congress who is not out for themselves or always looking for a promotion but actually wants the job they have been elected to do."
Lessons for 2024
There's still ample time before next year's midterm elections for Democrats to apply lessons from Tuesday's electoral losses – at least assuming that Santos doesn't get expelled from Congress, triggering an immediate special election. "If they want to win, they need to find authentic candidates with compelling arguments voters are asking for: SALT reform, addressing public safety and delivering for people, really simple stuff," Albert, the Democratic consultant, said.
One bright spot for Democrats on Long Island was the success of Democrat Christine Liu, who won a race for North Hempstead Town Board. Liu could offer Democrats a different path forward, since their strategy of negative campaigning failed to deliver victory in the town supervisor race. "It's just a perfect example of, you know, the right candidate at the right time, with the right message, who worked her tail off," said Assembly Member Gina Silliti, who was involved in Liu's campaign. Silliti did, however, note that Liu benefited from the fact that Republicans did not spend millions of dollars against her, the way they did against Democrat Jon Kaiman in the town supervisor race. The anonymous Democratic insider said that when Democrats failed to put up strong candidates to challenge Republican incumbents in Republican areas of Nassau like Oyster Bay and Hempstead, it gave DeSena "an unlimited checkbook" from the local party for her own campaign.
Although low turnout in an off-year election is not necessarily a death knell for Democrats, who expect a significant boost in turnout next year thanks to the presidential election, the party's poor performance on Tuesday is the latest sign that they cannot afford to take anything for granted. The Long Island politico said that Democrats need to start immediately rallying the troops for next year's elections, even in nominally blue districts like NY-3, rather than assume that the federal race will fill in the gaps in turnout. The Democratic insider agreed. "I think there is some optimism for the presidential race, it's when Dems come out," the insider said. "If they can't stop the bleeding next year? Forget it, Dems are going to be in the wasteland for the next decade."
Powered By
NEXT STORY: Editor's note: Eric Adams ditching Somos is his loss