Politics
Will the red wave wash away the last Democratic seat on Long Island?
The Suffolk County executive race – which pits Republican official Ed Romaine against little-known Democratic businessman Dave Calone – highlights Democrats' challenges in the suburbs.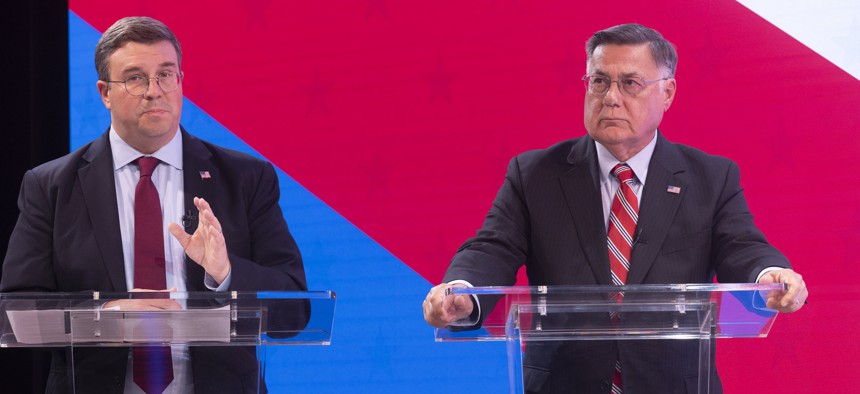 In between major news stories coming out of Washington about the Republican leadership fight in the House and of the U.S. response to the Israel-Hamas war, voters in Suffolk County may find themselves inundated with political ads. It's an off-year election without state or federal candidates on the ballot, but millions of dollars are being spent to flood the airwaves ahead of November with the faces and voices of Republican Ed Romaine and Democrat Dave Calone as they compete to be Suffolk's next county executive.
With over 1.5 million residents, Long Island's Suffolk County has a population larger than 11 states, and the race for its next executive is one of the biggest in New York this year. Unlike the competition in Western New York for Erie County executive, the seat in Suffolk is wide open for the first time in 12 years. And it just so happens to be one of the last major positions of power on Long Island held by Democrats after a two-year-long red wave all but decimated what had previously been a growing Democratic presence in the traditionally purple New York City suburb at the local, state and federal levels. 
Republican victories on Long Island helped the party take control of the House last year, and the race for Suffolk executive could offer the first taste of what to expect from voters in the region in next year's congressional races. But while the high-profile competition has certainly attracted significant attention and large sums of money, it may prove not to be the straightforward political bellwether that many political observers hoping to read the tea leaves hope for.
Crime, migrants and housing
Businessman Calone is running in hopes of keeping the seat in Democratic hands and continuing the 12-year legacy of outgoing county Executive Steve Bellone. But recent history isn't on his side: former Democratic Nassau County Executive Laura Curran lost her reelection in 2021, which came as a surprise to many who expected her victory. The same year, Democrat Todd Kaminsky lost his bid for the open district attorney seat in a landslide to Republican Anne Donnelly, and even more shockingly, Democratic incumbent Tim Sini in Suffolk lost the district attorney race to Republican Ray Tierney. The Suffolk County Legislature also flipped in 2021 from blue to red, while Republicans won one of the biggest towns in Nassau County for the first time in decades.
The red wave continued into 2022, as Republicans won all four House seats on Long Island and flipped several state Senate districts as well. Former Rep. Lee Zeldin trounced Gov. Kathy Hochul on Long Island during last year's gubernatorial election, which she won by the narrowest margin in decades. In short, the past two years were a bloodbath for Long Island Democrats, who are now trying to avoid another massacre. "Just because we had two bad years doesn't mean that we're going to have another one," Keith Davies, campaign director for the Suffolk County Democrats, told City & State. "And we feel actually really good about Dave Calone winning county executive and keeping a Democrat there." (The Romaine campaign declined to make the candidate available for comment, and the Suffolk County GOP did not respond to repeated requests for comment.)
Messaging around crime and Democrat-led Albany policies on the issue drove those election results. More recently, anger about migrants in New York City potentially being housed in nearby suburbs and the governor's incredibly unpopular housing plan have supplemented concerns around crime on Long Island. "I've not seen a head-to-head (poll of Calone and Romaine), but I have seen polling about the issues that are driving the voters," Long Island political consultant and pollster Mike Dawidziak told City & State. "And right now, nothing has changed so far as far as those issues that have driven the red wave the last two years."
Even with all the recent negative press coming out of Washington as Republicans scramble to elect a new House speaker, the focus in the executive race so far has remained at the local and state levels. Romaine, the current supervisor of the Town of Brookhaven with a long history in local government, has tried to associate Calone with unpopular liberal policies. "He's running on the Working Families (Party) ballot line, which supports cashless bail, defunding the police and clean slate for felons," Romaine said at a debate hosted by Newsday in October, referencing progressive priorities of both the WFP and Democrats in Albany. "I don't support that." Television ads from the Romaine campaign state GOP party have also sought to tie Calone to Hochul, who is incredibly unpopular in the suburbs, especially after proposing a housing plan that threatened to override local zoning laws. "Long Island Democrats are in a very tough position because it's almost like they have to run against two opponents," Dawidziak said. "They have to run against their Republican opponent, and they have to run against their own party."
Calone has sought to distance himself from Hochul and Albany Democrats during his campaign, criticizing the governor's unpopular housing plan and touting his history as a former prosecutor to burnish his tough-on-crime bonafides. "I think at the end of the day for local elections, people vote for the people, not the party," Calone told City & State. He pointed out the fact that he would be the first former prosecutor to ever lead the county, and the first one with a law enforcement background. "I think it kind of cuts through that, sort of, background that some Democrats, particularly those in Albany, have done things that people are concerned about," Calone said. 
Calone's attacks on Romaine have also largely remained local, with ads from his campaign and supportive outside PACs dubbing the Republican "Crook-Ed," tying him to local corruption and hitting him for raising taxes while leading Brookhaven. But Romaine's supporters consider his extensive government experience a major boon in the classic career politician vs. outsider matchup. "He has so much institutional knowledge," Republican state Sen. Anthony Palumbo told City & State. "But you can always invert that and say, 'Well, he's been there forever,' that he's a longtime political hack. That's politics I guess." 
Contrasting candidates
Heading into November, Romaine is the favorite on paper. He oversees the largest town in the county, has served in elected office for decades, recently received the endorsement of Newsday – Long Island's largest newspaper – and generally enjoys far more name recognition than Calone. Romaine is about as close to an incumbent as he can get without actually being the incumbent, which makes Calone, who has never held elected office and is a relative political outsider, the clear underdog even before considering the partisan politics at play. 
While the race may offer the first temperature check of the suburbs ahead of the 2024 elections, a win for Romaine would not necessarily spell doom for Democrats next year. "If Calone exceeds expectations – and he can do that even without winning – it may tell you that Republicans may be in more trouble over these national issues and events than they'd certainly like to be going into such a seminal election," said Lawrence Levy, executive dean of the National Center for Suburban Studies at Hofstra University. "And if Romaine is able to win by a very comfortable margin, it certainly can give the Long Island Four a margin of comfort that they can weather this storm." 
The Suffolk executive race offers Democrats the first major test of the kind of candidate they should try to run in the suburbs, and the messaging those candidates should run on. Relative success for Calone could indicate to donors, party leadership and candidates alike that a campaign modeled after his will offer a greater shot at success in a year expected to be more favorable to Democrats across the nation.
"Dave, for a place like Suffolk County, his profile, his background, his experience, it's exactly the profile you need as a Democrat to win here," outgoing Democratic county Executive Steve Bellone told City & State. He said that Calone's background in business and the private sector will inspire confidence "at a time when a lot of people have lost faith at different levels of government." Bellone also pointed to Calone's prosecutorial and law enforcement background as a boon in the suburban neighborhoods. "You can't overemphasize that enough, the importance of candidate selection," he said.
Although national issues have played a fairly small role in the race so far, Calone has more recently attacked Romaine for his past anti-abortion beliefs, a topic that a county executive has little sway over but that Calone's team hopes will sway independents and depress turnout among moderate Republican women. "No matter the relevance to the race or the candidate's position, that's what they're going to do," Palumbo said. "I think every Republican in the state should look forward to (Democrats claiming they are) anti-woman." It's a playbook that Democrats across the state are already previewing ahead of next year's congressional races, despite such messaging largely failing to help Democrats win elections in New York last year in the immediate aftermath of the decision to overturn Roe v. Wade. "In the last two years, Democrats put all their eggs in the abortion basket, and it turned out to be a mistake," Dawidziak said. "Voters cared much more about local quality of life issues."
For Republicans, the Suffolk executive race may provide insight into the campaigning prowess of former Rep. Lee Zeldin, who has endorsed and appeared alongside Romaine over the course of the race. "Last year, Republicans ran as one team, one ticket, from the top down, bottom up," Zeldin said in a statement to City & State. "We saw great results on a local level, including many freshmen members of Congress who secured the Republican majority in the House. We are going to keep that mentality to make sure we win big, both this November and in 2024."
Zeldin's appearance on the campaign trail is especially notable given Hochul's complete absence from the race, save for Romaine's attack ads against Calone. "I think you want to use the governor where she's most effective," Bellone said. "And the reality is that this county happens to be where her opponent came from in the race last time, and he remains popular." As the most recent GOP gubernatorial candidate, Zeldin is arguably the de facto head of the state Republican party. Last year, he won most suburban New York counties – including Nassau, Suffolk and Rockland Counties, though not Westchester – which are also home to highly contested congressional seats. Meanwhile, Hochul's approval ratings in the suburbs are low, especially after the introduction of her housing plan earlier this year. And though Democrats have tapped her to help lead a coordinated campaign to take back Congress in New York – and her fundraising prowess is certainly important for the effort – the Suffolk executive race proves that she cannot be an effective campaign surrogate the way Zeldin can. 
The results of the high spending in the Suffolk executive race – the candidates have collectively raised over $4 million – could provide insight into the impact that money will have in competitive races next year. Calone has massively outraised Romaine – thanks in large part to a sizable loan he made to his own campaign – and has outspent him as well. That has translated into large media blitzes on television, online and in the mail. "I think that Ed should be the favorite, (but) it seems to me like it might even be closer than we think because (Calone's) really throwing money at this race," Palumbo said. "I mean, it's like a congressional race at this point, it's on every channel every 10 minutes."
Money alone, of course, does not win elections. Just ask Perry Gershon, the wealthy businessman who self-funded his own campaign against then-Rep. Zeldin in 2018 in the very same county. While the race was fairly close, it was not enough for Gershon to overcome the incumbent. But money can make a difference for the right candidate. If the money Calone is spending gets him a victory, or even a close loss, that will be a big signal to national Democrats. "I think it will be an indication for some of the big donors and the folks in Washington DC who are looking at the entire country on how to retake the House, if we perform well locally… it's a lot easier to make the pitch to say 'Give me money,' to both donors and the institutions," Davies said. Relative success in the county executive race, especially if Democratic turnout exceeds expectation as well in an odd-year election, could provide strong evidence that money will have a big impact in the suburbs. "You have to target your money," Dawidziak said. "You don't want to waste your money on people who aren't persuadable, and you don't want to waste your money on people who are not turnout-able."
2024 forecast
Politicians, members of the media and other political observers are quick to throw around the term "bellwether," but anyone who has been in the game for any period of time knows better than to predict outcomes based on standalone races. Just last year, when Democratic Rep. Pat Ryan won his special election for Congress ahead of the November general elections against now-Rep. Marc Molinaro, a well-liked moderate Republican, many (including City & State) began calling the race a bellwether. Analysts interpreted the results as an indication that Democrats would perform well in November and that the issue of abortion resonated with voters. While the prediction panned out nationwide in several key races, it fell so flat in New York that Republicans gained control of the House thanks to victories in the state.
If the final few weeks before the Suffolk executive races is a lifetime, the year until next year's congressional races is an eternity. After all, we don't even know who will be at the top of the ticket for both parties, even if most assume it will be President Joe Biden and Donald Trump. But if nothing else, the upcoming election on Long Island can provide valuable lessons as political leaders plot their next moves. "If this is even just a low single digit race, it should set off alarm bells among suburban Republicans all over the country," Levy said. "There are about 30 to 40 competitive congressional seats in the country, and virtually every one of them is wholly or substantially suburban."
Powered By
NEXT STORY: Who's running in NY-19?