Campaigns & Elections
Hochul to co-lead Dems' effort to regain NY house seats – despite spotty electoral record
Despite a knack for fundraising, the governor has seen a couple of very close calls.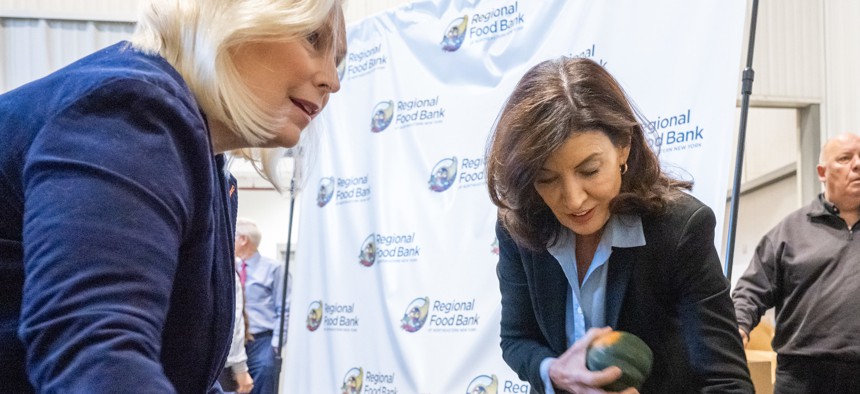 In a highly publicized bid to take back multiple house seats from Republicans in New York, state Democrats recently announced they were launching a coordinated campaign effort with House Minority Leader Hakeem Jeffries, Sen. Kirsten Gillibrand and Gov. Kathy Hochul at the helm.
In an interview with NY1, Jeffries said it was "an all hands on deck moment" and expressed confidence in the ability of Gov. Kathy Hochul to help win back seats in New York, despite her lackluster performance in the 2022 governor race. Jeffries said that members of Congress trust her partly because she herself was once a member of the House. But while Hochul has impressive fundraising prowess that Democratic leaders are likely banking on to help win back the House, her personal electoral history is a rocky one that extends back further than just last year.
In her first campaign for governor, Hochul raised a truly astonishing amount of money – $60 million from when she first took over as governor in the summer of 2021 up until her election. Per Politico, she has also raised $4.5 million since January this year, among the biggest hauls for this filing period in state history. Hochul has proven over the past two years that she is a fundraising juggernaut as she takes on the role of co-leading the effort to flip House seats in New York. "Should she lead the effort? Yes, she's still the de facto leader of the (state) Democratic Party and responsible for the broader messaging in the state and likely the strongest fundraiser," Democratic consultant Basil Smikle said. But he noted a different question is whether it's a good idea to rely on her leadership – to which he said there are few alternatives in the state. "Jeffries is taking a stronger role and that's a good thing," he said. 
Despite her impressive fundraising, Hochul's campaign history is far from the strongest. Even after spending much of the money she brought in to win her first full term last year, she won her election by the narrowest margin in nearly three decades. And while Democrats performed well across the country as a whole, her coattails did nothing to help congressional candidates in New York. Shortly before Election Day, Hochul actually retreated to safe ground in New York City and Westchester to bolster support among her base as polling showed an increasingly tight race, as well as shortfalls in swing counties. She rallied with President Joe Biden and popular Rep. Jamaal Bowman in strongly Democratic Westchester just days before the election.
In fact, former House Democratic Leader Nancy Pelosi faulted Hochul for losing seats in New York after failing to address the issue of crime until the last minute. "The governor didn't realize soon enough where the trouble was," Pelosi told The New York Times in January. Hochul campaigned heavily at the start on women's rights and abortion protections, but shifted gears closer to Election Day to focus more on public safety.
But Hochul's spotty campaign history goes back further than just last year. In 2018, when she ran for reelection as lieutenant governor in a competitive primary, New York City Public Advocate Jumaane Williams came within striking distance of unseating her – just under seven percentage points separated them. Hochul won with the narrowest victory of the three statewide Democrats facing primaries, with her running mate then-Gov. Andrew Cuomo besting challenger Cynthia Nixon by roughly 30 percentage points. Hochul's reelection was even closer than the three-way, open primary for attorney general.
Even her early elections for Congress – a history that Jeffries referenced as a reason that members trust her – aren't resounding endorsements. Just a year after winning a four-way special election to enter Congress in 2011, she lost her reelection during the regular campaign cycle. The 2011 race garnered national attention and for Hochul, national support as political observers considered the election a bellwether for Medicare reform. Although redistricting made the race tougher for her in 2012, outside support wasn't enough for her to win again. "No one trusts Kathy Hochul because she's a member of Congress, because she's this or that," said one Democratic strategist who requested anonymity to speak candidly about the governor. "The money's important, number one. And number two, it's not like she's Andrew Cuomo who really has his own political agenda here… and doesn't play nice with others." The strategist said that Hochul is effectively a "piggy bank" for the effort to win back Congress.
A senior adviser for the Hochul campaign and state Democrats disputed the idea that Hochul's electoral track record is spotty, pointing to her early victories to become Erie County clerk, elections she won by wide margins, and her ability to flip a previously long-held Republican congressional seat. "Gov. Hochul has won 13 of her 14 elections in her career, including… when she vanquished her notable primary opponents and a well-funded congressman to become the first female governor of the state," Jeff Lewis said. "She is the first governor from upstate elected in over 100 years and a record-breaking powerhouse fundraiser, who is leading the charge to rebuild the state party and elect Democrats up and down the ballot, and those are the facts."
Update: This story has been updated to reflect a comment from Hochul campaign and state Democratic Party Senior Adviser Jeff Lewis.
Powered By
NEXT STORY: Edward Caban named NYPD's first Latino commissioner