Politics
With a renewed focus on crime, Hochul is in campaign mode at last
With ads, press conferences and announcements, the New York governor is taking ownership of public safety as her own campaign issue.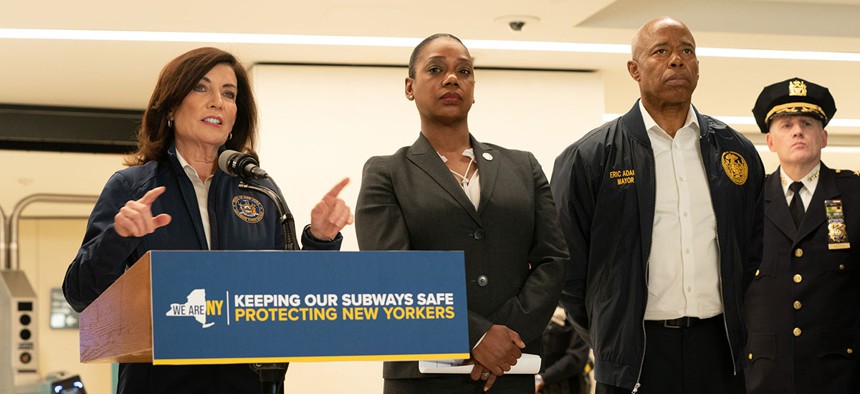 Facing lagging poll numbers and evidence that the race for governor is tightening, Gov. Kathy Hochul seems to have shifted her campaign strategy just two weeks before the election with a renewed attention on public safety. It's an apparent bid to combat Rep. Lee Zeldin's messaging on crime, one of the top concerns among voters throughout the state along with the economy. 
In a press conference with state Attorney General Letitia James Monday, Hochul touted the state's new red flag gun laws designed to take guns out of the hands of people law enforcement have determined to be a danger to others. During that announcement, Hochul celebrated the steps her administration has taken to combat crime in an address that could have doubled as a campaign rally speech.
Before getting into details about extreme risk protection orders issued by law enforcement in recent months, Hochul began the event by highlighting her other accomplishments in the sphere of public safety. "It's been my priority, it's not a new development," Hochul said. "It's something we've focused on with great intensity, really, especially in the early months of 2022." She specifically spoke about the interstate gun task force she helped create to track illegal guns crossing state borders to stem their flow into New York, new investments in law enforcement that Hochul said "literally tripled" thanks to her first budget and the rollbacks on bail reform she pushed for last year. 
Hochul said that at the start of 2020, she would not have expected crime to rank among New Yorkers top concerns, as it does now. "Something happened during this pandemic," she said. "We have seen an increase in crime across this country." But since the start of her campaign to win her first full term as governor, crime has played a far more significant role in the messaging of her opponent with Zeldin honing in on the perceptions that New York City especially has become more dangerous than ever. (It hasn't.) Hochul, on the other hand, has largely focused on attacking Zeldin for his ties to former President Donald Trump, his decision not to certify the 2020 presidential election results and protecting abortion rights. 
But recent public polling shows that the race for governor is tightening, with Hochul's lead as small as single digits as Zeldin appears to make up significant ground as he continues to hammer home his messaging on crime. Although she has released many television ads, Hochul has largely relied on touting government achievements rather than hitting the campaign trail in a more traditional sense, the benefit of incumbency. Certainly welcoming President Joe Biden to the Hudson Valley for a historic economic development announcement in a part of the state that has faced decades of disinvestment, for example, gives Hochul a major victory to tout. 
However, if one believes the recent polling, that has not been enough. And recent steps by Hochul's campaign reveal a shift of campaign messaging – and government announcements – to focus on crime. Last week, her campaign put out a statement highlighting a Daily Beast article that reported on votes Zeldin missed that would have offered support to law enforcement while highlighting Hochul's own commitment to police. Her campaign just released a new ad that focused on the actions she has taken to increase public safety. This past weekend, the governor appeared alongside New York City Mayor Eric Adams to announce an influx of new police that will patrol the subway system amid a number of high-profile crimes that have occured underground. And Monday's announcement, which Hochul easily could have made through a press release with statistics, gave her a stage to revisit her greatest public safety hits before discussing the success of the specific red flag gun law. The acting superintendent of the state police spoke briefly at the event as well, sure to praise the governor. "I'd like to once again thank Gov. Hochul, Attorney General James, for their support of the state police (on) not only this, but all topics," Steven Nigrelli said. 
Hochul denied any political undertones and timing of her announcement when pressed by reporters. "I'm not letting the political theater out there affect what we've done," Hochul said. "This is not a new issue for me, that's been well established." But she also spoke about a key distinction in the discussion on crime: perception versus statistical reality. "If people are still anxious, have fear about what's going on, that's why I'm supportive of local law enforcement," Hochul said. She said that she deals with "real facts" and "people's fear," and as the clock counts down to election night, Hochul is certainly doubling down her efforts to assuage those fears better than Zeldin.