News & Politics
Latimer plans trip to Israel, county budget, before making an announcement about 'future plans'
The Westchester County executive is being encouraged to primary Rep. Jamaal Bowman over Bowman's perceived lack of support for Israel.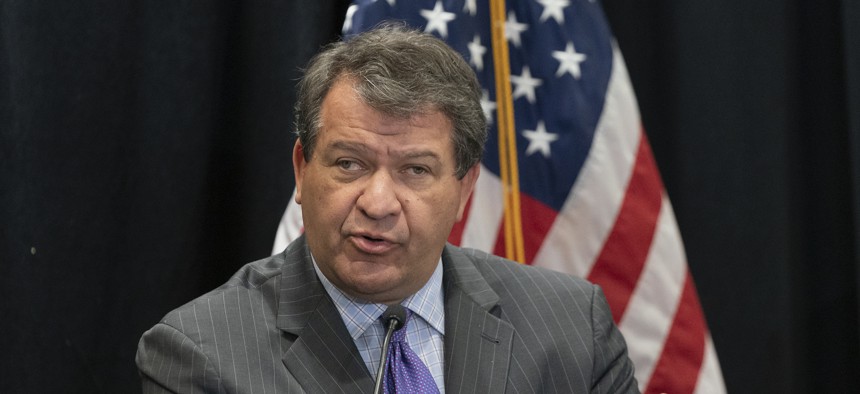 It was reported Wednesday by News 12 that Westchester County Executive George Latimer had decided to primary Rep. Jamaal Bowman next year, satisfying the hopes of some Democrats who have been pushing Latimer to run for months. 
Latimer however, continues to be coy about running for Congress in 2024, but said he would be announcing… something in December. 
"Obviously, I'm actively thinking about it," Latimer said. "People are calling, but they're on both sides of it, you know? There's people telling me don't do it, people telling me do it and so I'm just trying to do my job first."
The delay, he said, was caused by the need to finalize Westchester's budget and a trip to Israel he'll be making with other Westchester elected officials including former Bowman challenger and County Legislator Vedat Gashi.
Gashi said he was taken aback at the news Latimer had decided to run. He said he found out while returning from an event Wednesday saying, "George didn't mention anything about this."
Bowman's recent comments on the Israel-Hamas war served as an example of a divide within the Democratic Party over the war. Bowman passionately defended Rep. Rashida Tlaib, the only Palestinian American in Congress, after the House voted to censure her for her comments on Israel. As the conflict continues, Bowman and other Democrats who have called for a ceasefire have taken flak from constituents and other politicians who believe the U.S. should back Israel. Bowman's office did not immediately respond to a request for comment.
"It's no secret that that Jamaal Bowman, as a member of the squad, has not been a favorite of the Jewish community, particularly the very politically active Jewish community in his congressional district," said Jake Dilemani, a political consultant who's worked with Latimer before. 
Dilemani said since the Israel-Hamas war began, those sentiments have intensified.
"There are very obviously a lot of people, not just within the Jewish community, a whole lot of people outside of that community, but who share the same sentiment that they think Jamaal Bowman has to go," he said. "That he doesn't represent the district well, that he doesn't represent the values of the people in the district well, that he doesn't represent the values of the majority of the Democratic Party well."
Dilemani said that Latimer's support for Israel coupled with his robust electoral history make him the best candidate to take on Bowman. 
In a phone call last week, Westchester County Democratic Chair Suzanne Berger added:. "Latimer's never lost an election he's run." 
Some have also speculated that the news that he decided to run against Bowman may have been a nudge from donors and organizers who have pushed for him to enter the fray. 
"Throughout this period of monthslong speculation, Latimer has appeared reluctant," said political writer Michael Lange."Whereas the pro-Israel independent expenditures, namely AIPAC, who desperately want to oppose Bowman but lack a formidable challenger without him, seem to be goading the Westchester County Executive into entering the race"
Wednesday afternoon Latimer again denied reports he decided to run. 
Before sharing his to-do list, which featured the trip to Israel, work on Westchester County's 2024 budget, congratulating election winners and celebrating his birthday, Latimer wrote on Facebook, "Notwithstanding press reports, I've made no announcements about my future plans."