Economic Development
NYC must create new industrial development plan under council bill
The Adams administration is already looking at revamping outdated industrial zoning through its City of Yes zoning text amendment.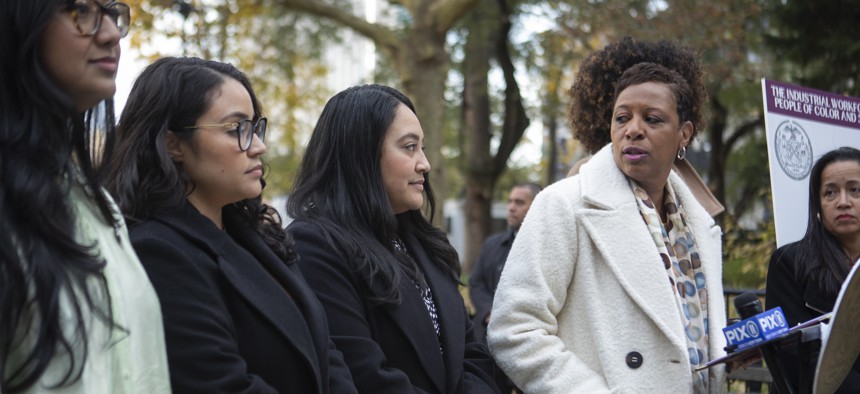 Can New York City save manufacturing? City Council Members Amanda Farías and Jen Gutiérrez – and a coalition of industrial jobs advocates – are giving it a shot. The City Council passed their bill requiring the city to develop an industrial development strategic plan on Wednesday. 
Despite decades of job losses and rezonings of manufacturing space across the city, some lawmakers and advocates point to the industrial sector as one that still provides good-paying jobs that are accessible to people without advanced degrees and which often employs immigrants. They also argue it's necessary to have a strong manufacturing sector in New York to fortify a local supply chain and provide for new climate needs, like retrofitting and heat pumps.
"For many people who are at the council who are either first-generation or their families are first-generation, we all have an association with an industrial job right in our neighborhoods, right in these five boroughs," Gutiérrez said. "To simply say that we are not going to think comprehensively about these sectors, to create opportunities, to retain jobs, to keep people here, is irresponsible."
The bill, which was introduced in April, follows Speaker Adrienne Adams' proposal earlier this year to protect space in the city zoned for manufacturing. 
Mayor Eric Adams' administration is already working on updating the zoning text to allow denser industrial development in some places, and to create new categories of manufacturing districts, including "core" districts, where other commercial uses would be limited.
But the text amendment wouldn't actually map out where these new manufacturing zones would go. The council's newly passed legislation is in part intended to create a framework for how and where new manufacturing districts could be applied across the city. The bill's sponsors called the legislation complementary to the text amendment, but also noted that it puts in place some measures of accountability and reporting for the administration.
Among other things, the bill requires the Department of City Planning and other agencies to study the city's current industrial activity and industrial zones, clarify its objectives for the sector, and make recommendations for incentivizing and supporting manufacturing activity and jobs.
"New York City's industrial lands are one of the city's precious resources, but too often suffer from a range of zoning and planning challenges that limit their economic potential and hurt our industrial businesses," Dan Garodnick, director of the Department of City Planning, said in an emailed statement. "We appreciate our partners in the City Council's work on this bill – with smart planning, updated zoning tools through City of Yes, and smart programs and investments, our industrial zones can do even more to secure impactful jobs and an economy for all."
Economic development Case Studies
Powered By
NEXT STORY: To redistrict or not to redistrict – that is the question (again)