Politics
At Somos, the search for the next mayor is on
The next mayoral election is two years away, but the federal probe of Adams' campaign finances supercharged a conversation about a primary challenge to him in 2025.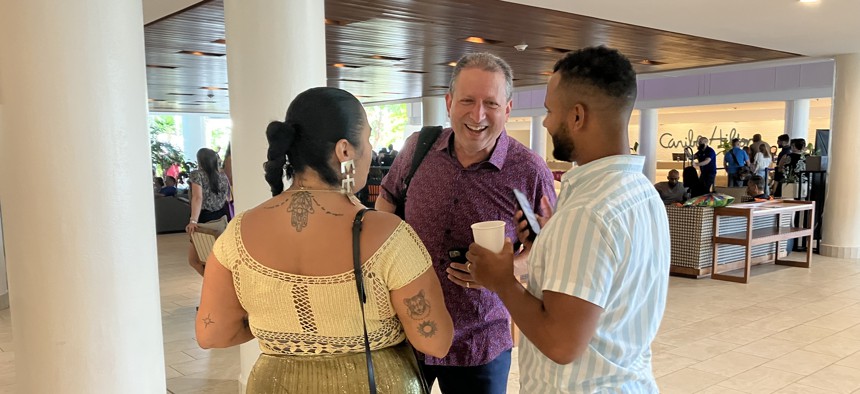 The discussion about who might mount a primary challenge against Mayor Eric Adams in 2025 has been brewing for months. But there's no doubt that news of a federal probe into Adams' 2021 campaign donations breaking days before New York's political power players traveled to Puerto Rico for the biggest political conference of the year has created a perfect cocktail to supercharge that conversation. 
While plenty of names have been tossed around in San Juan – state Sens. Jessica Ramos and Zellnor Myrie, Brooklyn Borough President Antonio Reynoso and New York City Comptroller Brad Lander, just to name a few – it's not yet clear where support might coalesce. But some considering a run said they're taking advantage of having many of New York's most influential political and labor leaders in one place to put out feelers. 
New York City Council Member Diana Ayala has been one of the most direct so far in stating that she's interested in exploring a run, as Politico first reported. Ayala told City & State that she thinks multiple people should consider getting in the race. "I'm happy to be one of those options if that's something that New Yorkers would be interested in seeing," she said.
Ayala plans to have more conversations at the conference on the possibility of a run, but mainly she's been listening, she said. "What I'm hearing from folks is that they feel very disappointed, because a lot of us supported Mayor Adams and we helped put him in office, and he's not necessarily the candidate that we were promised," she said, describing him as "more conservative." 
And while much of the early discussion has focused on a challenge from the left, but a more moderate candidate is also on the table. "A more moderate could really challenge him but they would have to have charisma and be able to build real coalitions," said political consultant Ryan Adams. "As Eric Adams says, Twitter isn't real life – so we need someone who can deliver unions, or deliver a diversified voting bloc that runs the political spectrum."
Manhattan Borough President Mark Levine said that it's too early to speculate about who will be in the field. "Having said that, I think New Yorkers really want city government to run well, and that at the end of the day trumps ideological concerns."
A wide field of challengers will only work to the mayor's advantage, Ryan Adams said. "These are smart people. They know a big field is a win for Adams," he said. "They have to convince each other behind closed doors how to present as a united front for everyone's mutual success. A real 'We must all hang together, or, most assuredly, we shall all hang separately,' situation."
Powered By
NEXT STORY: Why did Marjorie Velázquez blow it in the Bronx?