Politics
The latest from Somos 2023
Whether you're in San Juan or not, keep up with the gossip from New York's buzziest event of the year.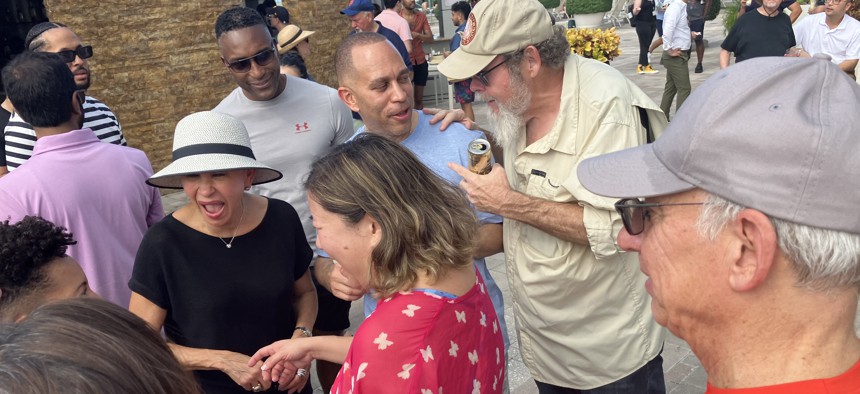 For weeks, every conversation among politicos in New York has ended the same way: See you at Somos? The annual beachfront conference in San Juan, Puerto Rico, officially celebrates the close relationship between the island territory and the Empire State – and unofficially serves as a tipsy political deal-making getaway. Hosted by the state Legislature's Puerto Rican/Hispanic Task Force, the festivities kick off at the El Caribe Hilton Wednesday and wrap up Sunday. Assembly Member Karines Reyes, who is chair of the task force, said the conference quickly sold out with 2000 people expected. Well, 2000 and counting.
"I don't have an exact number because folks have still been calling us – particularly elected officials who haven't registered – to make sure they get registered," Reyes said. 
The official conference includes events like a "breakfast with the cannabis industry," receptions for women and "frontline heroes," a labor panel and a day of community service. Reyes touted 36 legislative workshops – an increase from previous years, and said the conference is also about cultural exchange: "I think it's important for folks to come and see, feel, taste Puerto Rico," she said. "Because it gives you an insight into the Puerto Rican communities in New York."
And of course unofficial events and cocktail hours hosted by lobbyists, lawmakers, business leaders and advocates abound. 
This year, between an FBI inquiry into the New York City mayor's campaign fundraiser and a bevy of local election results to unpack, there's plenty to discuss. Our reporters and editors are heading to San Juan, and we'll be tracking the latest from the conference here. – Holly Pretsky and Rebecca C. Lewis
Saturday
9 p.m. – The mayor claimed he didn't come to Somos because the optics would be bad with upcoming budget cuts. That excuse is being called into question, but other city leaders do seem concerned with the budget. Read more here. – Story by Annie McDonough 
8 p.m. Earlier today we spoke with Rep. Nydia Velázquez about the Israel-Hamas war. Read more here. – Story by Rebecca C. Lewis
4 p.m. A half dozen sources confirmed to City & State that a delegation of state and local New York City elected officials are heading to Israel on Monday on a trip sponsored by the Jewish Community Relations Council. The organization, which includes strengthening relationships between the U.S. and Israel as among its stated goals, sponsors an annual trip for New York City Council members to Israel, and regularly sponsors trips for other New York elected officials. The most recent came in late September, when state Senate Minority Rob Ortt and state Sen. Jake Ashby visited Israel. It also paid for New York City Mayor Eric Adams' trip to the country in August.
Elected officials going on the trip are scheduled to leave a day before a major pro-Israel rally is scheduled in Washington D.C., where a strong New York presence is expected. Groups have rented numerous buses to New Yorkers down the nation's capital for the rally, according to one person familiar with some of the logistics. 
Gov. Kathy Hochul is the only New York official so far who has visited Israel since the country declared war on Hamas on Oct. 8. She visited on Oct. 18 for roughly 30 hours at the same time that President Joe Biden made his own wartime visit as a means to show New York's solidarity with Israel and Jewish communities. - Rebecca C. Lewis
3:30 p.m. We caught up with Ninfa Segarra, the former New York City deputy mayor for education and human services under Rudy Giuliani and who also sits on the board of the annual Somos conference in San Juan, Puerto Rico, to discuss highlights of this year's event. – Story by Ralph R. Ortega
3 p.m. Reps. Grace Meng and Nydia Velázquez hosted a rooftop pool party at the Sheraton near the conference center, and Rep. Hakeem Jeffries made a short appearance. The House minority leader was immediately surrounded by admirers hoping to get photos. He said he has no comment on the FBI seizure of Eric Adams' devices. 
Attendees are definitely slowing down after four consecutive days of networking. One person complained about the phenomenon of "mic-yelling" – yelling into a microphone to be heard over a crowd of people having side conversations. – Holly Pretsky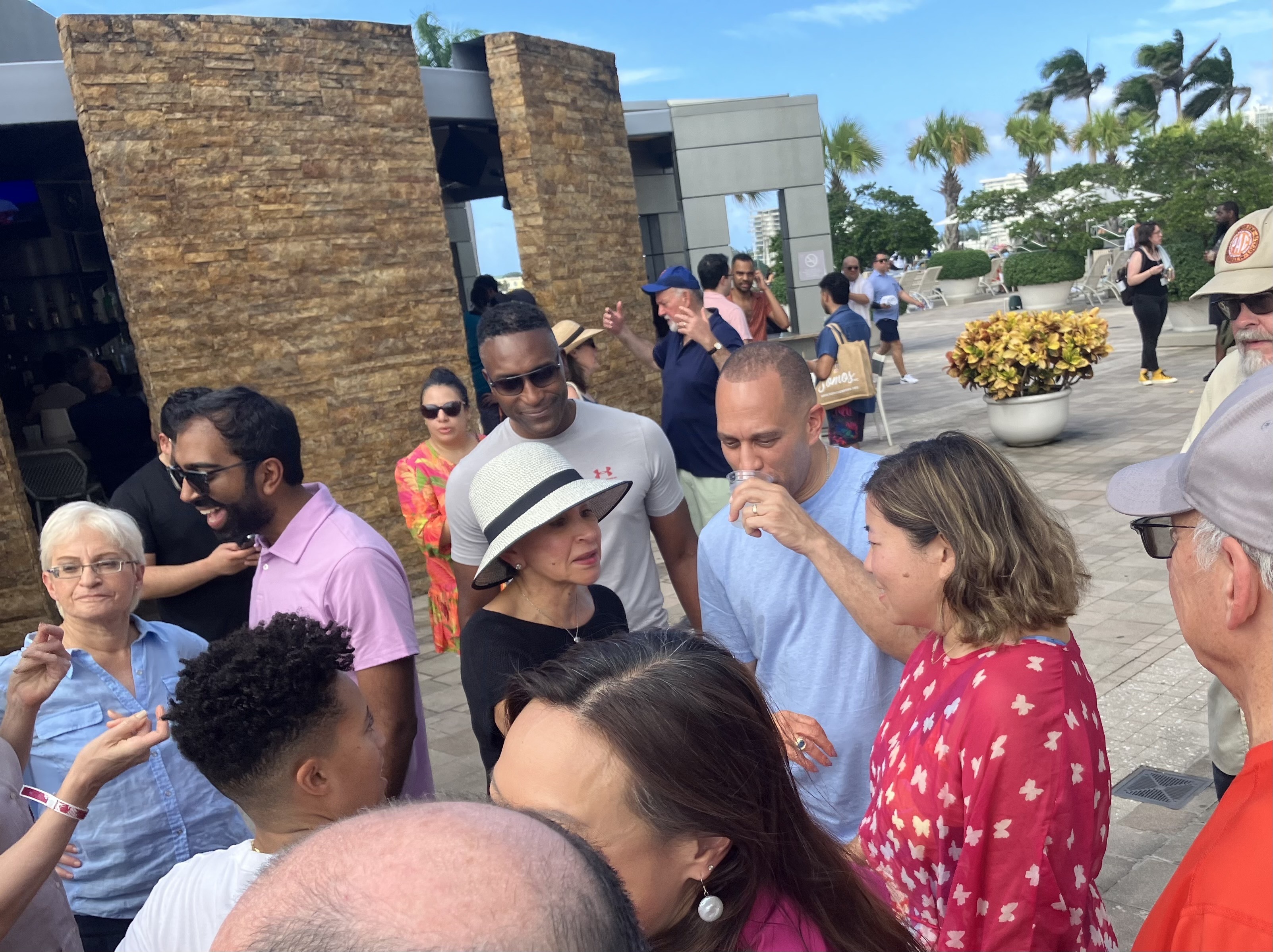 11 a.m. – The AAPI reception, co-hosted by the Chinese American Planning Council, was totally packed, and not just because it was one of the few events with good, abundant food. Asian American officials celebrated the huge crowd, saying the party wouldn't have looked this way a decade ago. "Seeing how this event has grown … is a testament to the incredible power and presence and representation of our AAPI communities," said Shekar Krishnan, the first Indian American City Council member. Linda Lee noted that the AAPI community in New York City had expanded from 10% of the population in 2009 to 18% – and growing. As a testament to that, City Council members welcomed Susan Zhuang, who just won election in Brooklyn's first Asian majority district. – Holly Pretsky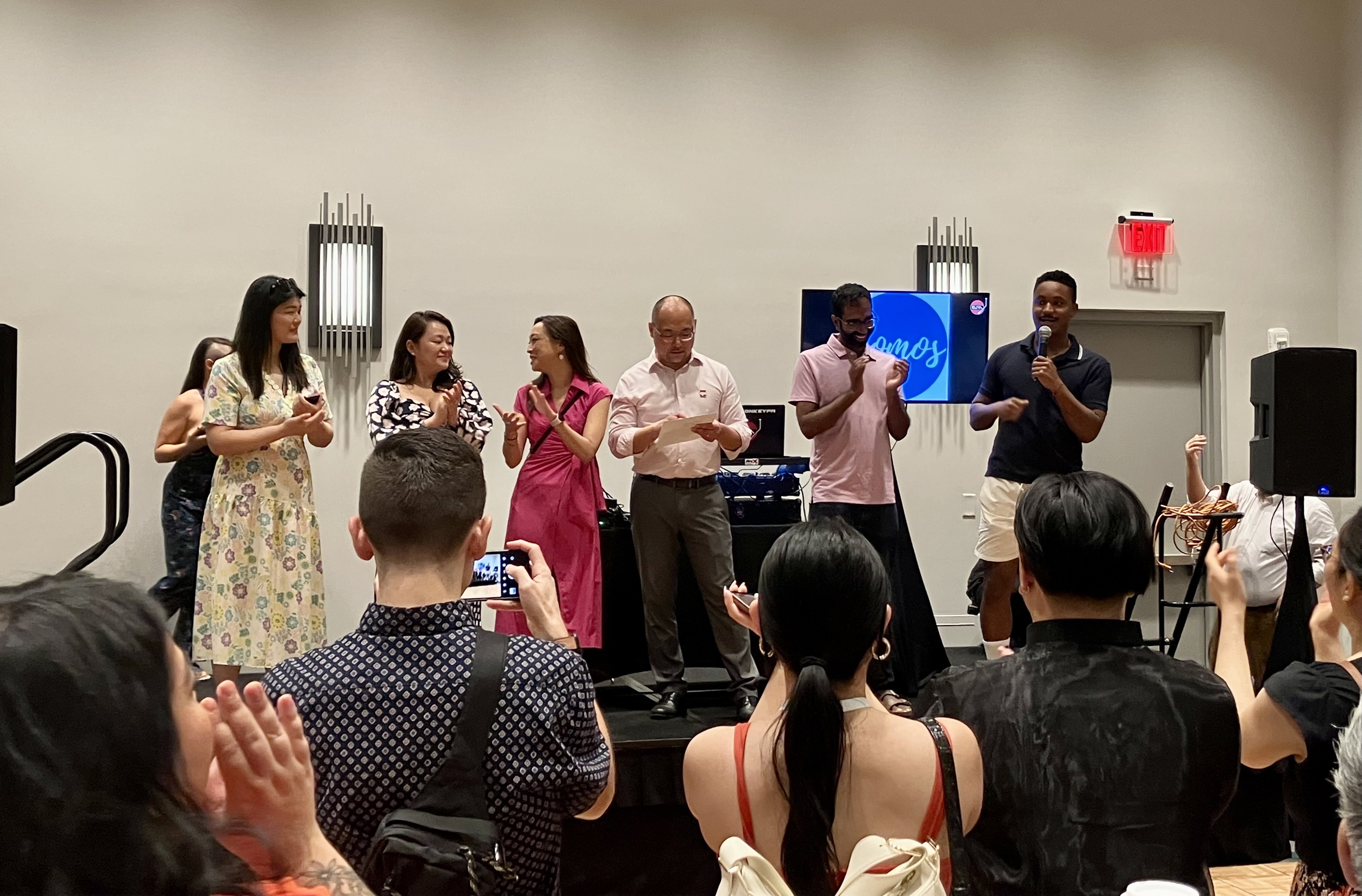 10 a.m. – More than just a prime socializing event for labor leaders and politicians, the labor breakfast also included a panel discussion on civil service workplace diversity. City Council Member Carmen De La Rosa, who chairs the committee on civil service and labor, moderated the panel, which included District Council 37 President Henry Garrido, Public Employees Federation President Wayne Spence, state Department of Civil Service Commissioner Timothy Hughes, SSEU Local 371 President Anthony Wells, American Federation of Teachers Executive Vice President Evelyn DeJesus, and Jessica Martinez, president of the Local 3500 corrections union in Puerto Rico.
During the panel, Garrido warned that allowing exemptions to civil service exams – which some see as exacerbating a backlog in hiring – will take away what he said has long been a tool that allows people to apply for jobs "not because of who I know, but because of what I know." – Annie McDonough
9 a.m. – Gov. Kathy Hochul spoke at the annual labor breakfast this morning, which everyone drags themselves to at 8 a.m. after a very late Friday night. She has struck a rosy tone this weekend about taking back the House in 2024 – despite even more setbacks on Long Island in this year's elections. Read more here.  – Story by Rebecca C. Lewis
Hochul gave a special shout-out to her husband Bill, who accompanied her to Puerto Rico this year. "Get that man a mojito, he puts up a lot with me," Hochul said. She also acknowledged the role of labor in major elections. "You harness the power of labor, with good elected officials, who understand the power of labor, there is no stopping us," Hochul said. "We can overcome every single barrier. – Rebecca C. Lewis
Friday
9:30 p.m. – An annual Somos Shabbat event hosted by UJA Federation New York, Chabad of Puerto Rico and the Met Council was disrupted by protestors rallying in support of Palestine. The event is extremely popular at Somos, considered a can't-miss. It was billed as a celebration of Jewish and Hispanic unity, and it was once again packed with elected officials from New York City Council up to Congress.
Met Council CEO David Greenfield shouted out the long list of officials at the event, including (but not limited to): New York City DAs Eric Gonzalez and Darcel Clark, New York City Council Members Shekar Krishnan, Inna Vernikov, Linda Lee, Julie Menin, Lynn Schulman, Gale Brewer, Kamillah Hanks, Farah Louis, Shaun Abreu, Eric Dinowitz, Joe Borelli, Keith Powers, Gale Brewer, Justin Brannan, Selvena Brooks-Powers, and Lincoln Restler, Assembly Members Amy Paulin, Catalina Cruz, Tony Simone, David Weprin, Harvey Epstein, state Sens. Zellnor Myrie (introduced by Greenfield as the senator who represents the largest Chabad community in the world), Gustavo Rivera, Jeremy Cooney, Andrew Gounardes and Jamaal Bailey, Manhattan Borough President Mark Levine, Bronx Borough President Vanessa Gibson, Rep. Grace Meng, NYC Police Commissioner Eddie Caban, NYC Comptroller Brad Lander and state Comptroller Tom DiNapoli. 
Some officials made it to both the Met Council event and a first-ever Jews For Racial and Economic Justice Shabbat candle-lighting, where attendees said a prayer for "the end of the brutal siege on Gaza and the return of all hostages." Read more here. 
- Story by Rebecca C. Lewis and Holly Pretsky
7:30 p.m. – The Working Families Party's Friday evening reception was abuzz with discussion of what political fallout the investigation into Eric Adams' 2021 campaign donations might be for the mayor. The term "special election" was thrown around by some attendees, and state Sen. Jessica Ramos wasn't the only one of the people rumored to be looking at running against Adams who expressed concern about the news that Adams' own electronic devices had been seized as part of the probe. 
Adams' lawyer said in a statement that the mayor has not been accused of any wrongdoing, and that he has been committed to cooperating with the investigation. The campaign attorney, Boyd Johnson, added that the campaign had reported improper behavior by another individual, but he didn't provide any details. "After learning of the federal investigation, it was discovered that an individual had recently acted improperly," Johnson said in a statement. "In the spirit of transparency and cooperation, this behavior was immediately and proactively reported to investigators."
Others have said it's too soon to speculate about what consequences will ultimately come out of this investigation. Assembly Member Eddie Gibbs, an Adams ally, borrowed a favorite line of the mayor's, saying, "It's an investigation, you've got to let it play out," though he said he hadn't heard about Adams' devices being taken when City & State asked him about it. Gibbs added, "One thing I like about the mayor – he wears the noise-canceling headphones. This is noise right now. I think he'll be OK." – Annie McDonough
5 p.m. – The New York Times reported that Eric Adams' phones and tablet were confiscated by the FBI earlier this week in connection with the ongoing probe into his campaign. Agents reportedly approached the mayor and asked his security detail to step aside while they took the devices. This is predictably taking Somos by storm: "Holy fucking shit," said one insider. State Sen. Jessica Ramos, one of a growing list of possible 2025 challengers,  texted that it's "deeply concerning."
In a statement to the Times, the campaign's attorney said the mayor is cooperating with the FBI and hasn't been accused of any wrongdoing. – Holly Pretsky and Annie McDonough
4 p.m. – City Council Member Justin Brannan is fresh off a decisive victory in a bitter general election fight against Republican fellow City Council Member Ari Kagan. Brannan is getting a lot of salutations and congratulations at Somos, but he's still upset about Brooklyn Democratic Party Chair Assembly Member Rodneyse Bichotte's lack of support – and even outright undermining – of his campaign. For her part, the county leader seemed in good spirits at the hotel bar on Thursday night, and said that she fully expects to be able to work with Brannan and reconcile. Asked about that Friday, Brannan said he wasn't ready to let it go.
Brannan was not at a reception this afternoon for Brooklyn Democrats, but many others were, including Gov. Kathy Hochul, Deputy Mayor Sheena Wright, chief adviser to the mayor Ingrid Lewis-Martin, Brooklyn DA Eric Gonzalez, Manhattan Dems Chair Keith Wright, NYC Schools Chancellor David Banks, Assembly Members Stefani Zinerman and Charles Fall, and soon-to-be City Council Member Susan Zhuang. – Holly Pretsky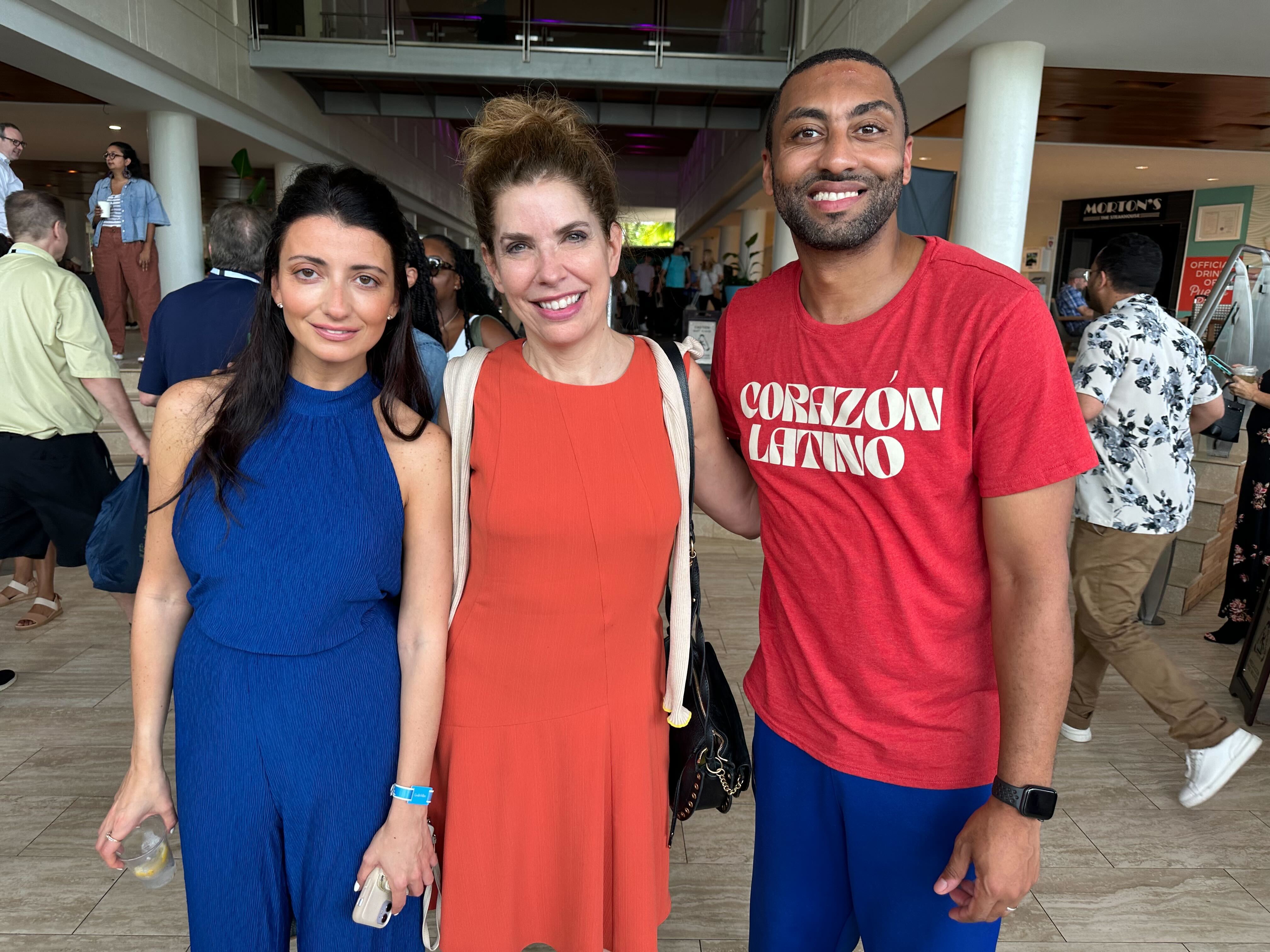 2 p.m. – State Sen. Zellnor Myrie, who's being floated as a possible Eric Adams challenger, tells us he's confident the Clean Slate Act will be signed "soon," and another staffer tells us it'll be Tuesday. Read more here. – Story by Rebecca C. Lewis
And the mayor's problems are all anyone can talk about. Plenty of names have been tossed around as potential challengers, but with few people confirming interest in running, the field is anything but firm. "I would not be at all surprised if people decide to run who none of us could conjure up in a prediction," said Jim Owles President Allen Roskoff, who's launched an effort to recruit a challenger to Adams. Read more here.  – Story by Annie McDonough
10:30 a.m. – There's lots of talk here about a possible George Latimer congressional primary against Jamaal Bowman. Assembly Member Amy Paulin, who's district overlaps, said she would endorse Latimer if he runs. Assembly Speaker Carl Heastie was less definitive: "Let's see what happens." – Holly Pretsky
1 a.m. – Though some elected officials and politicos were still holding down the fort at the Caribe Hilton by early Friday morning – we're looking at you Gale Brewer – the crowd at the conference hotel's bar has mostly thinned out. Somos attendees are resting up for Friday's day of service, and a long list of receptions in the afternoon and evening. 
Among the many people at the bar Thursday evening was City Council Member Diana Ayala. Though plenty of names have been tossed around as rumored potential challengers to Mayor Eric Adams in 2025, Ayala has actually expressed some interest in exploring a run, Politico first reported. Ayala told City & State that she thinks multiple people should consider running. "I'm happy to be one of those options if that's something that New Yorkers would be interested in seeing," she said. As one example of where she thinks Adams has fallen short, Ayala said that the city should be investing more in the city's public housing stock. She also described some of Adams' controversial hires as distracting, including adviser Tim Pearson, who is being investigated over a violent altercation with security guards at a migrant shelter. 
Ayala plans to have more conversations at the conference on the possibility of a run, but mainly she's been listening, she said. "What I'm hearing from folks is that they feel very disappointed, because a lot of us supported Mayor Adams and we helped put him in office, and he's not necessarily the candidate that we were promised," she said, describing him as "more conservative." – Annie McDonough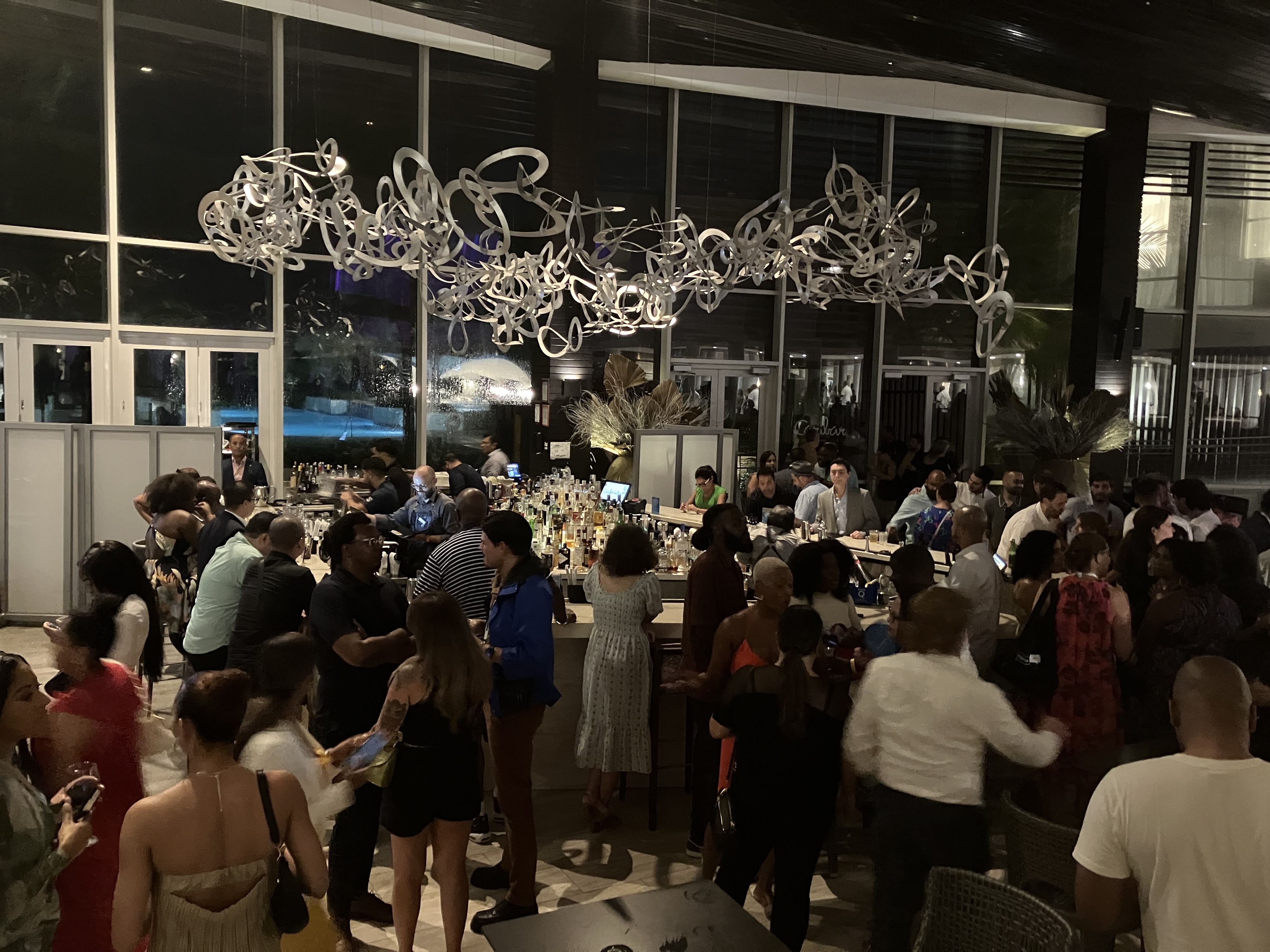 Thursday
7:30 p.m. – It's looking like Rep. Brian Higgins is leaving Congress for a nonprofit theater job – and the political world is wasting no time in speculating who might try to win his seat. State Sen. Tim Kennedy is here, and is definitely in the mix, along with Buffalo Mayor Byron Brown and Erie County Executive Mark Poloncarz. Read more here. – Story by John Celock
6 p.m. – Mayor Eric Adams may not be coming to Somos, but several high-ranking members of his administration are here. First Deputy Mayor Sheena Wright arrived in Puerto Rico on Thursday evening. "It's an important community," Wright said of the annual conference, confirming she paid her own way.
NYPD Commissioner Eddie Caban, Chief Adviser Ingrid Lewis-Martin and several other members of the administration are here too. - Annie McDonough
3:30p.m. – Letitia James' spox Delaney Kempner confirmed the state AG is not coming to Somos this year. It'll be a major absence, considering she's been the life of the party in years past. One source said she usually liked to be on the early flight the first day of the conference, and The New York Times in 2019 described her taking the dance floor by storm. 
Her office rested its case yesterday in the civil fraud trial against Donald Trump. – Holly Pretsky and Rebecca C. Lewis
3 p.m. – From Editor-in-Chief Ralph R. Ortega: Eric Adams ditching Somos is his loss.
1:30 p.m. Sighted at JFK: Assembly Member Jenifer Rajkumar, who tells us exclusively that Gov. Kathy Hochul will sign her landmark bill on Tuesday declaring Diwali a school holiday in New York.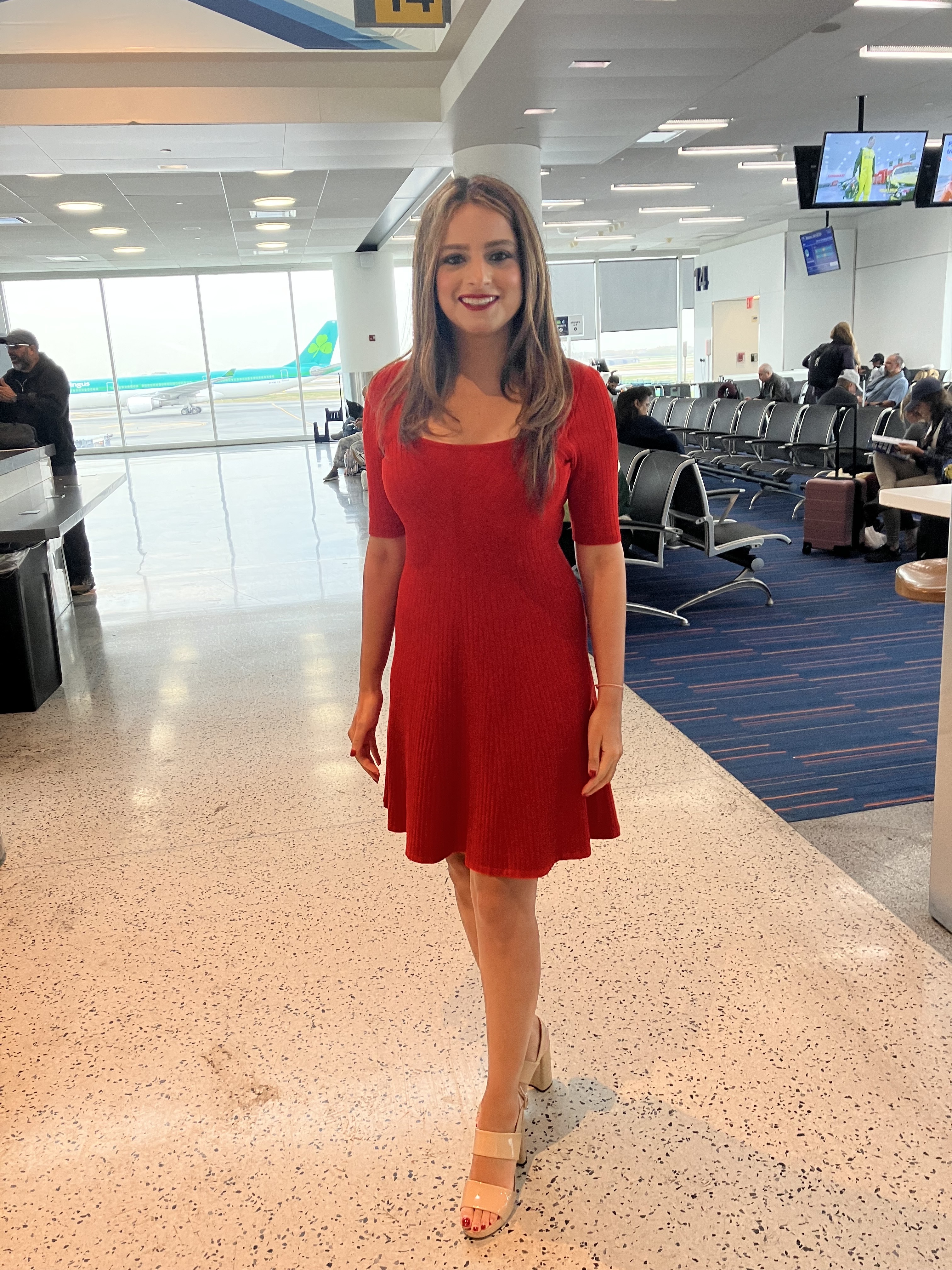 - Holly Pretsky
1 p.m. - GOP City Council Member Inna Vernikov was spotted boarding a plane to San Juan today. She's fresh off a landslide victory over Democratic challenger Amber Adler on Tuesday. Vernikov's also facing some… scrutiny over a decision to allegedly carry a gun to counterprotest a demonstration in support of Palestine.
– Rebecca C. Lewis
10:30 a.m. – Lots of people arrived at the El Caribe yesterday, but more will be touching down today, as Thursday night and Friday night are considered the heart of Somos. Can't miss events today include the attorney general's reception at 4:30 p.m. Puerto Rico time. AG Letitia James is having a moment right now as her office rested its case against the Trump family in New York yesterday – so unclear whether she will be there. 
Last night, Politico's Jeff Coltin reported that in the absence of the mayor, state Sen. Zellnor Myrie, who's been floated as a potential primary challenger, could barely make it across a room without being stopped by admirers and influencers. Brooklyn Borough President Antonio Reynoso, also a possible Adams challenger, is also schmoozing.
Another potential Adams challenger, state Sen. Jessica Ramos, is co-hosting a series of events today, including a cocktail reception also at 4:30 p.m. at Fogo de Chão with RWDSU with Assembly Members Karines Reyes and Latoya Joyner and Council Member Carmen de la Rosa.
There's also a Westchester reception from 5 p.m. to 7 p.m. at the Nectar del Caribe Salon feat. Assembly Members Amy Paulin and Amanda Septimo and state Sens. Jamaal Bailey and Nathalia Fernandez.
Not all executives are skipping the conference. Gov. Kathy Hochul is hosting a reception tomorrow. And LG Antonio Delgado is already on the island. – Holly Pretsky
Wednesday
12 p.m. – Poolside piña coladas just aren't in New York City's budget this year, Mayor Eric Adams said on Wednesday. The mayor confirmed at his weekly off-topic press conference that he won't be attending Somos as he did last year. "I don't think that it is appropriate for me to have on a flowery shirt, lying on the beach, drinking a margarita, when I'm telling everyday New Yorkers that it's going to be a tough fiscal crisis," Adams said, adding that he told others at City Hall that anyone who wanted to go would have to pay their own way. 
City Hall has said that deep budget cuts are necessary because of the financial burden the city has taken on in sheltering asylum-seekers. New York will get its first look at what the first round of cuts will look like in a matter of days, Adams said, when the November budget modification is released. "Some of these cuts, they're just frightening," he said. – Annie McDonough
6 a.m. - New York's political world is heading to the airport, and New York City Mayor Eric Adams is not among them. Political commentator Gerson Borrero tweeted Tuesday night that the mayor would not be attending the conference this year. 
City Hall told Pix11 that the mayor had never planned to attend Somos in the first place what with all the pressing issues facing New York. But… Somos organizer and Assembly Member Karines Reyes told City & State earlier Tuesday afternoon that as far as she was aware, he was coming. So maybe wires got crossed, but it seems like something changed! – Holly Pretsky
Ahead of the conference, politicos shared their enthusiasm. "There is no other opportunity to be around this many influencers and power players at the same place," said Democratic consultant Trip Yang. "You can miss a lot of happy hours and galas, but you can't miss Somos."
From consultant Yvette Buckner: "It's like speed dating where the art of the elevator pitch reaches new heights"
Strategist Camille Rivera: "It's also one of the nation's largest gatherings of Latino political power-players. Latinos represent 30% of the City's population and have become the group to watch heading into 2024. The road to taking back the House starts in New York and it starts at Somos. See you there."