New York State
The Faith Power 100
New York's most influential religious leaders.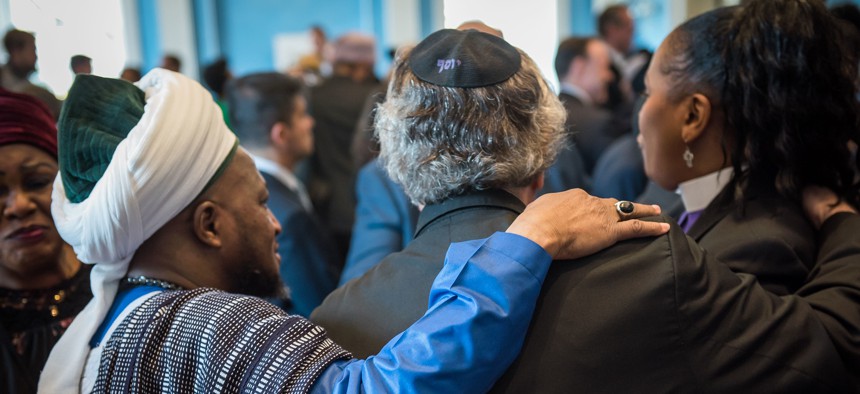 When the Rev. Calvin O. Butts III died this fall, he left behind a legacy that extends far beyond the decades he spent preaching at Abyssinian Baptist Church. He helped launch the Abyssinian Development Corp., which invested more than a billion dollars to improve housing in the Harlem community surrounding his church. He revitalized SUNY Old Westbury, a diverse, public institution on Long Island, while serving as its president for two decades. And he cultivated and leveraged relationships with powerful politicians at City Hall, in Albany and in Washington, D.C., delivering on behalf of his fellow Harlemites and Black New Yorkers.
Butts, who drew inspiration from Martin Luther King Jr., is now a model for today's faith leaders whose works extend beyond the walls of their church, synagogue, mosque or temple. Like Butts and King, Black ministers are often called to be civil rights leaders. Similarly, rabbis are indispensable advocates for a people with a long history of facing persecution – including the current rise in antisemitism. In the wake of the 9/11 terrorist attacks, imams defended Muslims and forged interfaith partnerships in pursuit of peace and understanding. Leaders of these and many other religions in New York shape debates over critical policy questions, from culture war issues like abortion and same-sex marriage to public safety concerns like gun violence and criminal justice reform and budget-related matters like education and affordable housing.
City & State's inaugural Faith Power 100 features scores of religious leaders representing the remarkable diversity of faiths and systems of belief in New York. The list, researched by City & State staff and written by journalists Aaron Short, Aimée Simpierre, Asar John and Erica Scalise, highlights the most influential faith leaders in New York as well as key figures at institutions with strong religious ties or a clear faith-based mission.
Powered By
NEXT STORY: The 2022 Economic Development Power 100