sponsor content What's this?
Sponsored Content
SOMOS COMMUNITY CARE: AT THE HEART OF PRIMARY CARE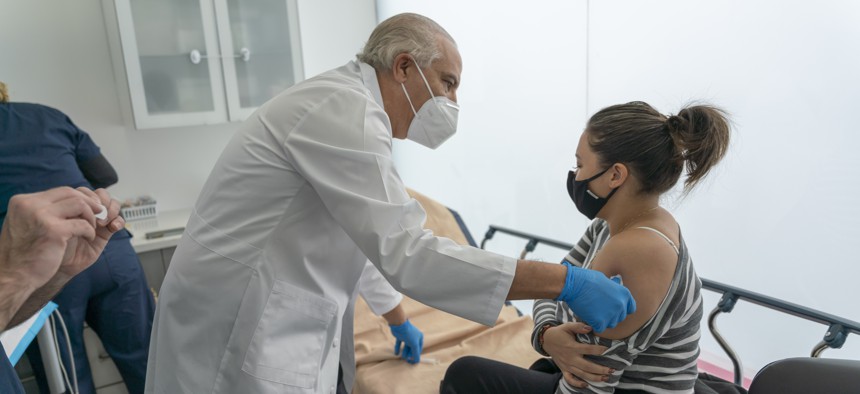 At the Bronx headquarters of SOMOS Community Care, its Founder and Board Chair, Dr. Ramon Tallaj, on any given day can pick up news stories with sobering headlines on the failing healthcare system. While he sees New York as a world-renowned place of cutting-edge health innovation and hope, Dr. Tallaj is a champion for millions of people that struggle with a parallel system that is broken with poor outcomes and replete with mistrust. His mission-directed work is focused on the deliveristas, for-hire drivers, homecare attendants, stay-at-home caregivers and often invisible, poor and minority members of New York that SOMOS serves. In this world, our fellow New Yorkers have developed an unfortunate yet founded suspicion of the healthcare system and medical community that purports to heal them and "put them first."
The consortium of network providers that forms SOMOS are long-serving community health care providers, mostly immigrants and of color, who know firsthand how and why patients, communities and entire neighborhoods fall through the cracks in the healthcare system and receive inadequate services. They understand the barriers that could cause missed primary care visits, the lack of trust and misinformation that could lead patients to be noncompliant in taking their medication. They also have a vision that these things are not only unacceptable, but that they can and must change. They are resolute that healthcare must be better.
To combat long-standing health inequities, this network of providers led transformations in the healthcare systems for years and founded SOMOS in 2014 as a network of providers that were committed to the State's crucial Medicaid redesign and transformation program, known as DSRIP.
As an organization whose purpose is to provide high-quality, culturally competent, and community-based healthcare to underserved communities, irrespective of their socioeconomic backgrounds, SOMOS and its network of over 2,500 providers proudly serves over a million Medicaid and Medicare patients in New York City and Nassau County.
Through the DSRIP projects it implemented between 2015 and 2020, SOMOS and its network of providers made significant strides in narrowing the gaps in healthcare outcomes for Medicaid patients in New York City, including a 22% reduction in preventable hospital readmissions, and a significant decrease in diabetic patient complications, amongst others.
The network was also an early and crucial leader in New York's response to the COVID-19 pandemic, in which the SOMOS staff and its network of providers fought for the lives of those who are often left behind and most vulnerable. During the pandemic, SOMOS educated, tested, vaccinated, and fed millions.
Results like these underscore the tangible impact SOMOS has made on saving lives, enhancing patient care, and reducing healthcare costs for New Yorkers through preventive care, early intervention, disease management, and health education. 
SOMOS has already developed and implemented a paradigm of preventive and value-based care that rejects the fee-for-service status quo once-and-for-all. This full-risk, value-based care model rewards those that keep New Yorkers well instead of only paying for the care of the sick. In charting the way forward, SOMOS continues to place the family doctor at the center of the coming phases of New York's preventive, value-based healthcare transformation. These providers are centered in the very communities that they serve and have cultivated an unparalleled connection with their patients, which is often maintained with the family over generations. Driven by social responsibility and to uplift multigenerational communities, SOMOS blends health and social care to help break down the deep structural barriers that their patients face to wellbeing and prosperity.
This compassionate connection and the trusted patient-provider relationship enables SOMOS and its network providers to respectfully venture into the lives and homes of their patients, to get a comprehensive understanding not just of their medical condition but how their health is affected by their social and living conditions. With this information and understanding, SOMOS Community Care partners with its network providers to offer patients tailored whole-person care and support in their language and culture, ensuring adherence to their medical regimens.
When the above conditions are not an impediment, the entire family has a better quality of life and can focus on taking advantage of the educational, employment and social mobility opportunities presented to them. Instead of focusing on a chronic condition, they can focus on their livelihood.
By fostering these authentic connections and leveraging the benefits of intergenerational relationships, SOMOS empowers individuals to take control of their health and well-being. For SOMOS, the future of healthcare is tied to the patient-centered and relationship-based care that is provided by a local, culturally sensitive family health care provider. Having a provider that considers the social determinants of health can often positively impact a person's well-being far more than any hospital visit could achieve. In SOMOS' view and experience, prevention, and compassion are just as important as the procedures done after someone has reached a state of illness.
As primary care is increasingly recognized by strategic partners in government and in the philanthropic community to be the first line of defense in the healthcare system, SOMOS and its network of providers are continuing to lead and forge a pathway towards intergenerational health.
To learn more about the evolution, transformative strategies, and future direction of SOMOS and how you can partner with it to shape a better, value-based, and more compassionate future in healthcare, please download here.
For more information please contact apla@somoscommunitycare.org.