Politics
Hakeem Jeffries slams talk of successor to D.A. Thompson, says Gonzales should be given chance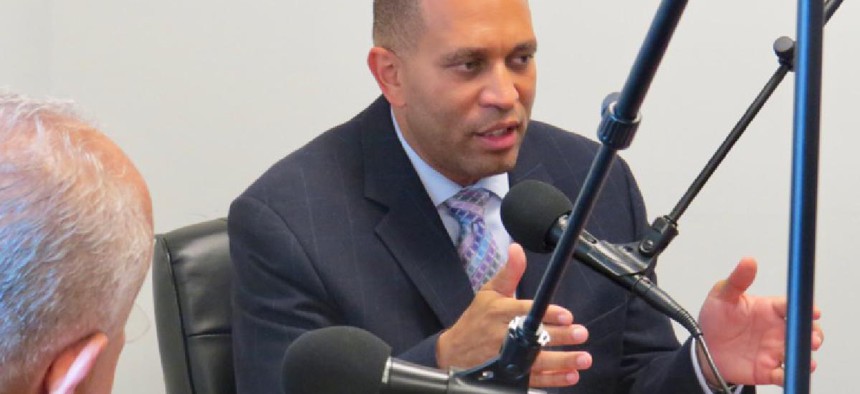 The funeral arrangements for the late Brooklyn District Attorney Kenneth Thompson had yet to even be announced before the horse-race gossip about his possible successor made its way to a certain tabloid Tuesday morning. For Thompson's longtime friend and colleague, Rep. Hakeem Jeffries, the speculation was a step too far. 
On this week's episode of the Slant Podcast with Nick Powell and Gerson Borrero, Jeffries bristled when asked about a New York Post report that pegged New York City Public Advocate Letitia James as a possible contender to succeed Thompson, who passed away on Sunday after a battle with cancer. The report named Jeffries among the parties that would be involved in making the decision on Thompson's replacement, despite the fact that the decision rests solely with the governor. 
"I say to anyone who's even attempted to delicately raise the issue, that we've got two objectives right now: to make sure that the family is on a forward trajectory," Jeffries said. "We've got to cover them, this is an incredible loss. Not just [Thompson's wife] Lu-shawn, but of course Kennedy who's 12, and Kenny, his younger son who's 8, this is a life-changing event for them. I lost a good friend, we lost a dynamic district attorney. The Thompson family lost a husband, a son, a father, a brother. I've also said the other thing we've got to do is give him the proper send-off. The wake's going to be on Friday, the funeral is going to be on Saturday, and let's focus on making sure we uplift and celebrate his wonderful life. This is a great tragedy." 
Jeffries added that the public and his colleagues in government should also respect the fact that Thompson handpicked his replacement, Eric Gonzales, before he passed away and that Gonzales should have a chance to make his mark before deciding on the future of the position. 
"He had a lot of respect for [interim DA] Eric Gonzales, he said it to me multiple times, anyone who is around Ken Thompson knows that. I don't know what's going to happen over the next few months. Over the next few weeks, give Eric a chance to stabilize things in the office. And then we can have a discussion about what happens." 
The Democratic congressman from Brooklyn also discussed the looming congressional races in New York state that could sway the balance of power in the House of Representatives. Jeffries believes that there are at least five or six seats in the state delegation that could swing in the Democrats' favor, and that Donald Trump's waning popularity could even affect state Senate races as well, where Republicans have a razor-thin majority buttressed by the support of the Independent Democratic Conference.  
Jeffries was asked whether that power-sharing arrangement in the state Senate was at all similar to the grip that conservative "Blue Dogs" once had on House Democrats, but the congressman drew a sharp contrast, noting that even the Blue Dogs that voted against Nancy Pelosi as Democratic House speaker would never hand over that power to the opposing party.  
"Those who weren't voting for Nancy Pelosi weren't doing so in a manner that would hand the speakership to the other side of the aisle," Jeffries said. "That's the fundamental difference in terms of what happened in the [state] Senate. I do hope that the IDC and mainline Democrats can come together in the interest of getting pieces of legislation that are important to the people that I represent, and disadvantaged folks all across the state, over the finish line in a way that won't happen if [Senate Republican] John Flanagan, who's a decent guy, is the majority leader as a result of Democratic support."
While Jeffries clearly is keeping a close eye on how statewide elections will play out in November, he appears to be content for now to remain on the sideline in the 2017 New York City mayoral race, rather than challenge Mayor Bill de Blasio. Jeffries praised city Comptroller Scott Stringer and Bronx Borough President Ruben Díaz Jr. - two of de Blasio's most prominent rumored challengers - and while he acknowledged the mayor's progressive policies, he said he would like to see more done in the area of police reform.  
Still, Jeffries suggested his decision hinges in part on whether Democrats take back Congress, as he could be a major beneficiary of a power dynamic that could include a Senate majority leader from New York (Sen. Charles Schumer) and a former Empire State politician in the White House (Hillary Clinton). 
"Certainly, people have suggested, well if we're in the majority I definitely stay, if we're not in the majority, do I take a look back at what's happening in the city of New York? And that seems like a reasonable position, and I can understand why people would think like that. But the House is a special place, and I think there's a lot of good things that can be done with a Senator Schumer as majority leader and a Hillary Rodham Clinton as president, who I worked hard for in the primary and in the general election, to download the power of the federal government into the 8th Congressional District, even if I remain in the minority for a few more years." 
To listen to more of our conversation with Jeffries, subscribe to the Slant Podcast on iTunes or Stitcher.