Campaigns & Elections
Early voting a work in progress in New York
Over 2.5 million New York voters cast their ballots in person before Election Day.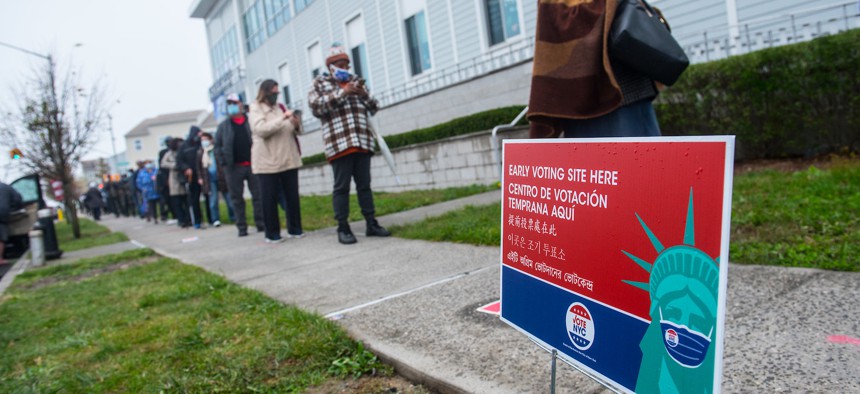 New York state residents had the opportunity to vote early in a presidential election for the first time ever this year. And despite hiccups, long lines and calls for improvements in the future, voters turned out in great numbers to cast ballots ahead of Election Day, representing about one-third of 2016's total turnout.
Over the full nine-day early voting period in New York, which began on Oct. 24 and lasted through Nov. 1, over 2.5 million people cast a ballot in person ahead of Election Day on Tuesday, according to unofficial numbers from the state Board of Elections. All told, that number represents 18.5% of the state's 13.5 million registered voters. That also represents 32% of 2016 presidential election turnout. That does not include absentee ballots, a number expected to grow larger than the more than 1 million already received as of Oct. 27. Local boards of election will still count ballots postmarked on or before Nov. 3 that arrive as late as Nov. 10, which is when many counties will begin counting mail-in ballots. Voters can also still drop off their absentee ballots in person at their local board of elections' offices or at any poll site in their county (or any in New York City if that's where they live) on Election Day.
New York's early voting performance pales in comparison to Texas' record-shattering early voting numbers. Over 9.7 million Texans have already voted either in person or by mail-in ballot, surpassing the total number of votes cast in the 2016 election in the state. The state's 57% early voting turnout far surpasses New York's turnout. But unlike Texas, which has had early voting for three decades, this was only New York's second general election, and first presidential election, ever held with early voting after the state implemented it last year. "As we know, voting is habit forming and It usually takes several election cycles for communities to get comfortable with new methods of voting and widely adopt them," Jarret Berg, co-founder of the voting rights advocacy group VoteEarlyNY, said in a statement. In 2019, only about 256,000 people statewide voted early in person statewide, as there were no major races on the ballot. 
New York City performed even better than the state as a whole this time. Over 1.1 million New York City residents voted early in-person, or just over 20% of registered voters. As with statewide numbers, the New York City early voting total doesn't include absentee ballots that have already been sent in. New York City Mayor Bill de Blasio praised the early voting numbers at a press conference on Monday. "New Yorkers have done something amazing in the course of the last days – we've seen early voting on an incredible level," de Blasio said, noting that the state was one of the last in the country to implement the practice. "No matter what the challenges, no matter how long the lines… the people of this city wanted to be heard, and they went out and did the right thing, and a lot more to come tomorrow on Election Day."
De Blasio was right to note there were challenges. In the city and across the state, election officials did not open enough early voting locations to accommodate the number of voters turning out, resulting in long lines and hours-long waits. Several local boards deciding to extend voting hours to help alleviate the stress. In New York City, election officials also opened an additional polling place on the Upper East Side of Manhattan to handle overflow from its most overburdened early voting site.
Unique to the city as well, it was the only place in the entire state that assigned voters to an early voting location, rather than letting people vote anywhere in their county. "New York City's program suffered from an unaccountable site assignment process and the lack of borough or citywide access, both of which should be implemented as soon as possible," Berg said. Data from the Campaign Finance Board revealed wide disparities between the number of voters assigned to different locations, with little apparent consideration given to the overall capacity and location of the sites chosen.
State Sen. Zellnor Myrie introduced the legislation last year that made early voting possible. In a statement, he called early voting this year "a great success" but added that it also raised concerns, such as inadequate polling sites, that need to be addressed. "What these past nine days have shown is that when you make voting easier and more accessible, voters respond with great enthusiasm," Myrie said in a statement. "Our Majority has already demonstrated a willingness to do just that, and while New York can't go from #WorstToFirst overnight, we are well on our way."
Myrie and state Sen. Michael Gianaris already proposed legislation that would require counties across the state to open at least one early voting location for every 25,000 voters. Under current state law, counties are required to have one site per 50,000 voters, but no county is required to have more than seven locations. In New York City, the legislation would more than double the 88 polling locations the city originally opened for early voting this year.