Campaigns & Elections
A look at Andrew Yang's money
And more coverage of key 2021 races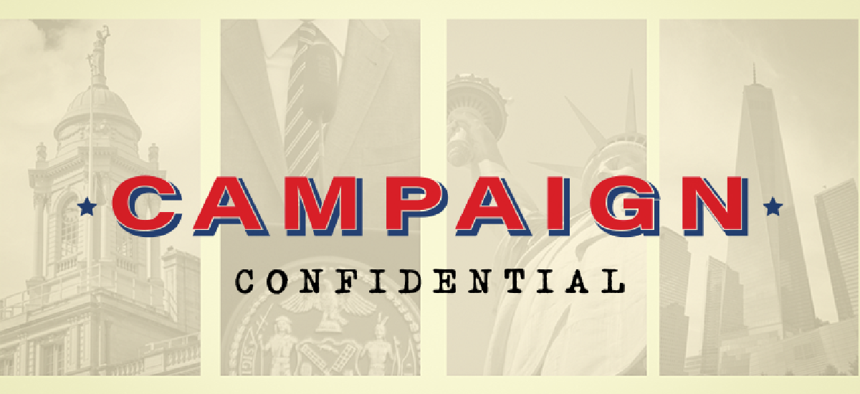 Welcome to City & State's Campaign Confidential newsletter, where Senior Reporter Jeff Coltin is covering the run-up to New York City's hugely consequential 2021 municipal elections for mayor, City Council and more.
Weekly, on Tuesdays. Sign up here.
4 months and 4 weeks until the 2021 Democratic primaries
Did a friend, colleague or rival forward you this email? Make sure you get Campaign Confidential in your inbox next week by subscribing here.
Andrew Yang is not a billionaire
No, unlike the other political neophytes who have run for president (Trump, Steyer, Perot, etc.), and for New York City mayor (Bloomberg, Catsimatidis), Andrew Yang is not a billionaire. In fact, he might not even be a millionaire. Forbes estimates his net worth to be about $1 million. And his personal financial disclosure report put him somewhere between $584,000 and $2.3 million.
Maybe it's because Yang shares Elon Musk's penchant for big, unworkable ideas like building a casino on Governors Island, but the mayoral candidate's wealth is exaggerated by his detractors on Twitter so often that Yang's "billionaire" status has become an in-group joke among online supporters. 
In reality, Yang is an entrepreneur whose most prominent job, leading the nonprofit Venture for America, earned him $194,000 in his final year. Yang's biggest asset is his Hudson Valley home in New Paltz, but Yang's primary residence – at least, until the COVID-19 pandemic struck – is a Hell's Kitchen rental.
Perhaps that's why Yang was one of the rare presidential candidates who paid himself a salary from his campaign coffers – something attorney and fellow mayoral candidate Aaron Foldenauer tried to present as a scandal. While many federal candidates forgo a salary, it is actually legal under certain circumstances, and there's nothing to suggest that Yang's $7,224-a-month take-home pay violated any rules. (For the record, candidates for office in New York City are not allowed to take a salary from their campaign.)
Yang hasn't been shy in discussing his political compensation. While running for president, he said that the commander in chief should make $4 million a year, rather than the current $400,000 salary. But Yang taking a salary from his own campaign appears not to have been previously reported.
Yang has also been accused of profiting off of his presidential campaign's book purchases. 
Foldenauer also accused Yang of self-dealing since his campaign spent nearly $240,000 buying thousands of copies of his book, "The War on Normal People."
There are strict Federal Election Commission rules to keep candidates from enriching themselves out of campaign funds, but the FEC does allow campaigns to buy and promote candidates' books in some cases, within certain constraints to prevent self-enrichment. Historically, the FEC has only approved it if any royalties from the purchase that would have gone to the author-candidate are instead donated by the publisher directly to a qualifying charitable organization. For example, a 2014 FEC advisory opinion regarding former House Speaker Paul Ryan's congressional campaign reasoned that "(N)o personal use results if the publisher (1) donates the candidate's royalties for his campaign's book purchases to a charitable organization that is not associated with the candidate and (2) excludes such sales from the calculation of royalties that accrue to the candidate."
However, a candidate cannot take his royalties and then claim it was for charity by donating an equal amount to a nonprofit. A 2011 FEC advisory opinion regarding former U.S. Sen. Scott Brown's campaign ruled that Brown "may not personally accept royalties for sales of the book to the Committee, even if he then makes charitable contributions equal to that amount."
Between Feb. 2019 and Jan. 2020, campaign finance records show Yang's campaign spent $239,921 buying copies of "The War on Normal People," mostly through BookPal, a wholesale book distributor. Yang mayoral campaign press secretary Jake Sporn, however, said Yang "never profit(ed) from books purchased by his presidential campaign." Sporn told City & State that the campaign's purchases were excluded from the calculation of royalties owed to Yang.
A royalty statement from the book's publisher, Hachette Book Group, provided to City & State on the agreement that it not be published, showed that Yang earned just under $234,000 in royalties from the book through June 30, 2020. The Yang campaign declined to provide any evidence that the campaign's purchases were not included in the royalty statement, and Hachette did not respond to multiple requests for comment.
By the Numbers
$40,500
The amount Common Sense NYC has spent on the New York City Council District 24 special election in Queens so far – $20,000 on a mailer supporting James Gennaro and $20,500 on a mailer opposing Moumita Ahmed (and her Bernie Sanders tattoo). It was the independent expenditure committee's first spending, and real estate developer Stephen Ross and six other Big Biz donors have seeded it with $1.47 million, so there's definitely more to come. But – an update since the Times' earlier reporting – "we're not planning on getting involved in the Mayor's race," says Common Sense NYC Treasurer Jeff Leb.
Costa is gone-sta
New York City Council Member Costa Constantinides is expected to resign and leave office, instead of serving out the rest of his term, three sources told City & State. Constantinides represents District 22, covering much of Astoria in northwestern Queens, and would have been term-limited out at the end of this year. Reached on Thursday, the Environmental Protection Committee chair didn't deny the rumors, saying: "I think every council member that's term-limited out has to think about their future." He said he had nothing to announce at the moment and "nothing to tell yet," and he emphasized that he's "still showing up for work every day. I'm still working hard." Constantinides was diagnosed with COVID-19 in April and struggled with symptoms for months. His wife has also experienced ongoing health issues. If Constantinides were to leave office before March 24, a nonpartisan special election would be called, and the winner would serve out the year. Six candidates are running for the District 22 seat now, with Tiffany Cabán as the odds-on favorite. It wasn't immediately clear whether Constantinides had another job lined up, but unlike his former foe in the Queens borough president race, Elizabeth Crowley, Constantinides isn't expected to run again.
Chill out, man
While many candidates in the District 24 special election are promising something new and fresh – six candidates in the race are vying to be the first council member of south Asian descent – candidate James Gennaro is running a retro campaign, with a logo straight out of 2004 asking Queens residents to "reelect" him to the seat he held from 2002 through 2013. How much does Gennaro want to turn back the clock? A tipster shared a 2019 Facebook post where Gennaro denigrated the legendary Woodstock festival of 1969 as "a drug infested freak show of excess, self-gratification debauchery, and the suspension of all boundaries, codes of conduct, respect for oneself and others (that) the country has never really recovered from."
Check the record, Bronx edition
Some opponents of Vanessa Gibson's run for Bronx borough president are crying foul after she won the Jim Owles Liberal Democratic Club's endorsement. After all, the club is an LGBTQ club, and Gibson voted against same-sex marriage as an Assembly member in 2009. And when the Marriage Equality Act passed in 2011, Gibson was mysteriously absent. A Bronx politico also noted that Gibson didn't tell the whole truth on the club's questionnaire. Gibson said, "(She) was not actively involved in any of the races for IDC members." But she was listed as endorsing IDC leader Jeff Klein in 2014. Gibson told City & State: "I have evolved and grown as an elected" on same-sex marriage, and "we all make mistakes." And that while her name was on Klein's list, she said she never actively campaigned for him. Still, Gibson's path to borough president got clearer this month after state Sen. Luis Sepúlveda's arrest and Council Member Rafael Salamanca Jr.'s decision to run for reelection. Why did Salamanca drop down? "He's super risk-averse," said one observer. Also, Salamanca's preferred successor, Ralph Acevedo, had raised a measly $1,905 so far.
Endorsement Watch
State Sen. Gustavo Rivera endorsed Scott Stringer as his first choice and Dianne Morales his second choice for mayor … Former state Comptroller H. Carl McCall endorsed Brian Benjamin for city comptroller … Communities United for Fair Housing Action endorsed another slate of City Council candidates, including Shahana Hanifranked first and Brandon Westranked second in District 39 in Brooklyn … Queens United Independent Progressives endorsed a slate of council candidates, includingIngrid Gomez over the incumbent Francisco Moya in District 21 … The United Federation of Teachers announced a couple dozen endorsements, including Ischia Bravo in the Council District 15 special election in the Bronx … The New York City Central Labor Council has announced a slate of 11 City Council endorsements, including Bravo and Eric Dinowitz in the District 11 special election in the Bronx … state Sen. Jamaal Bailey is also backing Dinowitz … Rep. Gregory Meeks is backing Selvena Brooks-Powers for the Queens District 31 special election … Moumita Ahmed keeps gathering endorsements in the council District 24 special election in Queens, including Tenants PAC, Amplify Her and the New York Immigration Coalition.
Poll Sight
According to an internal New York City mayoral poll conducted by Slingshot Strategies this month for Andrew Yang's campaign, "not sure" got the most votes at 32%, followed by Andrew Yang at 25%, Eric Adams at 17% and Scott Stringer at 12%. Team Yang is sending it out to electeds, hoping to woo potential supporters, and you can see why. Other campaigns, of course, say it's spun to make Yang look good and all it shows is name recognition. But in this first week of ranked-choice voting in New York City, let's take a look at the instant runoff scenario, with all the "not sure" votes excluded. Using the poll results, Slingshot played out how ranked-choice voting would work over 11 rounds of consolidating votes – with Yang still winning.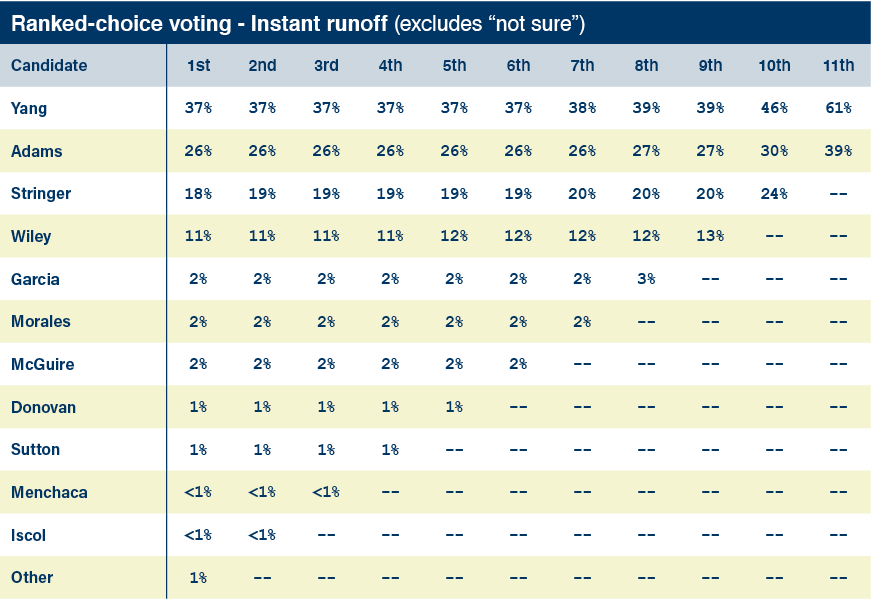 Staffing Up
The disbursements of Andrew Yang's mayoral campaign show many names from his presidential campaign are now helping on the mayoral, including onetime campaign manager Zach Graumann, digital director Jon Chi Lou, former comms folks Hilary Kinney, Shelby Summerfield and Conrad Taylor – all of United Public Affairs – Jacqueline Hong, Michael McDonagh and Trivette Knowles, now a political assistant on the mayoral campaign … Former Kasirer Associate Annika Reno is communications manager for Kathryn Garcia's mayoral campaign … Former Democratic Congressional Campaign Committee Digital Press Secretary Sylvana Dussan is joining Scott Stringer's mayoral campaign as digital director, and Tian Weinberg, account supervisor at BerlinRosen, is joining Team Stringer as editorial and policy manager … Alex Kaplan is joining Eliza Orlins' Manhattan district attorney campaign as field director … Pythia Public is doing comms for Jimmy Van Bramer's Queens borough president campaign … Rowan Shnir is serving as press director for Maria Ordoñez's council campaign in District 7 in Manhattan.
Got tips? Email JColtin@CityandStateNY.com or DM me @JCColtin
District Data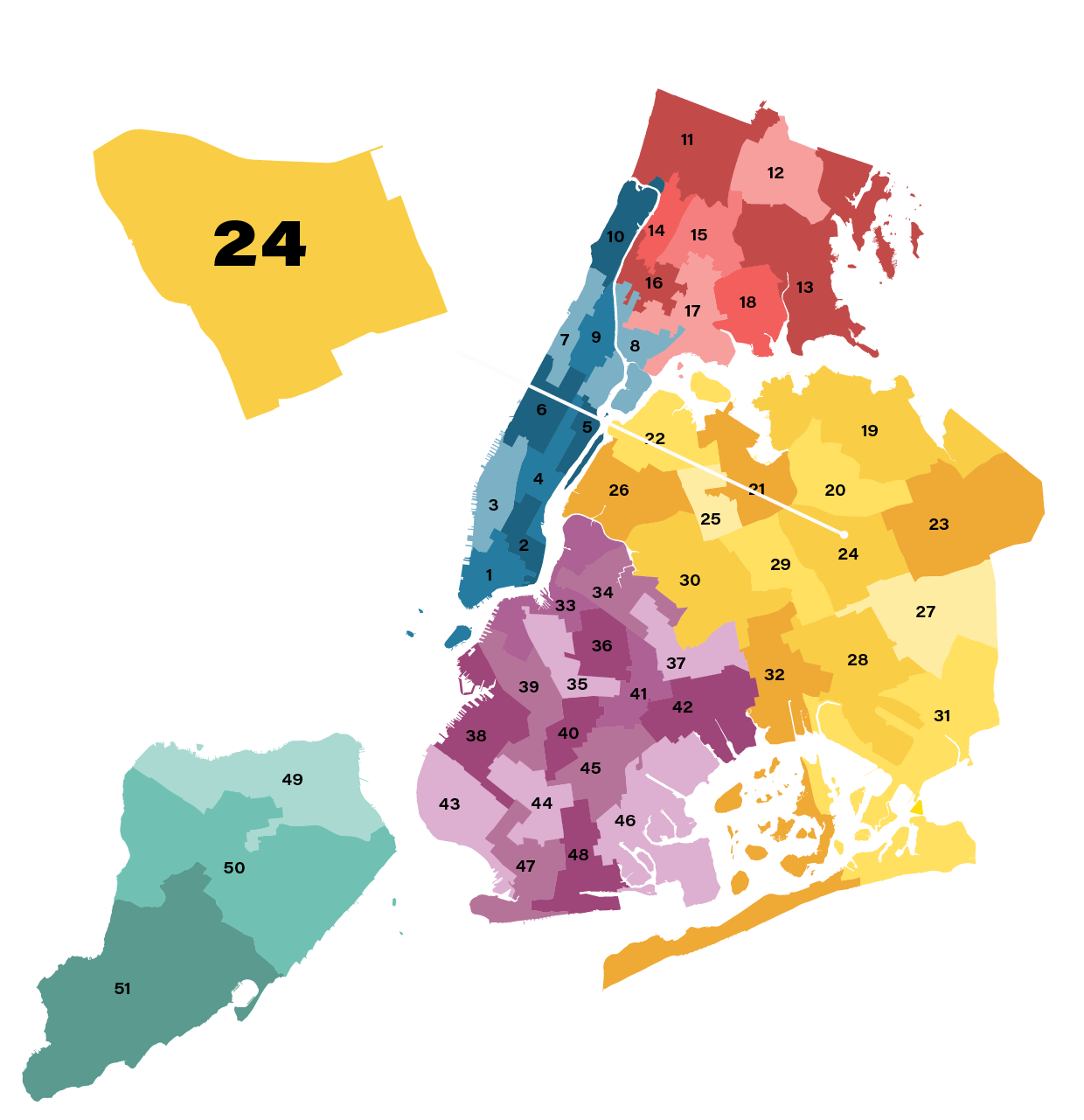 City Council District 24 in eastern Queens, covering neighborhoods including Kew Gardens Hills, Fresh Meadows and Jamaica Estates
Current council member: Vacant, after Rory Lancman resigned to take a job in the Cuomo administration in November 2020
2010 census demographics: 33.2% white, 28.9% Asian, 21.8% Hispanic, 11.7% Black
Housing: 56.7% renter-occupied, 43.3% owner-occupied
2013 primary election results: Lancman: 61.7%, Andrea Veras: 21.2%, Mujib Rahman: 17%
2017 primary election results: Lancman: 62.6%, Mohammad Rahman: 36.8%
Who's running: Moumita Ahmed, Deepti Sharma, Dilip Nath, Neeta Jain, Michael Earl Brown, Mujib Rahman, James Gennaro and Soma Syed are on the ballot for the Feb. 2 special election. Gennaro, who previously held the seat for 12 years, has the upper hand as an experienced candidate, and other would-be returners will be watching closely. Ahmed is the progressive pick, with endorsements from the Working Families Party and others, but she has been targeted in negative ads for her democratic socialist politics. And Jain is well connected as the president of a local Democratic club. Ranked-choice voting should mean that the six candidates of South Asian descent won't split the community's vote, but that depends on enough voters choosing to rank multiple candidates, and not just picking one candidate.
Twitter Posting
i die every time a candidate sends an email and it's like "sent from my iphone." you are LYING

— Megan Magray 〰️ (@megkmag) January 24, 2021
Powered By
NEXT STORY: Biden's inauguration and Cuomo's budget proposal