New York City
Campaign Finance winners and losers
And more coverage of key 2021 races.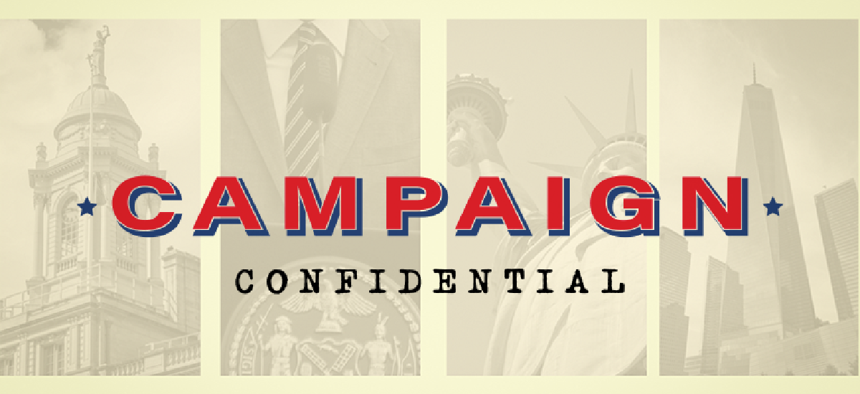 5 months until the 2021 Democratic primaries
Welcome to City & State's Campaign Confidential newsletter, where Senior Reporter Jeff Coltin is covering the run-up to New York City's hugely consequential 2021 municipal elections for mayor, City Council and more.
Weekly, on Tuesdays. Sign up here.
Winners & Losers of the January filing
It took six months of Zoom parties, texts and phone calls to exes, but now that the latest filing deadline passed on Jan. 15, New York City candidates can finally show off the money they've been raising and spending. After a quick dig through the massive trove of hundreds of financial disclosures, here are some of the winners and losers.
Winners
Eric Adams & Scott Stringer: The Brooklyn borough president and the city comptroller are exactly where they need to be, at the top of the mayoral pack. Eric Adams has $6.7 million in the bank, and expects to bring in another $982,000 in matching funds at the next payment on Feb. 16. Scott Stringer has $5.8 million on hand, and expects another $1.6 million to come next month. Both electeds were also probably pleased to see that, even though McGuire brought in a ton of money, the former Citigroup vice chair doesn't seem to be on pace to massively outspend them – thanks to the magic of public matching funds.
Ray McGuire: Adams and Stringer have been fundraising for three years for this race. Ray McGuire has been doing it for three months. And he crushed everyone else, bringing in $4.9 million. Sure, the guy is made of money, and so are his friends. But McGuire had to stick to a $5,100-per-person limit, so that total doesn't just represent Wall Street bigwigs, but some small-time voters too. McGuire had 3,709 contributors, and 68% of his money came from New Yorkers.
Is Andrew Yang a winner or a loser? And who missed out on matching funds? Read more here.
By the Numbers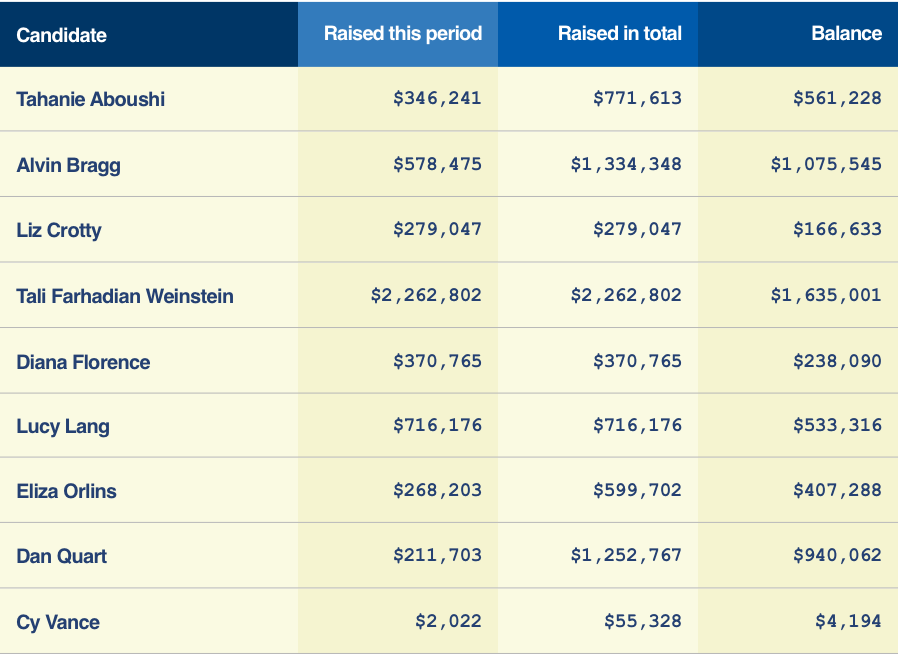 We're doing what the state Board of Elections should have done years ago, and making it easy to compare the fundraising of Manhattan district attorney candidates. Tali Farhadian Weinstein is leading the pack thanks in part to her 16 donors who have given at least $35,000 each – getting close to the $37,116 individual limit for the primary. Boaz Weinstein, her husband, is a wildly successful hedge fund manager, and Farhadian Weinstein's donor roll includes many others in finance, including four of the five "billionaires profiting off job losses at GM" that were highlighted by Inequality.org in 2019.
Other filing findings? Eliza Orlins had by far the most donations, with 3,754 in the past six months and 7,317 overall. That's almost double second place Alvin Bragg's 3,890 overall donations. And NBA star Kyrie Irving didn't just show up on Tahanie Aboushi's Zoom – he also gave her campaign $35,000.
Koo's con-text
As the Times reported, City Council Member Peter Koo's sent a text to friends fundraising for fellow former Republican Eric Adams' mayoral campaign. "If elected, (Adams) said he will appoint me as one of the deputy mayors," Koo wrote. That was dumb. Was it also criminal? Per City Charter §2604(b)11: "No public servant shall, directly or indirectly … request any person to pay any … contribution, under … promise … to secure advantage in rank, compensation or other job-related status or function." Koo took the fall, saying he lied, and Team Adams agreed, calling Koo's text "categorically false." A misdemeanor? That's probably a stretch. But as one political operative told City & State, "Koo's people are freaking the fuck out."
Clapback react
Insiders buzzed all weekend about the Rev. Kirsten John Foy's more than eight-hourJustice Clapback mayoral forum that stretched from Friday night until nearly sunup on Saturday. "Things got spicy after 9:30" one consultant texted City & State, adding it was "so apparent how little most candidates interacted with everyday Black people." Gotham Gazette's Samar Khurshid wrote a recap, but City & State caught Shaun Donovan on the subway after he left the Rev. Al Sharpton's Martin Luther King Jr. Day event, where the former Obama Cabinet secretary bragged that he was the last mayoral candidate standing as the Zoom passed 4 a.m.
Roses with thorns
NYC-DSA loves nothing more than building a spirit of comradeship among its endorsed candidates. Did you see Assembly Member Zohran Mamdani and state Sen. Jabari Brisport handing out roses at council candidates' doors? So DSA-endorsed Alexa Avilés could be in an awkward spot, since she previously donated to the council campaigns of Crystal Hudson, Shahana Hanif and Pierina Sanchez – all of whom are running against DSA-endorsed candidates. However, all those contributions came before the DSA announced its slate, and Avilés has since donated $50 each to five fellow democratic socialists. Then again, Brisport and Assembly Member Jessica González-Rojas, who has seemed to join Albany's "Socialist Caucus," both donated to Hanif and Hudson – but one of JGR's donations came after the DSA endorsed Hudson's opponent Michael Hollingsworth.
Marveling at these endorsements
After ScarJo and one of the Chrises endorsed candidates in the mayoral race, City & State had a super fun time mocking up which candidate each Avenger would endorse. Turns out we were heroically good. We joked that Agent Coulson would support Kathryn Garcia, only to find out that the actor who plays him in the movies, Clark Gregg, is Garcia's real-life cousin. In other superhero news, we're still waiting for New York political wonk Mark Ruffalo – aka The Hulk – to weigh in for mayor, but he has officially endorsed fellow actor Aleta LaFargue in City Council District 3 in Manhattan. And now Samuel L. Jackson, aka Nick Fury, is fundraising for Ray McGuire.
Endorsement Watch
Andrew Yang's mayoral campaign came out the gate with Rep. Ritchie Torres and Assembly Member Ron Kim – and do we count Queens borough president Donovan Richards and Assembly Member Latrice Walker too? … Torres also endorsed Tali Farhadian Weinstein for Manhattan district attorney … Assembly Member Erik Dilan and Council Member Alicka Ampry-Samuel endorsed Eric Adams for mayor, making her the first speaker contender to endorse in the race … the Working Families Party surprised nobody by endorsing Antonio Reynoso for Brooklyn borough president … state Sen. Jessica Ramos, Kim and former Cuomo-challenging gubernatorial candidates Zephyr Teachout and Cynthia Nixon endorsed Jimmy Van Bramer for Queens borough president, over the incumbent Richards … The New York League of Conservation Voters endorsed James Gennaro in the City Council District 24 special election in Queens … Bronx Borough President Ruben Diaz Jr. backed Eric Dinowitz in the Bronx City Council District 11 special election … while former District 11 Council Member Oliver Koppel endorsed Jessica Haller in the special for his old seat … and Council Member Rafael Salamanca Jr. endorsed John Sanchez in the District 15 special election.
Poll Sight
Two-thirds of New York City Democrats don't know who they're voting for in the primary for comptroller. But those who do know seem to like Michelle Caruso-Cabrera, even if she hasn't launched her campaign yet. That's according to a Schoen Cooperman Research poll of 600 registered Democrats conducted in November 2020. The poll was privately commissioned by a source close to Caruso-Cabrera, but MCC didn't personally request it. You can see the full poll here.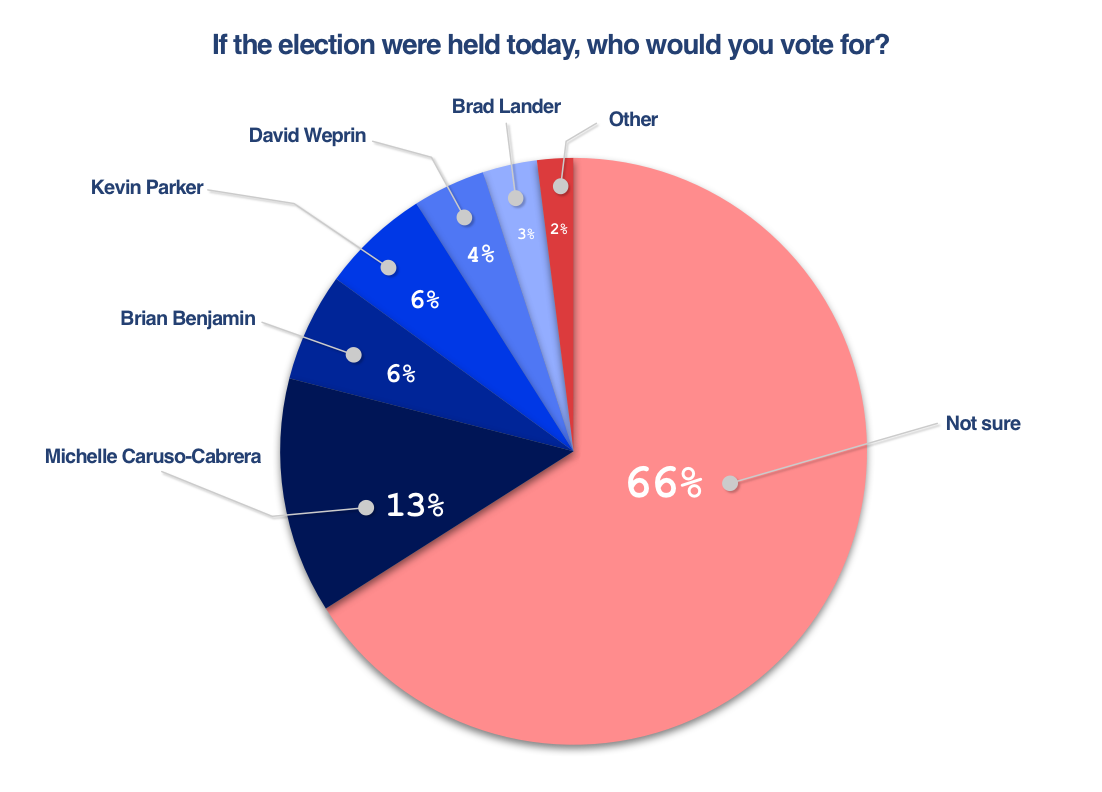 Staffing Up
Daniel Johnson will be the campaign manager for Nathalia Fernandez for Bronx borough president … Nora Brickner is the campaign manager for Shahana Hanif in City Council District 39 in Brooklyn … Matt DaSilva is the communications director for Jeffrey Omura's council campaign for District 6 in Manhattan … and Matthew Malloy is working on James Gennaro's council campaign in the 24th District in Queens.
Got tips? Email JColtin@CityandStateNY.com or DM me @JCColtin
District Data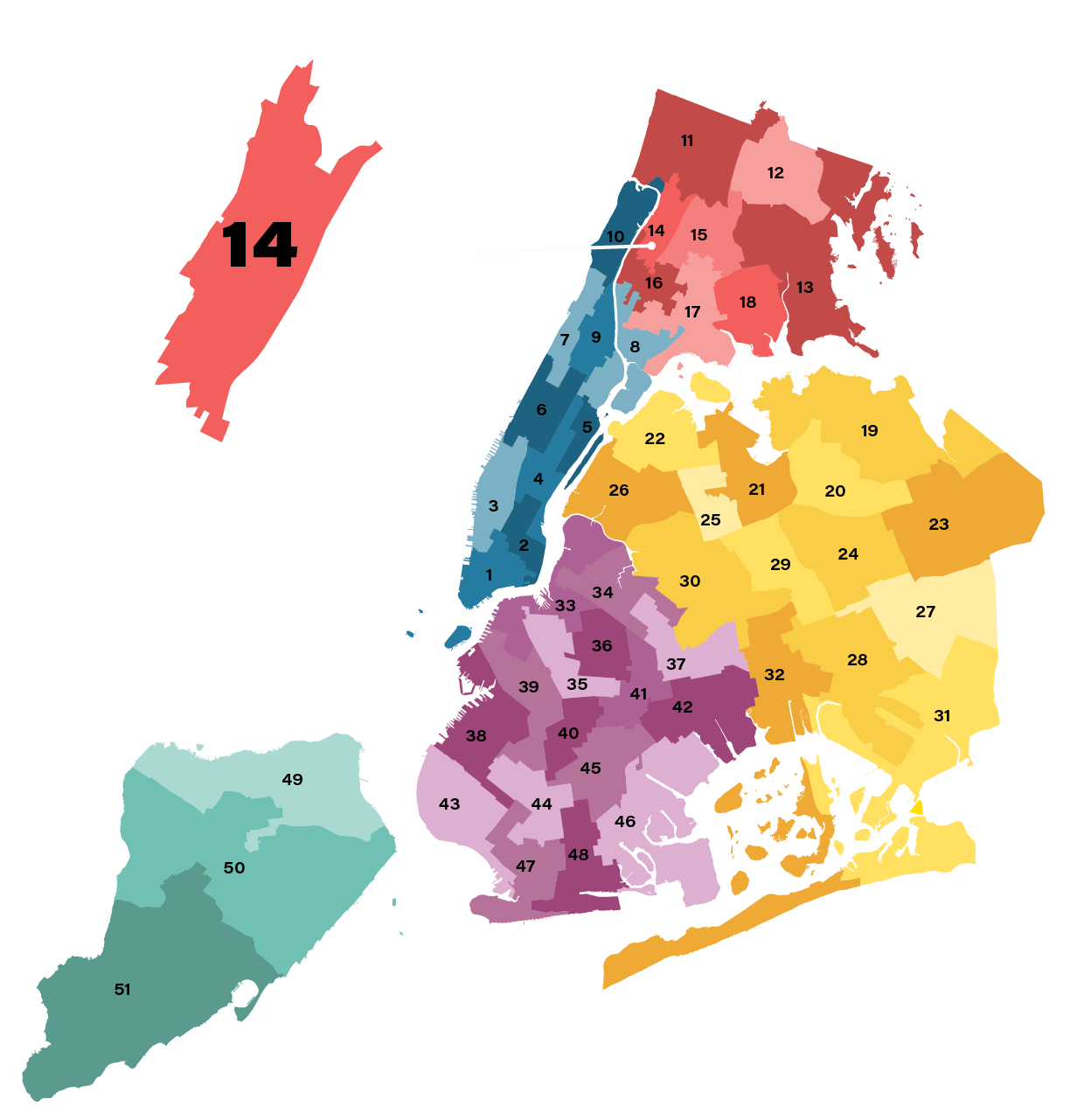 City Council District 14 in the west Bronx, covering neighborhoods including University Heights, Fordham and Kingsbridge
Current council member: Fernando Cabrera, since 2010, who's term limited at the end of this year
2010 census demographics: 72% Hispanic, 21% Black, 2.8% Asian, 2.7% white
Housing: 93.7% renter-occupied, 6.3% owner-occupied
2009 primary election results: Cabrera: 38.5%, Maria Baez: 37.1% Yudelka Tapia: 24.3%
2017 primary election results: Cabrera: 55.1%, Randy Abreu: 34.7%, Felix Perdomo: 10%
Who's running: Adolfo Abreu, Fernando Aquino, Haile Rivera, Pierina Sanchez, Socrates Solano and Yudelka Tapia. This could end up a race between Abreu (not related to the Randy Abreu who ran in 2017) – who is backed by the Democratic Socialists of America and Working Families Party – and Sanchez, who has support from major progressive establishment figures like Reps. Adriano Espaillat and Ritchie Torres, and also describes herself as "anti-capitalist." Torres defeated a DSA- and WFP-backed candidate in his House primary last year, but the DSA is only getting stronger. Tapia, a district leader who previously ran in 2009, has also been raising a lot of money.
Twitter Posting 
There is more to being a Council Member than being a NIMBY with a salary!

— Emilia Decaudin (@EmiliaDecaudin) January 19, 2021
Powered By
NEXT STORY: What the Biden administration means for New York