Campaigns & Elections
10 things to know about the latest NYC campaign finance filing
Who has the money and momentum in the mayoral race?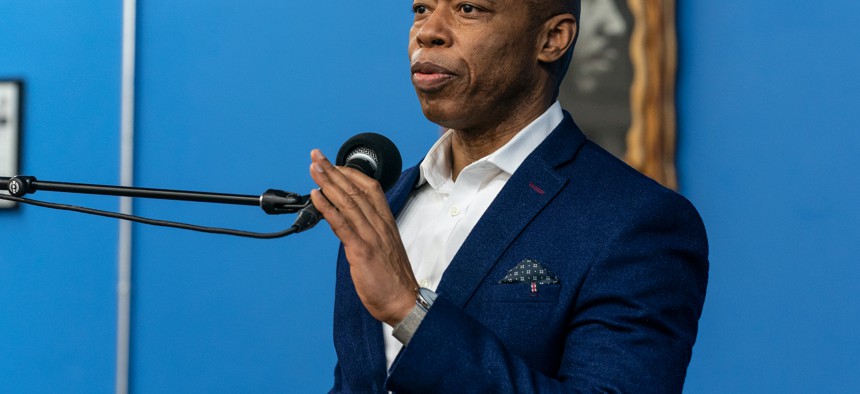 This week marked the massive information dump the New York City Campaign Finance Board calls "the filing deadline." There are enough tidbits and storylines to last us politicos two months until the next one on May 21, but here are 10 things that immediately stood out.
Adams has the money
With $7.6 million on hand, Eric Adams is the undisputed money king of the mayoral race. Scott Stringer is in a not-so-distant second with $6.85 million. Andrew Yang raised an impressive $2.14 million in just two months, but he won't be eligible to receive his $4.73 million in expected public matching funds until April 15 at the earliest.
Yang has momentum
Yang's haul was impressive for its sheer speed, and for the number of individual donors – his 14,758 was well ahead of second-place Maya Wiley's 9,536 contributors. But out of the leading contenders, those two also had the highest percentage of their money come from outside New York City. Just 51% of Yang's total and 63% of Wiley total came from donors with city addresses.
Morales has the voters
Donors with New York City addresses made 9,092 contributions to Dianne Morales – the most of any mayoral candidate. Some individual donors are counted multiple times – for example, City Council District 14 candidate Adolfo Abreu gave to Morales in January and again in March – but it's still a pretty good marker of local support. Other candidates weren't far behind. New Yorkers gave to Wiley 8,932 times, Yang 8,438 times and Stringer 8,363 times.
McGuire's gambit in action
With a big Rolodex and low name recognition, Ray McGuire decided his mayoral campaign would be better off declining public matching funds and spending with no limit rather than accepting public money and being forced to stop at $7.29 million. He's just now broken through, privately raising an incredible $7.37 million. But he's barely a blip in the polls so far after spending $3.75 million, but New York for Ray, an independent expenditure committee, hasn't reported any spending yet after raising more than $1 million.
Wiley is spending fast
She's no McGuire, but other campaigns have noticed that Wiley's $1.30 million in spending is a whole lot for a candidate who hasn't run a TV ad yet. "Doesn't seem sustainable," said one rival operative. Another called the spending "drunker than a drunken sailor." Wiley campaign spokesperson Julia Savel fired back, saying "this campaign doesn't have the luxury of a government office with hundreds of staffers," and insisted that they were "being very careful with donor resources while quickly building a top-tier campaign that will have significant money to spend on voter contact in May and June."
There's a distinct top tier
Shaun Donovan, who has raised $2.2 million, and Kathryn Garcia, who has raised $590,000, both expect to get matching funds in April are in the top tier of fundraisers with Yang, Morales, Wiley, Stringer, Adams and McGuire. Every other candidate, of the approximately three dozen Democrats running, is hopelessly far behind, at least in terms of fundraising. City Council Member Carlos Menchaca only has managed to bring in $87,172, and construction CEO and reality TV friend Barbara Kavovit has raised an anemic $15,320.
Corey hasn't taken the wheel yet
Despite raising negative money in the past eight months, Comptroller candidate Corey Johnson still has $575,000 on hand that he brought over from his abandoned mayoral campaign. But since he joined the race so late, Johnson will have to wait until April to see his expected $4.05 million in matching funds. So for the next month, Council Member Brad Lander will get to show off his money management with a field-leading $3.43 million cash on hand.
MCC isn't running against AOC anymore
Michelle Caruso-Cabrera raised a whopping $2.4 million challenging Rep. Alexandria Ocasio-Cortez in the 2020 Democratic primary. Now, running for comptroller, she has raised just $515,276, with 52% of that coming from outside New York City.
Incumbents are getting outraised
Part of the benefit of incumbency is financial. It's generally easier to raise money when you're in office than when you're out. But Council Member Francisco Moya has just $22,862 on hand, while challenger Ingrid Gomez has $122,944. Moya's campaign said they'll get public funds when they work out some paperwork issues, but for at least the next month, Gomez has a big leg up. In District 37 in Brooklyn, Council Member Darma Diaz has $154,140, while challenger Sandy Nurse has a couple hundred bucks more, with $154,508. And while it remains unclear if Council Member Bill Perkins is actually running for reelection, every other candidate in District 9 in Manhattan has outraised him, since he hasn't filed yet.
Borelli takes the money and runs
Republican Council Member Joseph Borelli has been a longtime critic of the excesses of the public matching funds program, and even made an agreement with Jumaane Williams not to take matching funds in the 2019 public advocate race because – let's face it – Borelli was going to lose anyway. But he accepted $104,386 in matching funds for his reelection run this year, facing Democrat Olivia Drabczyk in the city's reddest district. "I wish the standard was that I didn't have to follow the rules I oppose," Borelli joked with City & State, but Borelli's preferred one-to-one matching system is not an option.
Powered By
NEXT STORY: A nonprofit leader runs for mayor