New York City
A nonprofit leader runs for mayor
Former staff and fellow nonprofit executives knew Diane Morales, the progressive mayoral candidate, as a leader with big plans.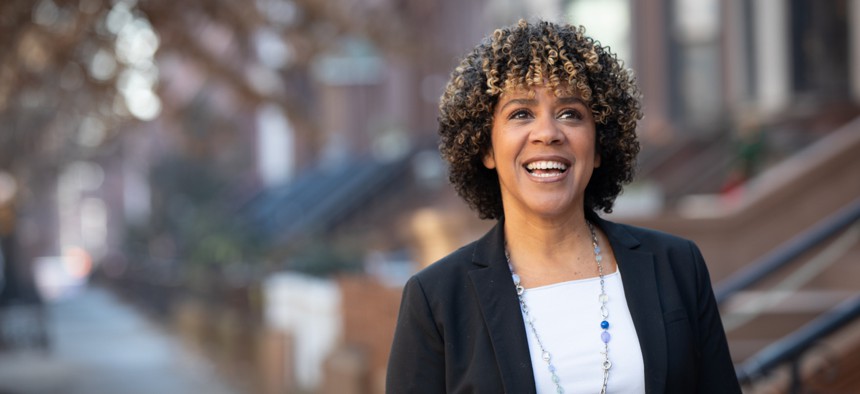 Before Dianne Morales secured her lane as an underdog, left-leaning candidate in New York City's mayoral race, she was a longtime nonprofit executive leading organizations helping youth and families in the city. For former staff and nonprofit executives familiar with her, Morales was a well-respected leader with a passion for taking innovative approaches to helping underserved communities.
Her path into the nonprofit sector started while she spent a summer after her freshman year of college working at a residential camp, now known as Ramapo for Children, primarily serving inner-city kids. "I recognized … that a lot of the kids that we were working with came from my zip code," Morales, who now sits on the board of the nonprofit, told City & State. "And I sort of had a moment where I thought, well, why them and not me."
She went on to work as a caseworker for a foster organization and special education teacher before going to graduate school. From there, she became a founding member of Jumpstart, a national early education nonprofit. She then spent five years as executive director of The Door, a youth-serving organization she had incidentally received services at as a high schooler. But she most recently led Phipps Neighborhoods, a social services organization helping low-income families in the South Bronx with job training and educational programs. 
Morales made her mark at Phipps Neighborhoods through new initiatives to help residents of the South Bronx, often through collaboration with other organizations. 
One was a healthcare career training program done in partnership with Montefiore Health System and Hostos Community College, which guaranteed students who completed the program an interview with Montefiore. Of the 350 program graduates, around 74% were placed in careers in healthcare, according to a 2019 annual report from Phipps Neighborhoods.
Morales also worked with Children's Aid, a child welfare nonprofit, to co-create South Bronx Rising Together in 2014. The initiative brought together government, nonprofits, businesses and others to collaborate on best strategies for helping youth across all ages in Bronx Community District 3 located in the South Bronx. 
"What was kind of unique about (these programs) in the social services sector is that, in (the) start, none of these programs had very logical funding streams," said Nancy Riedl, who used to serve as director of development and communications at Phipps Neighborhoods. Human services nonprofits rely heavily on city contracts which heavily influence the programs they take on, where Morales's new initiatives often started thanks to private funding. "Dianne really felt like she wanted to take the opportunity to do something that was different and create potentially a different pathway," Riedl said.
Morales said the limitations of city funding remained one of the biggest obstacles for her as a leader. "Public funding is not supportive or encouraging or nurturing of creative thinking or change," she said. 
For another former Phipps Neighborhoods employee who worked closely with Morales, the initiatives Morales worked on showed her understanding of the importance of collaboration. "She was a people leader who could inspire and motivate organizations to come together behind a big vision and execute towards that vision together," she said.
Michael Zisser also remembered her as a leader who thought strategically. Zisser used to lead both The Door and University Settlement, which had a legal partnership until this year, and worked closely with Morales when she was executive director of The Door. During that time, they were both heavily involved in executing a strategic plan for the nonprofit. 
"I think every item on that strategic plan ended up coming to fruition," he said. "... It's very rare when a not-for-profit develops a strategic plan that ever works out or is accomplished." 
It was from that plan that the organization created a charter school called Broome Street Academy, which aims to educate students who are homeless, in the foster care system or from low-performing schools. In addition, Morales also helped The Door expand its support of LGBTQ teenagers. "We started doing outreach at the Christopher Street Pier to engage some of the homeless youth," Morales said. "And a lot of those homeless youth were LGBTQ youth who (were) pushed out or ran away from their home."
Beyond her work leading at Phipps Neighborhoods, Morales was often an outspoken voice in the nonprofit sector at-large. She was a board member of the Human Services Council, a membership organization advocating on behalf of social services nonprofits, and a member of the Nonprofit Resiliency Committee, a group convened by city government to hear the concerns of local nonprofits.
In those spaces, she spoke often of the importance for the city to fully fund organizations helping New Yorkers in need and of "inequitable systems," said Michelle Jackson, the executive director of the Human Services Council.
"When it comes to the nonprofit sector, there are many people who are willing to collaborate," Jackson said. "But speaking up to government partners when you're funded by them is not an easy task, and she certainly embraced that role." 
Margaret Crotty, executive director of Partnership with Children, knew Morales well from their time together at the Human Services Council as well as serving on various advisory bodies related to New York City's community schools initiatives. Morales often spoke up about the importance of anti-racism in community schools, Crotty said. "Phipps and Partnership with Children, we put resources behind frameworks for shared decision making, community voice, always making sure those metrics were first and foremost in the community school model."
The nonprofit leaders City & State interviewed did not make any endorsements of Morales's campaign, as charities are barred from making political endorsements for any candidate. But several said having a mayor who understood the challenges faced by nonprofits and the communities they serve would be a boon for the city. "The city's recovery is going to be built on the backs of nonprofits," said Phoebe Boyer, head of Children's Aid. "Surviving COVID has been done on the backs of nonprofits."
And some noted that while Morales's expertise is in the nonprofit sector, she has communicated frequently with city agencies and businesses. Marjorie Parker, president and CEO of JobsFirstNYC, where Morales used to serve as a board member, said Phipps Neighborhoods was heavily involved in workforce development programs that connected the organization to local employers. "She understands both the supply side, what challenges people have, but she has a good understanding of what happens also with, especially, small employers."
There are still major challenges associated with going from running a now $10 million nonprofit to running the country's largest city. And she's been open about her own blindspots running as an outsider to government.
"One of the things I said for years as people asked me about running for office was, I'm not diplomatic," she said. "And so I think a different way of putting that today is that I'm not good at spin." She added that she would plan to surround herself with people with more institutional knowledge of New York City government if elected to ensure she was prepared. 
For Crotty, Morales has also been quite consistent in her approach as both a nonprofit leader as well as a political candidate. 
"Nothing that she's saying or doing is out of character with what I think most of us who've worked with her in the nonprofit world have seen her say and do."
This article is part of our For The Record series, examining the leading mayoral contenders' professional records. You can read the rest of the series here.