Transportation
How New York City can afford Fair Fares
Here's how New York City can afford Fair Fares.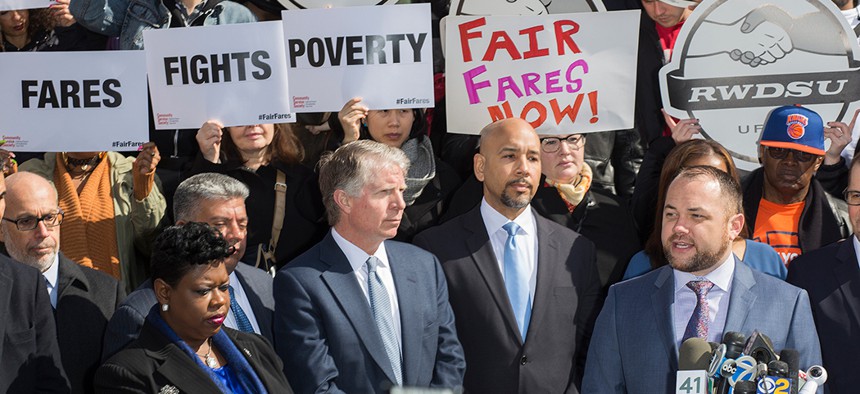 For the second straight year, the New York City Council expressed support for subsidizing transit fares for low-income New Yorkers. This year's council budget response, released last week, called on Mayor Bill de Blasio to include $212 million in funding for half-price MetroCards for individuals and families living below the federal poverty line and for veterans enrolled in New York City colleges. De Blasio said the Fair Fares proposal would only be affordable if a personal income tax surcharge on very high earners was enacted to back it. Such a tax is unlikely to be adopted, and it is also unnecessary; the Fair Fares proposal can be funded within the city's current operating budget.
Mass transit is the lifeblood of the city. It connects New Yorkers to their schools, jobs, communities, open spaces, recreational activities and world-class cultural institutions. For many people, their monthly MetroCard functions as an all-access pass to a transit system and city that operate 24/7, and is well worth the $121 cost. But for low-income workers, the cost is a notable share of their household budget. For some, it may even be unaffordable.
Offering half-price fares to low-income adults is a sensible way to promote work, increase education and job training, and make New York City more affordable – all policy goals de Blasio supports.
The council's version of the proposal is projected to cost $212 million annually. While this is a sizable spending commitment, its magnitude is best understood in the broader context of the city's operating budget. In fiscal year 2019, total annual expenditures are projected to be $90 billion – not including $1.25 billion in reserves. The Fair Fares proposal represents just 0.2 percent of total spending and 0.3 percent of city-funded spending.
The mayor said Fair Fares would only be feasible with a new revenue source and he proposed the income tax surcharge. Such a tax has little to no chance of being adopted by the state Legislature. Furthermore, research shows New York City's high income tax rates hinder its competitiveness, and recent federal tax changes are likely to compound the problem.
A new income tax surcharge is politically infeasible, counterproductive and, most importantly, unnecessary. The Fair Fares proposal can be accommodated within the city budget by exercising greater restraint in hiring and more aggressively tackling inefficiencies in its operations.
The city's workforce has grown to record levels; since fiscal year 2014, its headcount has grown by 25,000 positions, and is projected to grow by an additional 8,550 by the end of fiscal year 2018. While most of the hiring has taken place in the city Education Department (the bulk of the new positions are related to the expansion of universal pre-kindergarten), headcount is up across the board and agencies continue to hire. There are currently 2,225 vacant positions, and the City Council projects a savings of $75 million from attrition and hiring delays for the balance of the 2018 fiscal year. The average cost of compensation, including salary and benefits, for a city employee is $140,000; eliminating long-term vacancies and only hiring for essential positions can easily generate the savings needed to fund Fair Fares.
The Citizens Budget Commission has written extensively about how savings programs under de Blasio have been comprised mostly of re-estimates, funding shifts to state and federal revenue streams, and debt service savings. Our most recent review showed the sum of agency efforts to generate savings from more efficient operations was a mere 0.2 percent of city-funded expenditures in the most recent five-year financial plan, a total of $465 million between fiscal years 2018 and 2022. Several large agencies – including Fire, Sanitation, Parks and Buildings – have not contributed any efficiency initiatives in the past five financial plans.
Many initiatives to modernize and streamline operations – for example, redesigning garbage truck routes to increase per-shift tonnage collected for a savings of $75 million – require negotiating with labor unions. This should not be a reason to ignore these ideas; rather, boosting productivity and finding savings should be at the forefront of the city's agenda in labor negotiations this year.
In addition, the city's back-office operations deserve more scrutiny. The Office of Management and Budget has started examining issues that span multiple agencies, such as office space and fleet management, and there is more to do. A 2013 CBC review indicated the city's procurement practices were highly decentralized, extraordinarily lengthy and cumbersome, and had not kept up with digital advances. The city could've saved at least $170 million by overhauling how it purchases goods and services.
Managing city operations more efficiently can make room in the budget for Fair Fares. If the mayor supports the proposal and wants to exercise caution, instead of advocating for a millionaires tax, he could fund a pilot program and/or phase it in over several years. As all commuters know, moving on a slow track is preferable to stalling.