affordable housing
New York's affordable housing solution is hidden in the garage
The state should legalize turning garages into apartments.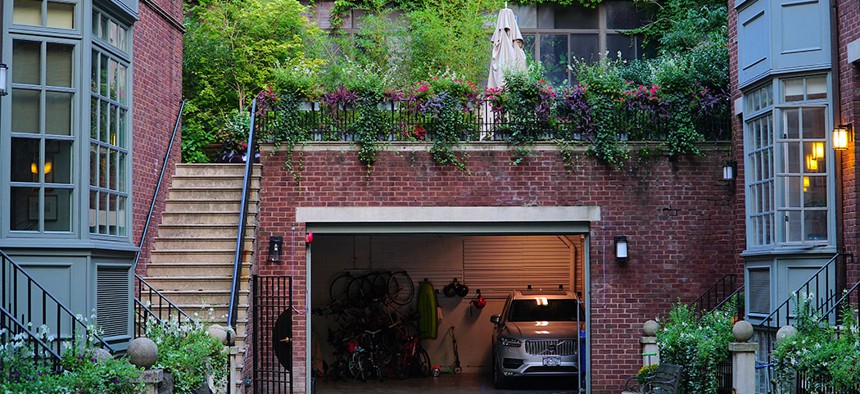 What if there was a way to create new affordable housing without the specter of big developers, gentrification, or drastic changes to neighborhood character?
Look no further than the humble garage.
Across the country, state and local governments are loosening rules that stop homeowners from turning garages, and other small portions of their property, into modest apartments. Even California, where the car is king, has passed a state law allowing homeowners to convert a garage into a rental. The resulting apartments – called granny flats, backyard cottages, or the more technical "accessory dwelling units" – just might be a way to break through the usual debates about affordable housing development in New York.
Homeowners, often weary of new neighborhood development, get the extra income that comes from a rental. For seniors struggling to stay in the neighborhood on a fixed income, and young people stretching to afford a first home, that extra cash can make all the difference. Other homeowners get a comfortable place for relatives to stay while in town, or a starter apartment for their adult children who'd otherwise live at home.
Renters, on the other hand, get badly-needed affordable housing. Thanks to their smaller size and the lower costs needed to create them, granny flats tend to be less expensive than most apartments. One study of Babylon, Long Island, for example, found that rent for accessory dwellings was 35% lower than for a traditional apartment. Granny flats can also address renters' growing desire for studios and one bedrooms, as people stay single for longer, and have smaller families, than they did a generation ago.
Backyard apartments aren't the kind of high-end luxury units that drive concerns about gentrification. Just the opposite: they can help create and preserve mixed-income, integrated communities. As New York City Councilmember Rafael Espinal observed in the context of a pilot program to legalize basement apartments, rental income can help long-time residents in gentrifying neighborhoods stave off foreclosure and displacement. And granny flats open up rental options in places that are inaccessible to all but the wealthy, because the price of admission – and access to good schools and jobs – is the cost of buying a house.
Therein lies the rub. The ugly truth is that the real resistance will come from those who don't want to welcome lower-income neighbors – especially Black and brown ones – into their neighborhoods and into their schools. In places like Nassau County and Westchester, which blossomed in the era of white flight from the inner-city, local governments have for decades blocked the development of any affordable housing. Nassau, home to 1.4 million people, permitted only 1,026 new units of any kind in 2018. That intransigence is one reason why the New York metropolitan area is among the most racially segregated in the country – worse than Birmingham, Atlanta and St. Louis.
It's also a driver of the New York area's spiraling housing crisis. Like California, New York rents continue to rise faster than incomes. Today, almost half of all families in New York state are rent burdened, meaning they pay over 30% of their income in rent.
But unlike California, New York's leaders are doing little to create new affordable housing. California's bill, passed last year, allows homeowners to set up granny flats most anywhere in the state. Now Virginia is considering a comparable plan. The key to these reforms is using state law to clear the roadblocks that local governments have erected to stifle affordable apartments. Otherwise, if exclusive suburbs are left to their own devices, nothing will ever change.
Following their lead, Albany should create a new statewide category of residence – the accessory dwelling unit – that overrides state and local rules to the contrary. Owners who want to convert a garage will be exempt from current parking minimums, which require homes to have off-street spots, and zoning laws that prohibit more than a single family from living on a property. Other rules, like building codes that mandate large apartment sizes, should also be relaxed, as should safety regulations designed with traditional construction in mind. In their place, the state would set out basic standards, tailored to granny flats, for localities to follow, ensuring new units have adequate light and air, heat and water, clear exits in the event of a fire, and other basic amenities. So long as a granny flat can be made safe and comfortable, it should be legal and open for rent.
That plan will no doubt face resistance. But if California is any guide, granny flats can succeed even when more ambitious plans to build housing falter. Although a more sweeping proposal to promote housing around public transit was tabled, California's law allowing granny flats experienced relatively smooth sailing.
One reason is that while zoning changes to allow taller buildings are often criticized for altering the physical character of a neighborhood, granny flats have a light touch. Changing the use of a backyard garage, for example, can be practically invisible from the street.
Some residents will inevitably worry about lost parking, but lots of homeowners already store their cars in driveways, or on the street, even with a garage. A study of Los Angeles, for example, found that 91% of homeowners use their garage for something other than a car (mostly junk). Where turning a garage into a home requires getting rid of the driveway, a new on-street parking space is born. If L.A., far more dependent on the car than New York City, can make it work, surely New York can too.
The opportunity in New York is huge. Suburbs like Manhasset on Long Island, with spacious yards, big garages, and ready access to the city by rail, are the most obvious candidates for reform. But there is a lot of potential within the five boroughs as well – not just in suburban-style neighborhoods like Todt Hill on Staten Island and Bayside in Queens, but in relatively transit-rich neighborhoods, like Kensington in Brooklyn. Walk through those neighborhoods and you'll see countless garages – some facing the street, others in backyards, both attached to the house and detached – that could become small apartments if only the laws would allow it.
A well-crafted reform would also broadly legalize basement apartments, which hold tremendous potential to add additional, affordable housing in New York City. One study by the Citizens Housing and Planning Council estimated that there are many as 210,000 basements and cellars that could be converted into housing within city limits. That would be more housing than was produced in all of the five boroughs during the entirety of the last decade. And if you're wondering whether people would really like to live in small basement apartments, with limited light – many low-income New Yorkers already do. But under the status quo, their apartments are illegal, meaning renters lack the tenant protections, safety measures, and the right to demand basic amenities like windows, that could come with legalization.
A careful law will also prevent local governments from using development fees, tax assessments, and red tape as a backdoor to smother development. It should streamline the permitting process to make it easy for homeowners to bring units up to code and onto the market. And it should create a fund to help homeowners finance the cost of renovating garages into granny flats, in return for an enforceable commitment that the rent will remain affordable and that the unit will be a home for a New Yorker – not an Airbnb for tourists.
Some localities will inevitably sue, contending that the state doesn't have the authority to nix local housing rules. They'll almost certainly lose. In New York, the state has relatively unfettered power to override local law.
Reform in Albany won't be easy. If the state won't act, localities could pursue many of these changes on their own. But only Albany has the power to compel recalcitrant suburbs to act. It's time Albany let homeowners turn houses for cars into houses for people.
Affordable housing Case Studies
Powered By
NEXT STORY: Freddie Richmond thought he could buy anything - and anybody