Opinion
Build community, instead of fear, on the Upper West Side
Affluent neighborhoods should help solve homelessness.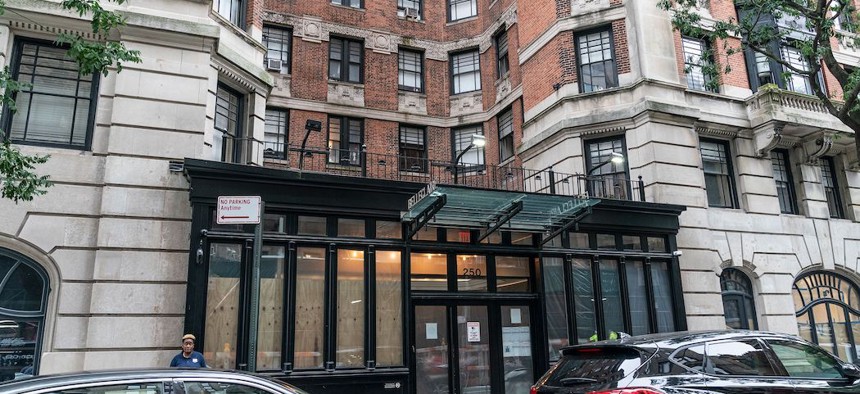 Over the past few months, the New York City Department of Homeless Services has been moving homeless individuals from their typical shelter placements to temporary emergency shelter placements, many of them in hotels, to facilitate social distancing. It is a logical response to the pandemic: reduce density in shelters to reduce the spread of COVID-19, while making use of hotels emptied out by the dramatic drop-off in tourism, providing them with some much-needed revenue and preserving jobs. But these emergency shelters have faced stiff opposition from some in the neighborhood.
Four of the 63 hotels used thus far have been located on the Upper West Side: the Lucerne, the Belleclaire, the Belnord, and Park West Hotel. The Lucerne, the Belleclaire, and the Belnord – which have faced the brunt of the opposition – are sheltering men without families, and the Park West Hotel is doing the same for women without families. 
The use of these hotels as temporary emergency shelters has roiled the neighborhood. A petition calling for the removal of the three temporary men's shelters, driven by a group calling themselves Upper West Siders for Safe Streets, has more than 5,700 signatures. The movement has gotten a boost from very sympathetic coverage in the New York Post. Some residents ground their opposition on the presence of people with substance abuse disorders, or that 14 of the nearly 700 clients at the Lucerne, the Belleclaire, and the Belnord are registered as sex offenders. There have been a handful of recent reports of assaults in the neighborhood and of other disturbing incidents, such as a drug overdose in a Duane Reade, though it is unclear which of these, if any, may be directly tied to the presence of the new shelters.
A Twitter account named No NIMBY NYC has documented some of the vile language used against the new neighbors in these hotels, including calling the homeless men "creatures" and encouraging "armed warfare" in the event of their continued presence. Residents eager for the removal of these shelters have called for aggressive tactics ranging from removing park benches in the Broadway "green streets" islands to having Curtis Sliwa and the vigilante Guardian Angels, who have previously fabricated crimes for publicity, patrol the neighborhood. Now, our new neighbors feel most unwelcome as a result.
The Upper West Side has been an important part of my life since I was 12 years-old. I went to middle school and high school in the neighborhood, quite close to the Lucerne and the Belleclaire, and I have lived in the area now for the past few years. Acceding to these loud demands – which, I firmly believe, do not represent the views of the majority of residents – would lead to harmful public policy and would be a sharp departure from the proudly progressive tradition of the Upper West Side. (Indeed, some of the opponents of shelters in the neighborhood even told news outlets they recently attended Black Lives Matter protests.) If opponents to these shelters are willing to turn down the temperature on their rhetoric, there is an opportunity to build community and refocus our efforts on the common challenge facing us all: the deep shortage of affordable housing in New York City.
These shelters are part of DHS's efforts to facilitate social distancing. While flouting social distancing may seem acceptable to some New Yorkers gathering outside bars in Manhattan or the Hamptons, it is a life-or-death matter for the homeless: unhoused New Yorkers had a 61% higher mortality rate for COVID-19 than the overall average for the city. With 89% of homeless households being headed by Black or Latino New Yorkers, combating homelessness is also a racial justice issue.
Meanwhile, as COVID-19 spread and travel decreased, hotel occupancy has declined between 64% and 93% in the months since March 2020. This level of vacancy risked leading to eventual closures and the loss of unionized blue-collar jobs at a time of double-digit unemployment. Placing temporary emergency shelters in largely-vacant hotels, then, is a sound idea with many benefits.
Beyond the presence of hotels on the Upper West Side, there are good reasons for there to be more homeless shelters in the neighborhood. Hotels like the Lucerne and the Belleclaire were once full of single-room occupancies, or SROs, dorm-like residences which housed poor, single men like those now staying in these emergency shelters. While it would be a mistake to romanticize SROs, particularly those in tenement-like conditions or that lacked supportive services for residents in need of them, repeated SRO conversions to luxury uses across the city have exacerbated New York City's housing crisis and dramatically reduced the economic diversity of the Upper West Side.
The presence of a small number of sex offenders very understandably complicates this conversation. However, even here, the evidence should shape the reality. For one, residents are receiving a suite of supportive services from providers such as Project Renewal (the Lucerne), HELP USA (the Belleclaire), and Center for Urban Community Services (the Belnord). In addition, research tells us that individuals convicted of sex offenses are the least likely to recidivate among those who commit the most serious kinds of offenses; that only 3% are likely to recidivate specifically toward another sexual offense; that stable housing is essential to avoiding recidivism and substance abuse disorders; and that residency is not the prevailing factor in sex offense cases. To be sure, one sex offense at any time in any community is one too many, and the state appropriately limits where those who have committed the most severe sex offenses may live. However, even as no combination of statistics can put families at ease, the objective likelihood is that the downward trend of sex crimes on the Upper West Side will remain unaffected.
Instead of letting fear drive opposition, those who oppose these shelters and those of us who support them should focus on a common enemy: our short housing supply. The pre-COVID unavailability of housing has broad ripple effects, from the high rents or purchasing prices for most homes on the Upper West Side to the homelessness too many experience in our city. The affordable housing shortage drives our homelessness crisis. Research shows that the primary cause of homelessness is the lack of affordable housing, which may be precipitated by evictions, overcrowding within apartments, domestic violence, job loss, and unsafe housing conditions. Tackling these issues will require strengthening the city government's eviction prevention and domestic violence support programs as well as building much more new deeply affordable housing and providing more rent vouchers to low-income New Yorkers. Those of us who live in transit-rich, high-opportunity neighborhoods like the Upper West Side could help by supporting affordable housing development in our neighborhoods, given the paucity built here during Mayor Bill de Blasio's term. More permanent affordable or supportive housing means more stability for low-income residents and less blindsiding of communities – a solution where everyone wins.
It is perhaps easy to fall prey to divisive sentiment in a time of much social isolation, mass unemployment and business closures, increased shootings, and tales of New Yorkers fleeing the city for good. But our neighborhood must recognize that poverty, more than being an aesthetic inconvenience only when visible, requires a collective effort to address. The Upper West Side has built affordable Mitchell-Lama apartments, fought to realize the city's promise to build thousands of affordable units in the West Side Urban Renewal Area, helped buy SRO apartments to aid tenants in staying in needed supportive housing, and more. Few of these victories have been complete or unopposed. But they set an example for those of us who live here today – one followed by people like Sara Lind, Amanda Fialk, and other Upper West Side moms, who organized a petition and a positive, well-attended welcoming event for our new neighbors. The rest of the neighborhood should join their cause.
Powered By
NEXT STORY: More housing is the answer to less transit