Opinion
Nita Lowey, progressive pioneer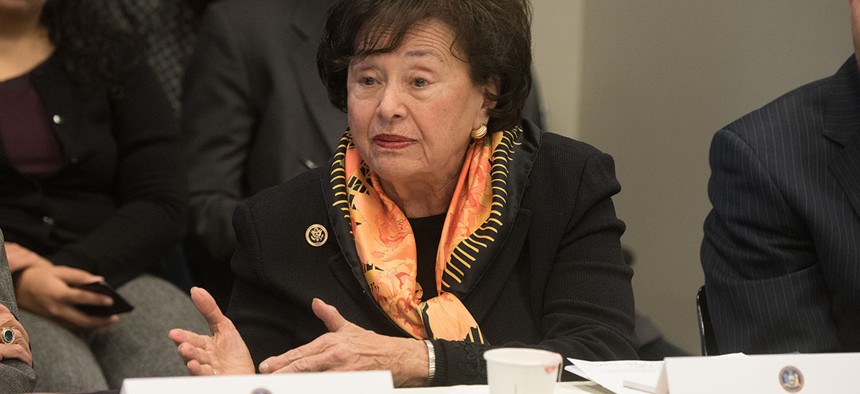 Seven women marched across the U.S. Capitol building on October 8, 1991 to demand the Senate allow Anita Hill an opportunity to be heard and defend herself during future Supreme Court Justice Clarence Thomas' confirmation hearings.These weren't just any women, these were seven United States representatives out of just 29 serving in the House at that time. Right in the middle of the group was my Congress member, Nita Lowey, from the lower Hudson Valley. 
Over the next three decades Rep. Lowey often stood up, literally or metaphorically, to fight for the rights of women and girls to healthcare and education, against hate in any form and safety in every way. On the cusp of her impending retirement, she deserves to be recognized, and thanked, as one of the most consistent, passionate and successful progressive champions in Congress over the last several decades.
The march for Anita Hill happened just a few weeks before Election Day, during a very contentious re-election campaign for Nita in what was then a purple district (we're all on a first name basis with Nita here in Westchester). It would have been easier and safer for her to let others fight this battle, but that was not how she operated. After Hill's allegations of sexual harassment by Thomas came to light, she could have let other Democratic feminists in Congress such as Reps. Pat Schroeder and Barbara Boxer, then House members from safe blue districts out West, lead the fight for women's voices to be heard. But Lowey was never one to back down from a fight. 
You may know about her firsts: First woman and first New Yorker to chair the Democratic Congressional Campaign Committee, first woman to chair the House Appropriations Committee. 
That is a large part of her legacy, but it's just a part of what she's accomplished. While she may not get the attention of Millennial insurgent candidates on the left, her record shows constant progressive advocacy and achievement: 
-She has been a consistent and fearless champion for women's health, particularly women's reproductive freedom. She has never stopped opposing the Hyde Amendment, which bars the use of federal funds to pay for abortion except to save the life of the woman, or if the pregnancy arises from incest or rape, and its kissing cousin legislation, the Helms amendments, that prohibits federal funds from being used in international aid for abortion and abortion-related services.
-Nita has been the leading sponsor for legislation to curb drunk driving in Congress. In 2000, Lowey successfully passed legislation requiring states to enact a maximum Blood Alcohol Content level of .08 as a condition of receiving federal transportation assistance. In July 2014, Lowey introduced Alisa's Law, a bill encouraging states to require ignition interlock devices for a minimum of six months for convicted drunk drivers. Alisa's Law has yet to pass the Senate, but Nita leaves a blueprint for federal legislation necessary to significantly reduce drunk driving forever.
-She introduced successful legislation to require allergens to be listed on food labels. 
-She authored the Reinforcing Education Accountability in Development (READ) Act, which was signed into law in 2017. It established access to quality basic education in developing countries as a key objective of U.S. foreign policy.
-She led the fight against all acts of hatred, particularly as co-chair of the Bipartisan Task Force Combating Anti-Semitism.
In the current Congress, there are 101 women in the House and 26 in the Senate – still not enough, but a sea change from when Nita began her tenure in 1988. At that time, Nita was often the only woman in the room. Instead of resenting other women, she welcomed them and became a mentor to dozens of women colleagues. She has always operated from the point of view that she doesn't need to diminish other people to succeed. This isn't quaint, it's damn effective. 
And speaking of effectiveness, Nita is the person who actually got budgets passed in collegial ways with Republicans in the House and Senate during the cacophonous Trump years. Can you think of another congressional process that has actually worked over the past four years?
Nita's energy and smile are legendary here at home. She never morphed into a politician who moved inside the Beltway and lost touch with her constituents. She showed up, whether it was a Chamber of Commerce meeting, high holiday services at her synagogue or a high school graduation. There were no controversies, no feuds, no financial shenanigans, no shortcuts. Nita treats every person with respect, insists her staff does the same, and they all work tirelessly to get people the information, the services and the help they need. 
She is a hero for many people, including me, because she has fought unapologetically and relentlessly for freedom and equality year after year, whether it was in fashion or popular – and whether Democrats had control of the House. Nita had the courage to step into the arena when most women were told to wait their turn, and the grit, grace and savvy to stay there.