Opinion
Wall Street can spare a nickel
New York should reinstate the Stock Transfer Tax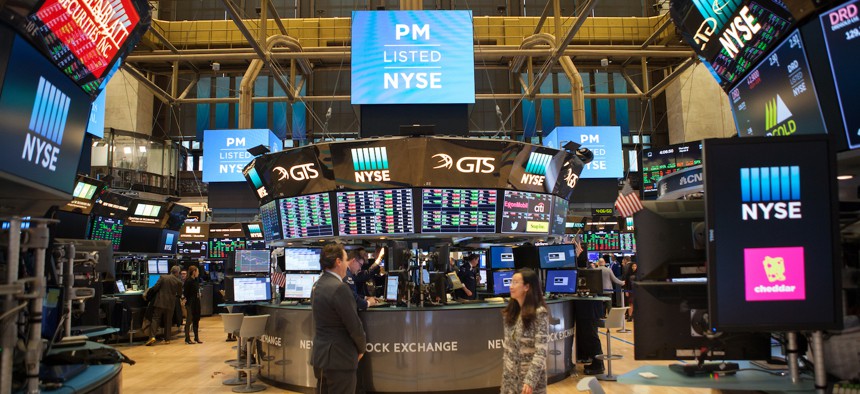 Right now, New York City and New York state are waiting for a federal bailout that may or may not happen in the first quarter of 2021. Just one GOP Senate victory on January 5 in Georgia spells doom for the long-awaited fiscal rescue of state and local governments.
But New York has the means to solve its revenue shortfall, without relying on the federal government or resorting to fiscally irresponsible stop-gap borrowing.
Amidst all the talk of a "millionaire's tax," a "pied a terre tax" or even a "wealth tax," lies a very simple solution to New York's burgeoning fiscal crisis: the Stock Transfer Tax.
There's no need for the governor and the Legislature to wrangle over how much to tax the wealthy – a fight that inevitably would drag on through the first three months of next year and crowd out other vital problems the state must tackle. Instead, by reinstating a dormant tax on transactions on Wall Street, it can raise revenue from the whole investor class – which is doing fine during a painful downturn for average workers. 
The Stock Transfer Tax was originally passed by a Republican governor and Legislature in 1905 to plug a $5 million budget gap. It was a very successful fiscal tool for more than seven decades, until 1981 when then-Gov. Hugh Carey – in the early days of then–President Ronald Reagan's crusade against taxes and big government – decided to "rebate" this money to Wall Street, not by passing new legislation but by simply not collecting the revenues this tax was yielding.
The small tax like the state sales tax, with rates ranging from 1.25 cents per share for a stock sold for less than $5 to 5 cents per share on a stock sold for $20 per share or more. On a stock like Apple that's worth more than $100 per share, the state would collect less than .05% of the transaction. 
In 2010, if it had been collected, the tax would have generated $15 billion, enough to cover projected budget deficits. The Stock Transfer Tax revenue could go a long way towards plugging the budget gap and allowing the state to spend more on combating the virus and helping its most impacted residents, including assistance to businesses that need to shut down to stem its spread, like restaurants. Once the state's fiscal house is in order and the crisis has passed, that annual revenue stream could go to rebuilding New York's crumbling infrastructure.
Assembly Member Phil Steck from Schenectady has been loudly banging the drums for this reinstatement of the 1905 tax. "The tax is in sum and substance one quarter of one percent, it's nothing," Steck told Bob Hennelly in Salon. "In June alone it was $1.6 billion ...The present circumstances demand it … teachers are being laid off." Hennelly goes on to cite an October report from state Comptroller Tom Dinapoli which showed the securities industry pre-tax profit this year is up 82% from last year. 
There is no need to rebate this tax to an industry or individual investors that have done so well while restaurants, hotels and small businesses are dying and could use state government grants or subsidies.
Critics say this would harm New York's economy by driving financial firms out of New York City. But the United Kingdom has had a similar tax since 1694, and the City of London has remained a preeminent financial hub. Spain just adopted a tax like this as has Kenya. The European Union is contemplating adopting a .1 percent tax like this in the near future.
Back in 1905, after the original Stock Transfer Tax was passed, there were cries from the business community that the stock exchanges would move to Philadelphia or Chicago, which of course did not happen. Even The New York Times editorialized strongly against the tax over a century ago, predicting Wall Street would move to New Jersey. A few months later the paper wrote that the tax impact had no "traceable" effect on Wall Street and was actually working.
One other potential positive impact of reversing the rebate of the Stock Transfer Tax: discouraging casino-like high frequency trading speculation, which churns higher market volumes but undermines market stability. This was not the intent when the New York Stock Exchange was created; it was to encourage Americans and their pension funds to invest for the long-term and support burgeoning companies.
We live in a time of desperate need and government gridlock. To simply enforce a tax that has been law for more than a century would be the fastest and fairest route to fiscal and economic recovery.
It will simply take bold leadership in Albany to re-enact a tax that should never have been rebated in the first place.
Powered By
NEXT STORY: Nita Lowey, progressive pioneer