Opinion
The pandemic's affordable housing opportunity
New York City should retrofit stores, offices and hotels to address the housing shortage.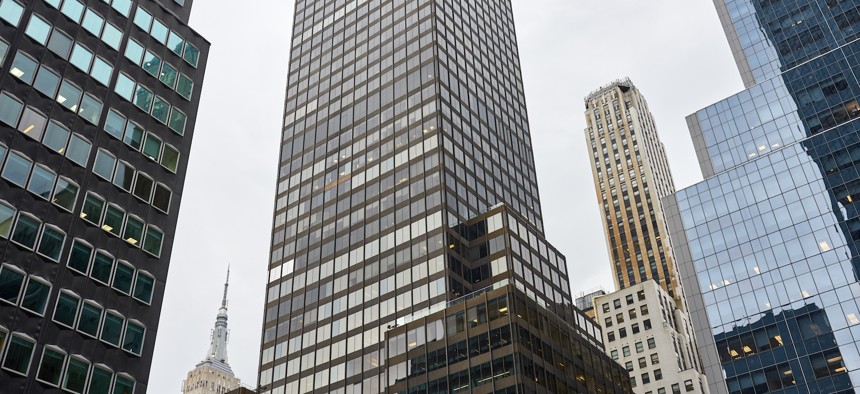 Like most large American cities, New York City is at an intriguing crossroads coming out of the COVID-19 pandemic, setting the stage for the new mayor who takes office next year to transform the city for decades to come. 
Housing has been an increasingly scarce commodity, especially for and low and middle-income New Yorkers, but the shift towards remote white-collar work and online retail offers the opportunity to create desperately needed affordable housing. 
Historically, scarce land in the five boroughs was largely carved up into five different categories: housing, retail, office space, hotels and already-declining manufacturing. In a post-pandemic world, only one of these categories will be in nearly as high demand as it was just two years ago. 
Even before the first COVID-19 case hit our shores early last year, retail independent stores have been shutting, due to the rise of internet shopping, the expansion of bank branches, pharmacy chains and tourist-oriented, often short-lived luxury stores – as well as the intransigence of greedy retail landlords and their bank financiers, who found it advantageous to leave retail space vacant for months while holding out for a large corporate tenant. 
The pandemic has accelerated this downward trajectory, as large streams of brown boxes from Amazon appear in apartment building lobbies each day.
Office space is likewise going the way of the landline phone and fax machine, as video conferencing technology replaces the need for in-person work in white-collar industries such as finance, media and marketing. 
This doesn't mean that we won't see the return of office work in Midtown, Lower Manhattan, and other commercial districts around the city; but over time aggregate demand for offices will shrink, as some companies go fully remote and others embrace hybrid models – only some employees working in-person, or employees only working in-person part-time – that allow for smaller offices with lower rents. 
Hotels, like yellow taxi cabs, also faced economic headwinds even before COVID-19 emptied tourist attractions. The technology-enabled rise of short-term rental sites like Airbnb and the higher-end Onefinestay, offered visitors cheaper alternatives with access to amenities like kitchens and living rooms.
COVID-19 has decimated leisure and business travel this past year. While it's very likely that vacation travel will quickly rebound once the virus has been tamed, the even more lucrative business travel sector may never reach pre-2020 levels. For San Francisco residents who have a business meeting in New York, won't it be more time- and cost-effective to just meet over Zoom, rather than endure a full day of travel each way?
So with the accelerated decline of retail, office space and hotels, are we heading for an economically decimated and largely abandoned New York?
Probably not, if we can harness this large swath of underutilized space and turn it into productive, affordable housing that addresses the growing homelessness problem and makes housing more accessible for non-rich New Yorkers, who for many years have been paying way too high a percentage of their incomes for housing. Not to mention the tens of thousands of immigrants and young college graduates who would gladly flock to our city if they knew that adequate housing was within their financial grasp.
New York City's inherent attractiveness – its architecture and skyline, density and pedestrian vitality, theater and museums, parks and restaurants – make it a destination for aspiring artists and entrepreneurs, empty nesters and globe-trotting plutocrats, whether or not they need to live there for work. The biggest problem New York has faced in recent years is actually too much demand from too many people to live there, with too little growth in the housing stock to keep pace, causing housing prices to rise faster than inflation or wages. 
All New York needs to keep its population and economy from falling or its buildings standing empty is to make it affordable to more aspiring New Yorkers. By flooding the rental and co-op markets with newly converted retail, office and hotel spaces, New York can serve as a beacon to other large cities in ensuring housing as a right – not a privilege – for all.
There will need to be a number of policy initiatives and funding streams to make this affordable to landlords stuck with now tenant-less properties and easy enough not to get bogged down in red tape. Commercial, retail and hotel owners must be given highly-targeted tax breaks to make the conversion to affordable housing a win-win. The departments of Buildings, Housing Preservation and Development, Finance and City Planning must work in unison to make sure that regulatory hurdles are removed.
For example, fast hotel conversions will only work if the zoning requirement that each apartment unit have its own kitchen is modified to allow for co-living arrangements where each floor, rather than each unit, has a large communal kitchen. The minimum size of apartments must also be modified to allow some of the hotel conversions to fit into the legal housing requirements.
After each crisis in New York history, the city has deployed some housing policy innovations: after the Depression, New York led the nation in the creation of humane public housing; after World War II it saw the creation of large-scale middle-class housing in developments such as Stuyvesant Town and Peter Cooper Village; from the population decline in the 1970s came then-Mayor Ed Koch's program to rehabilitate buildings in property tax foreclosure to create affordable housing in the 1980s; after 9/11, we saw the conversion of multiple commercial spaces in the Financial District that led to a vibrant community for young families. 
Now, coming out of the twin health and economic crisis of 2020, we could get ahead of the next wave of potential abandonment and ease the average New Yorker's obscene rent burden.
Powered By
NEXT STORY: Tax hikes will hurt over time