Opinion
Barkan: Eric Adams has no principles
The Brooklyn borough president flip flops even more dramatically than Andrew Yang.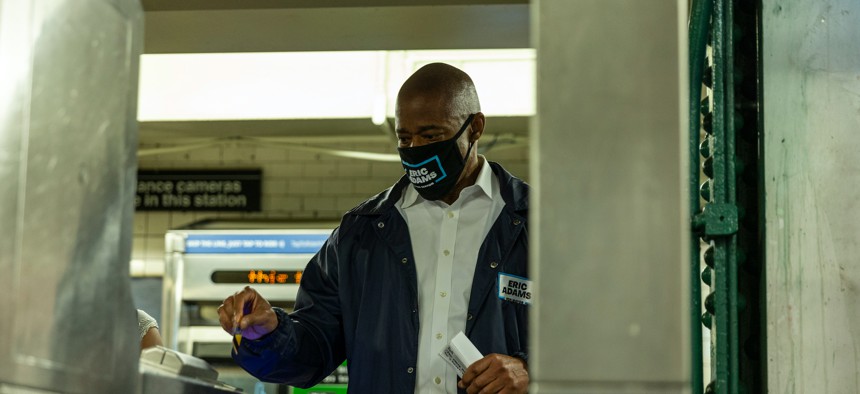 The top two contenders in the Democratic New York City mayoral primary, Andrew Yang and Brooklyn Borough President Eric Adams, have evolved on a host of issues, but Adams has a much longer history of ideological inconsistency.
He has led an unusually peripatetic political life. He was a registered Republican in the 1990s and early 2000s, though he claims he never voted for Republicans who were on the ballot at the time, such as then-Mayor Rudy Giuliani.
"Twenty-five years ago he briefly switched parties because he was furious with Democratic politicians who did nothing to lower crime in lower-income communities of color while they passed racist laws like the crime bill and the Rockefeller drug laws, which did far more to harm people of color than help," a campaign spokesman told Politico in May.
According to reports at the time, Adams, then a police captain, was indeed furious that Democrats were not doing enough to lower crime in working-class neighborhoods. He did care about police reform.
Yet in a 1999 Daily News interview, Adams was willing to say that the city's first and only Black mayor, David Dinkins, was "soft" on crime. He praised Giuliani, the Republican who defeated him, for his aggressive approach to policing. "Look, Giuliani deserves tremendous credit for the falling crime rate. Dinkins was way too soft on crime," Adams said. "And what Giuliani has done, was done despite serious critics who said it couldn't be done. But he had the will to do it, so it was done."
In that same year, in the Times, Adams was referring to himself as a "conservative" Republican. Several years earlier, he had appeared at a fundraiser for one of the most right-wing Republicans in the State Senate at the time, Brooklyn's Robert DiCarlo. He told the Daily News he believed Democrats had failed the Black community and "there are a large number of closet black Republicans in the city, and if you take a close look at some of the concepts of the Republican Party, you'll see that many of them are our values."
Not long before, Adams had taken other incendiary positions, including those that would have been condemned by his conservative allies. He backed the anti-Semitic leader Louis Farrakhan, going as far to attack the member of Congress he failed to unseat in a 1994 Democratic primary, Major Owens, for denouncing Farrakhan. According to New York magazine at the time, Adams, who it described as a "radical," enjoyed the Nation of Islam's support in that primary.
In 1993, he lashed out at a prominent Puerto Rican politician, Herman Badillo, for not marrying a Hispanic woman. "It's insulting to the Hispanic community that he can go to the Hispanic community for support, but he can't go to the Hispanic community when he's picking a wife," Adams said.
Since the 2000s, Adams has been a more conventional Democrat, even when propping up an ally, state Sen. Jesse Hamilton, who joined the Republican-supporting Independent Democratic Conference in 2016 after succeeding Adams in the state Senate. As borough president, Adams has raised money from real estate developers whose projects he supports and drawn scrutiny over a nonprofit he controls, much like what New York has seen in this City Hall under Bill de Blasio.
On individual issues, though, Adams has occasionally shifted dramatically. In 2018, he physically appeared with de Blasio to back his push to eliminate the controversial admissions exams for specialized high schools, which critics say cause Black and Latino students to be dramatically under-represented at those schools. Days later, after leaders in the Chinese American community expressed anger at him, Adams quickly reversed course, becoming a backer of the exam, known as the SHSAT.
Adams recently denounced a rival in the primary, New York City Comptroller Scott Stringer, after a former campaign volunteer accused Stringer of sexual assault that allegedly occurred 20 years ago. "These are deeply troubling allegations of assault and I take them seriously… We must ensure that anyone who believes they were harassed, assaulted or treated in an unacceptable manner can come forward safely and be heard," Adams said in a statement in April. 
When a political ally years earlier faced a far more credible allegation of assault, though, Adams took a very different approach. As a state senator, he vigorously defended his colleague, Hiram Monserrate, after he was arrested for slashing his girlfriend in the forehead with a drinking glass.
"As a former NYPD Captain, I have some serious concerns regarding the unusual handling of the case against Councilman Monserrate… It is well known that Councilman Monserrate has been an outspoken advocate for police reform," Adams said in a statement at the time. "I believe his role as an agent for change caused him to be denied his rights and a thorough investigation," he added.
When the Senate in 2010 voted to successfully expel Monserrate from the body, Adams was one of just eight to vote against the expulsion. In 2018, Adams attended a birthday party for the disgraced pol.
Yang's much shorter political career has seen its share of shifts, though they've been of a less extreme variety. The candidate went from saying in January he'd possibly defund the NYPD by $1 billion to emerging, shortly after, as one of the fiercer critics of the defund movement. He has flip-flopped on a busway for Flushing, changed his position on casino gaming, and even altered his views on circumcision to appease Orthodox Jews in New York.
But Yang, a former presidential candidate who has never held office in New York or anywhere, has not produced the kind of decades-long record that can be easily analyzed for inconsistencies. Though he occasionally violates progressive orthodoxies, his brand as a center-left Democrat has remained, for the most part, consistent since he entered public life. After dropping out of the 2020 presidential primaries, he became a CNN pundit, endorsed Joe Biden for president, and campaigned for the Senate Democrats in Georgia.
If either Adams or Yang wins, it will show that voters care little about consistency. And if Adams wins, it would be a true triumph for political reinvention.
Powered By
NEXT STORY: Yang and Adams benefit from rejecting defund the police